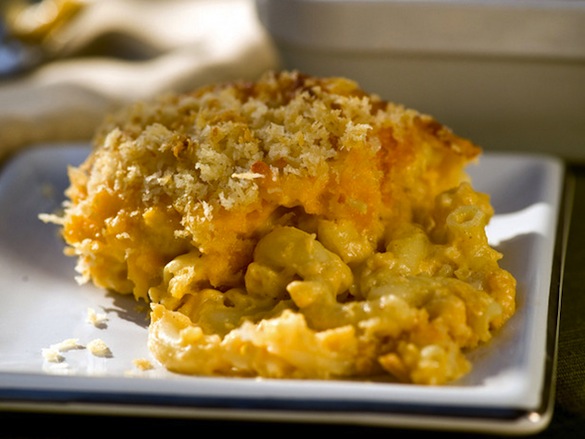 The dish that started it all… This recipe is close to my heart because it's the first thing I ever cooked for my boyfriend. We are happier than ever now and I think my first home-cooked meal has a lot to do with it 😉
The recipe is adapted from the Barefoot Contessa and it is indulgently delicious.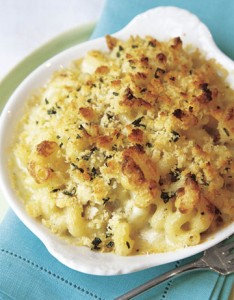 A gourmet, creamy blend of high-end cheeses is baked up to perfection and topped with buttery, crisped breadcrumbs. I served it with a light mixed green salad dressed in a red wine vinaigrette and topped with crispy pancetta. For dessert, I simply dipped strawberries in melted chocolate and served on an elegant long platter. Romantic, simple and elegant comfort food. Make this for your special someone (or someone you want to be your special someone) and I promise you they'll be hooked! Read on to find everything you need to make it happen…
Baked Gourmet Macaroni & Cheese
Adapted From Ina Garten's Barefoot Contessa
Ingredients
* Kosher salt
* Vegetable oil
* 1  pound cavatappi or elbow macaroni
* 1 quart milk
* 8 tablespoons (1 stick) unsalted butter, divided
* 1/2 cup all-purpose flour
* 12 ounces Gruyere cheese, grated (4 cups)
* 8 ounces extra-sharp Cheddar, grated (2 cups)
* 1/2 teaspoon freshly ground black pepper
* 1/2 teaspoon nutmeg
* 1 1/2 cups fresh white bread crumbs (5 slices, crusts removed)
Directions
Preheat the oven to 375 degrees F.
Drizzle oil into a large pot of boiling salted water. Add the pasta and cook according to the directions on the package, 6 to 8 minutes. Drain well.
Meanwhile, heat the milk in a small saucepan, but don't boil it. In a large pot, melt 6 tablespoons of butter and add the flour. Cook over low heat for 2 minutes, stirring with a whisk. Still whisking, add the hot milk and cook for a minute or two more, until thickened and smooth. Off the heat, add the Gruyere, Cheddar, 1 tablespoon salt, the pepper, and nutmeg. Add the cooked macaroni and stir well. Place the mixture in 6 to 8 individual gratin dishes.
Melt the remaining 2 tablespoons of butter, combine them with the fresh bread crumbs, and sprinkle on the top. Bake for 30 to 35 minutes, or until the sauce is bubbly and the macaroni is browned on the top.
Caramelized Pancetta & Fennel Salad
Recipe Courtesy of Giada De Laurentiis
Ingredients
* 1 bulb fennel, halved and cut into 1/2-inch wedges
* 5 slices pancetta
* 2 cloves garlic, minced
* 2 tablespoons brown sugar
* 1 tablespoon extra-virgin olive oil
* 1/4 teaspoon salt
* 1/8 teaspoon freshly ground black pepper
* 5 ounces (about 6 to 7 cups) mixed salad greens
* Red Wine Vinaigrette, recipe follows
Directions
Preheat the oven to 400 degrees F. Line a baking sheet with parchment paper.
In a medium bowl, toss together fennel, pancetta, garlic, brown sugar, olive oil, salt, and pepper. Place the ingredients on the baking sheet in a single layer. Cook until the pancetta is crisp and the fennel is caramelized, about 20 minutes. Remove from the oven and let cool for 5 minutes.
In a large bowl, place the salad greens, crumbled pancetta, and caramelized fennel. Toss the salad with the Red Wine Vinaigrette and serve immediately.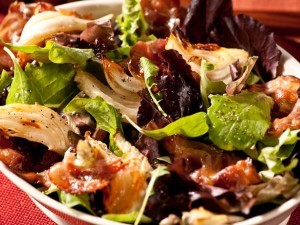 Red Wine Vinaigrette:
* 2 tablespoon red wine vinegar
* 1 tablespoon lemon juice
* 1/2 teaspoon honey
* 1/2 teaspoon salt
* 1/8 teaspoon freshly ground black pepper
* 1/4 cup extra-virgin olive oil
Mix the vinegar, lemon juice, honey, salt, and pepper in a blender. With the machine running gradually blend in the oil. Season the vinaigrette, to taste, with more salt and pepper, if desired.
Chocolate-Dipped Strawberries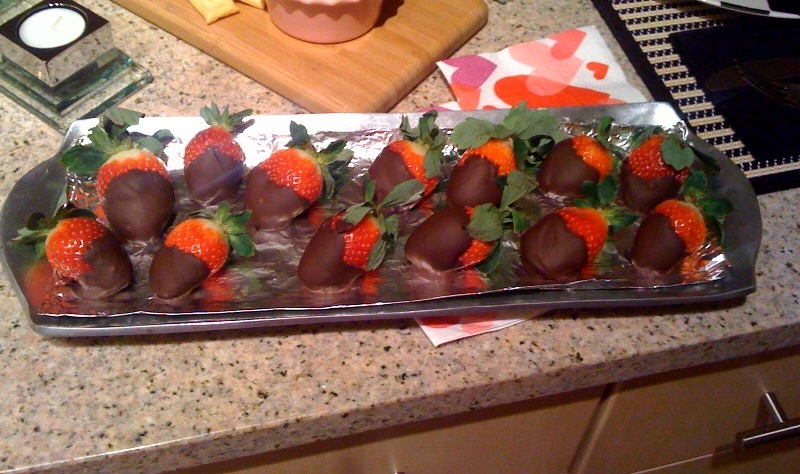 Ingredients
* 12 fresh strawberries
* 8 ounces of your favorite chocolate, chopped (I used 1/2 semisweet and 1/2 milk chocolate)
Directions
Wash the strawberries and pat dry thoroughly with paper towels; set aside. Melt chocolate in microwave-safe bowl in the microwave for 30 seconds at a time, checking and stirring every 30 seconds until melted. Carefully dip each strawberry in the melted chocolate, making sure to leave some on the strawberry exposed. Place on a baking sheet lined with tin foil and chill in the refrigerator for at least 2 hours. Arrange on a decorative try and serve chilled.
Last, but not least, grab your favorite bottle of red and set up the table for a romantic dinner for two. Bon Apetit!