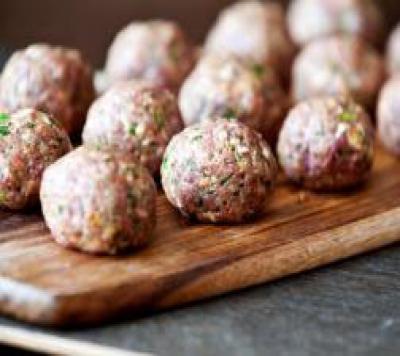 Think turkey meatballs are bland and lack flavor? Not my recipe. These turkey meatballs are oozing with flavor and will change your mind completely! Overflowing with fresh parsley and garlic and a surprise crunch from toasted pine nuts, these meatballs are healthy and delicious. I made them tonight and served over brown rice with a simple marinara sauce drizzled on top. It's a new, modern twist on "spaghetti and meatballs" and I guarantee you will love it!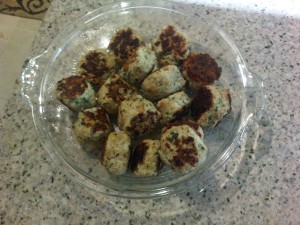 Healthy & Tasty Turkey Meatballs with Rice
Adapted from Lidia Bastianich
Ingredients
1 lb ground white turkey breast
3 cloves of garlic, minced
1 large egg, slightly beaten
2 Tbls. grated Parmesan Cheese
3/4 cup fresh white bread crumbs
3/4 cup finely chopped onion
3 Tbls pine nuts, toasted cooled and chopped
1/2 cup fresh Italian parsley, chopped
1 tsp salt
1 tsp black pepper
olive oil
Marinara Sauce (feel free to use your favorite store-bought!)
Directions
Add the onion, garlic, egg, bread crumbs, parsley, Parmesan, pine nuts, salt and pepper to a large bowl and blend. Mix in the ground turkey. Shape the combined mixture into golf-ball size meatballs. Place on a large plate or baking sheet.
Drizzle olive oil in a large frying pan and heat over medium-high heat. Add the meatballs and saute until browned on all sides and cooked throughout, about 7 minutes. Turn off heat. Transfer the meatballs to a plate.
Prepare the brown rice. Feel free to use minute-rice or your favorite type of rice! Heat up your marinara sauce until warm.
Put prepared brown rice in a bowl and top with 5-6 turkey meatballs. Drizzle marinara sauce over the meatballs and rice. Top with more grated Parmesan cheese and a dash of salt and pepper.