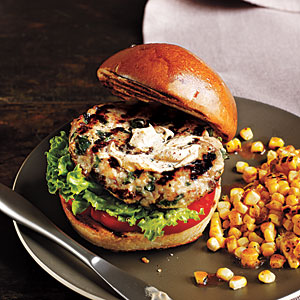 Last night I made the most fantastic recipe for turkey burgers — Southwest-style! Bursting with flavor, these burgers feature a variety of vegetables and southwest spices that create the perfect easy and healthy dinner.  I took regular white-only turkey meat and added finely diced onions, red pepper, corn, and Monterrey jack cheese to make a flavorful burger. I served it on a toasted english muffin topped with thinly sliced avocado, lettuce, tomato and a homemade chipolte mayo. Delicious!

Southwest Turkey Burgers
Adapted from Rachael Ray
Ingredients
1 pound ground turkey breast, white meat only
2 cloves garlic, finely chopped
1 large shallot or 1/4 red onion, finely chopped
2 tablespoons chopped fresh cilantro leaves, optional – parsley may be substituted
1/2 small bell pepper, red or yellow, seeded and finely chopped
1 serrano or jalapeno pepper, seeded and finely chopped
2 teaspoons, ground cumin
1 to 2 teaspoons cayenne hot sauce
2 teaspoon paprika
1/2 cup corn (I used 2 fresh corn on the cob – but canned works too!)
1/3 cup Monterrey Jack Cheese (shredded)
4 english muffins
1 avocado (for topping)
Lettuce (for topping)
Tomato (for topping)
Chipotle Mayo
1/2 cup light mayonnaise
1 chipotle pepper
1 teaspoon garlic
1/2 lime juice
Directions
Chop your garlic and veggies.
Combine turkey meat, garlic, onion, cilantro or parsley, bell pepper, serrano or jalapeno pepper, corn, cumin, paprika, hot pepper sauce, monterrey jack cheese, salt and pepper. Divide mixture into 4 equal mounds then form meat into patties. Drizzle patties with vegetable oil to coat. Cook in skillet over medium high heat for 5 to 6 minutes on each side.
Make chipotle mayo by simply combining all chipotle mayo ingredients into a food processor and pulsuing 3-4 times until well combined.
Pile cooked burgers into buns. Spread chipotle mayo on bun tops and set lettuce and tomato into place. Top burgers with 2 slices of avocado.
Service with chips, salad or sweet potato fries. Bon Apetit!