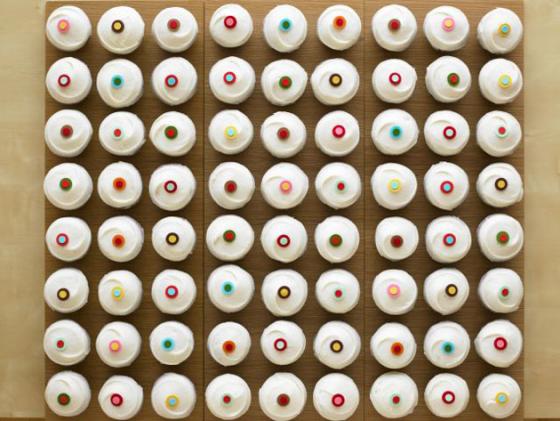 Today marks the grand opening of the first New York City outpost of the famous Beverly Hills-based cupcake bakery, Sprinkles Cupcakes. Known for their cult celebrity following, stylish frosting decorations, and coveted status as "the world's first cupcake bakery," New York cupcake-lovers are rejoicing over this much-awaited arrival. Not that we are short on cupcake options here in the Big Apple, but Sprinkles is just well – Sprinkles. Founded by former investment banker Candace Nelson, who enrolled in Pastry School after her losing her job at a San Francisco internet company, Sprinkles opened their first bakery in Los Angeles in 2005. Celebrities from Oprah Winfrey to Barbara Streisand have praised Sprinkles Cupcakes for their delicious flavor and stunning, stylish designs. I am thrilled we now have a Sprinkles of our own in NYC. Located in the chic Upper East Side,  the bakery will, according to the press release, feature "a Cupcake Walk of Fame, a screen of Sprinkles modern dots scaling the façade and a party room complete with custom-built cupcake ottomans." Cupcake choices come in 50 different flavors, including banana, chai latte, dark chocolate, strawberry and red velvet, as well as vegan and gluten-free cupcakes! Keep reading for some of my favorite new cupcakes from Sprinkles and where to find them in New York!Perfect for this season, I am totally in love with the new grad cupcakes, which feature  dark chocolate, red velvet and black & white cupcakes adorned with graduation caps. To make them extra special, you have the option to spell out school numbers with Sprinkles letters or customize with your very own school colors!
The Sprinkles Father's Day Gift Box is a fun way to celebrate this special day. With peanut butter chip, red velvet, black and white and vanilla milk chocolate cupcakes, this box is sure to be a hit! As if it couldn't get more adorable, the cupcakes are decorated with special "DAD" sugar decorations and the box is sealed with a "DAD" sticker.
Lastly, I had to include the stunning Wedding Cupcake Tower, a playful and fun addition to your wedding desserts! Featuring chic all-white frosting and rich, chocolate cake, this tower is totally customizable and totally gorgeous!
Here are the store details for NYC:
Sprinkles Cupcakes New York
780 lexington avenue
new york, new york 10065
between 60th & 61st streets
near bloomingdale's
monday – saturday 9 – 9
sunday 10 – 7
phone 212 207 8375