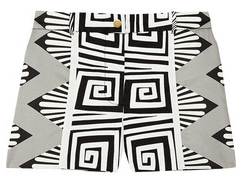 Nothing is cuter in the summer than short shorts paired with simple tees and tanks or beautiful, flowy designer blouses. It's so hard to find the perfect fit, but lucky for you I've done all the scouring and found the best! Keep reading for this summer's must-have short shorts…Seen on the Kardashian girls, these shorts are the only denim shorts you'll ever need. With 2% spandex, the shorts have a bit of stretch to them, making the fit completely flattering. I love the vintage wash, slight distressing, and signature "7" back pockets. Perfection!
And, because they are so fabulous, don't forgot to grab them in white too!
I adore these J-Brand beauties in a fun and playful canary yellow with frayed, cutt-off bottoms. Super chic with a simple white summer tank! Made in California, of course.
In stretch cotton, these chic aqua Alice & Olivia shorts offer a super cute punch of color with the designer's signature wide band top and slanted pockets. I love this look with strappy sandals for a head-turning night out!
I love these retro-inspired, graphic black and white print shorts from Diane Von Furstenberg. In cotton poplin with a gold button and hidden zip fastening at waist, these shorts can go from day to night with flats or heels. Absolutely stunning!