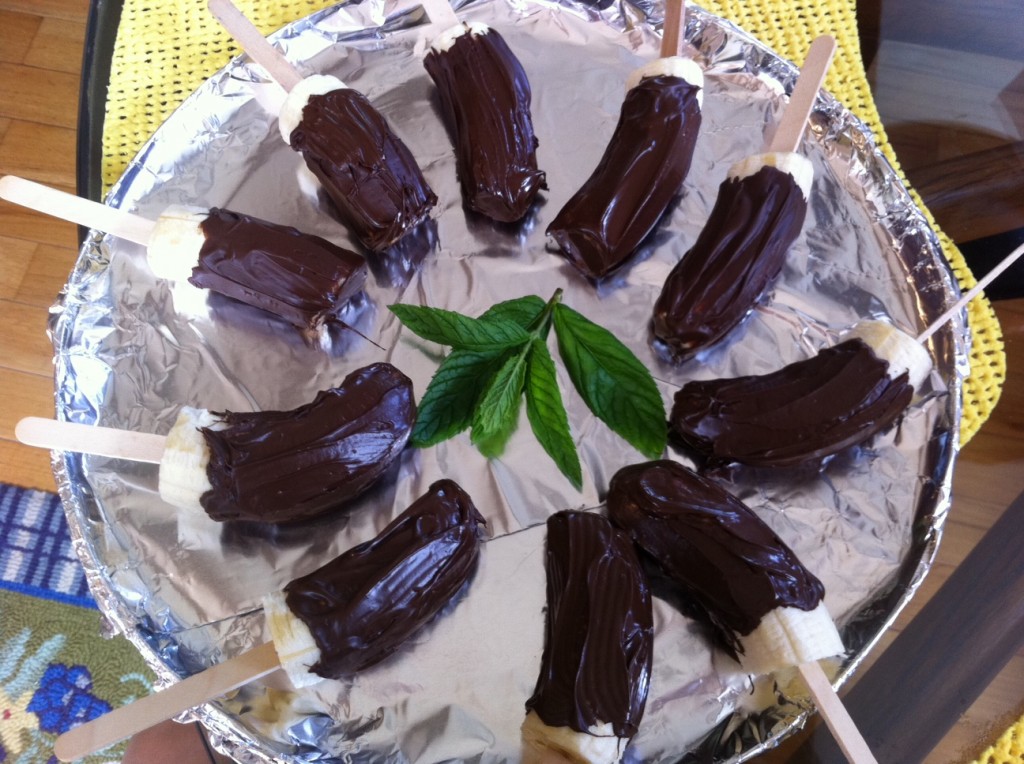 This weekend my Mom and I made Chocolate Banana Pops for a delicious and healthy summertime dessert. Not only are these pops easy and fun to make, but they are a fabulous way to get a chocolate fix while enjoying fruit at the same time! The pops can be served refrigerated or frozen for an ice-cream-like treat. Try both ways and see which one you like best. Either way, you will keep coming back for more!!
Chocolate Covered Banana Pops
Ingredients
4 medium ripe but firm bananas
8 wooden craft or popsicle sticks
3 ounces good quality milk chocolate (I used a Hershey's bar)
3 ounces good quality dark or semisweet chocolate (I used about 1/2 cup chocolate chips)
3 tablespoons finely chopped nuts (if desired)
Directions
Peel each banana and then cut in half crosswise. Place banana halves on a tray lined with tin foil.
Carefully insert the wooden stick into each banana half, creating a banana "popsicle."
Freeze bananas on sticks for 30mins – 1 hour.
Prepare melted chocolate mixture. Melt both milk and dark/semisweet chocolate in a microwave-safe bowl for 2 minuets (check and stir after 1 minute).
Using a flat knife, gently coat each banana with melted chocolate, making sure to leave about a 1/2 inch of banana uncovered, so some banana shows.
Sprinkle chopped nuts on top portion, if using.
Refrigerate or freeze pops, as desired (make sure to try it both ways!).