We all know about the Duchess of Cambridge's recent fashion-bombshell dress worn when greeting the Obamas in Buckingham Palace last week. The gorgeous, nude-colored "Shola" dress from understated British designer Reiss caused such a fashion-raucous that the retailer's website crashed within hours of Kate being photographed! At only $340, this frock is far from unaffordable and fashionistas worldwide are taking note. Kate has been seen strutting around town in dozens of affordable fashion looks, making the newly crowned duchess the ultimate recession-age fashion symbol. With her support of mass-market brands, Kate proves that you don't need to buy thousands of dollars of clothes to look chic. I have done an in-depth study of Duchess Kate's style and am thrilled to share with you the ultimate royal-recessionista shopping guide with some of her favorite looks and where to find them.
Formal Looks…
The "Duchess of Cambridge Effect," as some experts are calling it, was most visible last week when Kate emerged in a stunning Reiss dress for only $340. Reiss is a British fashion house who owns three Manhattan-based stores and is planning to open another store in New York, along with a concession at Bloomingdale's.
"Kate is the most watchable woman in the world right now," designer David Reiss said. "We've had celebrities wearing our clothes before – Beyoncé wore our leather jacket when she came to London – but nobody else has had an effect like this.
The dress is completely sold out now, but due to extraordinary demand, the designer is restocking and the Shola will be available in a month! Want to be the first to get your hands on one? Sign up here on their website to get first dibs.
On Vacation…
The week before her wedding, Kate went on a shopping spree on the High Street, spending about $350 on three floral dresses and a white blouse from chain store Warehouse, presumably for her warm-weather honeymoon. Warehouse is extemely popular in London and although they don't have stores in the U.S., we are in luck because you can order through their website. Check out this super-adorable 100% silk Impact Poppy Bandeau Dress (under $100!) that Kate picked up for her trip!
Day Looks…
The day after her wedding, Kate went back to her easy-going style, pairing a flirty blue, pleated frock from Zara with espadrilles from British shoe designer LK Bennet.
Post-wedding Kate rocked a pair of $265 shiny patent leather and rafia
LK Bennet
wedges on the lawn of the Buckingham Palace. You might not have heard of this fantastic British fashion house yet, but they are on fire since Kate was photographed with them! Available in black (like Kate), coral or turquoise, these wedges are comfortable and chic!!
At the grocery store…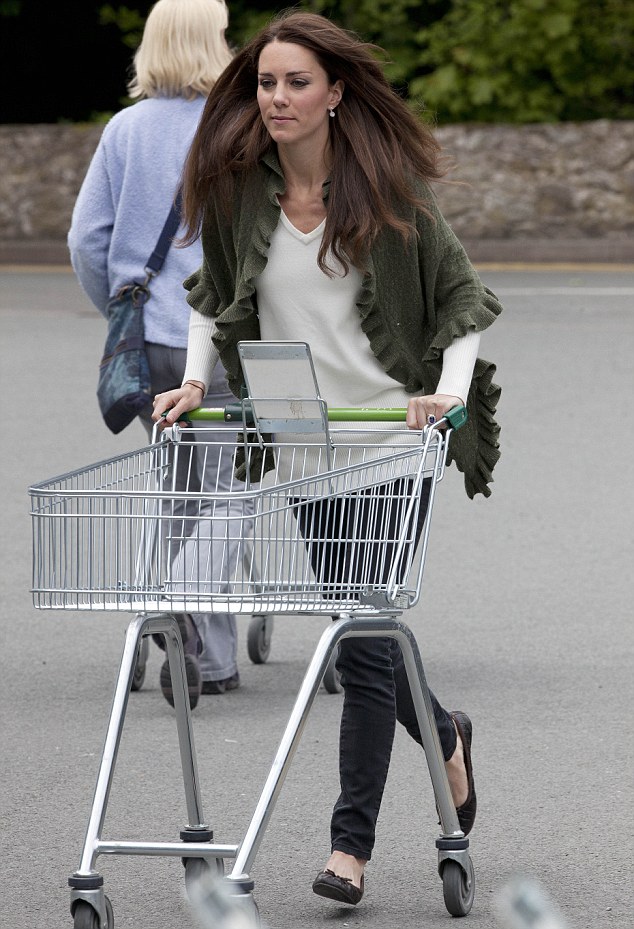 In the week following her wedding Kate rocked black skinny Hudson jeans and simple black ballet flats from London Sole. I am a huge fan of ballet flats (see my favorites here) and London Sole makes some of the best. Kate chose the popular $165 "Pirouette" shoes, featuring fabric lining and working drawstrings.