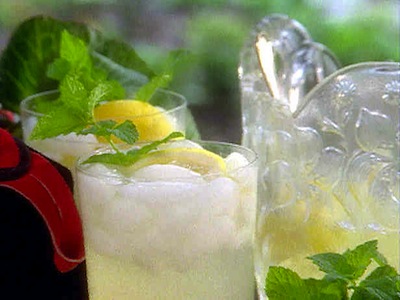 Ever since I got back from the Caribbean this spring, I have been trying to recreate the light and refreshing, fresh-squeezed lemonade I enjoyed daily at a St. Martin resort. Although making lemonade from scratch may seem easy (squeeze some lemons and add some sugar and water?), there is truly an art to creating the perfect sweet, but not too sweet, lemonade. After trying out several recipes, I hit the jackpot with a recipe from southern comfort-food chef extraordinaire, Paula Deen. With just a few small modifications (I like to use cane sugar instead of white), I found the perfect thirst-quenching, light and tasty lemonade. This summer, skip the artificial-tasting store bought varieties and try this simple, easy recipe that everyone will love.
Lemonade from Scratch
Recipe adapted from Paula Deen, The Food Network
Ingredients
2 cups cane sugar
1 cup hot water
2 cups fresh lemon juice
1 gallon cold water
1 lemon, sliced
Mint sprigs, for garnish
Directions
In a 1 gallon container, place sugar and hot water, and stir until sugar dissolves. Add lemon juice and cold water to render 1 gallon. Stir until well mixed. Pour lemonade over glasses of ice, squeeze slice of lemon on top of each, and garnish with a sprig of mint.