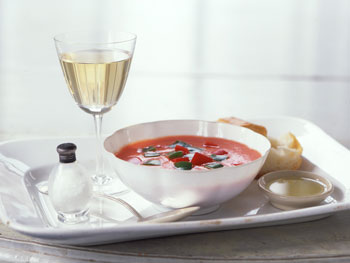 One of my favorite summer meals is gazpacho because it is so light, refreshing and packed with flavor. Hailing from Andalusia on the southern coast of Spain, this cold soup epitomizes tasty, fresh Spanish cuisine. Although there are loads of different variations on the traditional dish, I set out to find the most authentic recipe straight from one of the top restaurants in Cadiz, Spain — El Faro. Situated in a tiny fishing village in La Viña, El Faro is renowned for its mouth-watering gazpacho. I found the authentic recipe used at El Faro and it does not disappoint. With the addition of cumin and sherry vinegar (not always used in gazpacho), this recipe is truly the best. Enjoy for lunch or as a first course to a long summer night's meal with a bottle of crisp white wine.
Gazpacho El Faro
Adapted from El Faro, Cádiz, Spain
yield: Makes 4 servings
active time: 30 minutes
total time: 3 1/2 hours
Ingredients
1 (2-inch-long) piece baguette, crust discarded
2 garlic cloves
2 teaspoons salt
2 tablespoons Sherry vinegar (preferably "reserva"), or to taste
1 teaspoon sugar
1/2 teaspoon ground cumin (optional)
2 1/2 lb ripe tomatoes, cored and quartered
1/2 cup mild extra-virgin olive oil (preferably Andalusian hojiblanca)
Garnish: finely chopped red and green bell peppers
Directions
Soak bread in 1/2 cup water 1 minute, then squeeze dry, discarding soaking water.
Mash garlic to a paste with salt using a mortar and pestle (or mince and mash with a large knife). Blend garlic paste, bread, 2 tablespoons vinegar, sugar, cumin, and half of tomatoes in a food processor until tomatoes are very finely chopped. Add remaining tomatoes with motor running and, when very finely chopped, gradually add oil in a slow stream, blending until as smooth as possible, about 1 minute.
Force soup through a sieve into a bowl, pressing firmly on solids. Discard solids.
Transfer to a glass container and chill, covered, until cold, about 3 hours. Season with salt and vinegar before serving.
Cooks' note: ·Gazpacho can be chilled up to 2 days.