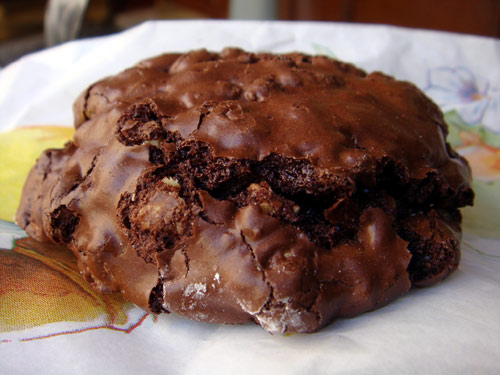 New York pastry chef François Payard is renowned for many dessert delicacies, but my all-time favorite is the divine Flourless Choolate-Walnut Cookie. If you have ever visited his chic Upper East Side pâtisserie, you most likely witnessed the sight (and cult-following) of these amazingly unique and delicious gooey chocolate cookies. With a crispy outside and fudgy inside, you will not be believe these cookies are made without butter or flour. Often enjoyed for Passover for this reason, these cookies are a must for any chocolate lover. In his book Chocolate Epiphany, Payard reveals the secret recipe for these revered cookies. The signature treat contains ingredients you almost always have in your kitchen. Bon Appétit!
François Payard's Flourless Chocolate-Walnut Cookies
Ingredients
2 3/4 cups walnut halves
3 cups confectioners' sugar
1/2 cup plus 3 tablespoons unsweetened Dutch-process cocoa powder
1/4 teaspoon salt
4 large egg whites, at room temperature
1 tablespoon pure vanilla extract
Directions
Preheat oven to 350.
Spread the walnut halves on a large-rimmed baking sheet and toast in the oven for about 9 minutes, until they are golden and fragrant.
Let cool slightly, then transfer the walnut halves to a work surface and coarsely chop them. Position two racks in the upper and lower thirds of the oven and lower temperature to 320. Line two large-rimmed baking sheets with parchment paper.
In a large bowl, whisk (or combine in an electric mixer on low speed) the confectioners' sugar with the cocoa powder and salt followed by the chopped walnuts. While whisking (or once you change the speed to medium), add the egg whites and vanilla extract and beat just until the batter is moistened (do not overbeat or it will stiffen).
Spoon the batter onto the baking sheets in 12 evenly spaced mounds, and bake for 14 to 16 minutes, until the tops are glossy and lightly cracked; shift the pans from front to back and top to bottom halfway through to ensure even baking. Slide the parchment paper (with the cookies) onto 2 wire racks.
Let cookies cool completely, and store in an airtight container for up to 3 days.