Following a Spanish cooking class at the Institute of Culinary Education, my boyfriend and I set out to make the perfect authentic paella. Paella is a traditional Valencian rice dish that originated in the mid-19th century near lake Albufera, a lagoon in Valencia, on the east coast of Spain. Although there are many variations, we wanted to make the most authentic paella, overflowing with chicken, chorizo, jumbo shrimp and lobster tails. After hearing rave reviews, we settled on Tyler Florence's Ulitmate Paella recipe which is by far as good as it gets.
To make paella, you will need an authentic paella pan. Available at most gourmet kitchen stores, this wide, shallow pan along with the conductivity of stainless steel, lets the rice absorb the cooking liquid more quickly and is designed to create socarrat, the crispy golden brown lower layer of paella, that is certainly the best part!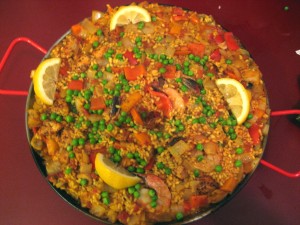 Before you get started, make sure you buy the most authentic, fresh ingredients. In NYC, we went to Despaña, a Spanish market and gourmet store in Soho at 408 Broome Street. A true Spanish experience, Despaña sells a variety of Spanish products including chorizo, cheeses, Serrano ham, bocadillos, and extra virgin olive oils. Most importantly, you can't use just any regular rice for paella. Paella calls for a special type of rice called "calasparra," a short-grain rice grown in southeastern Spain.
If you are looking to indulge, buy a pinch of saffron to add to your paella. Saffron is the world's most expensive herb and its aroma is reminiscent of metallic honey with grassy or hay-like notes. Saffron adds a luminous yellow-orange coloring to paella.
With these tips, I guarantee you will make the most delicious and authentic Spanish paella. Perfect for a dinner party, this delectable dish makes for a fun, hearty meal to be enjoyed with family and friends. Enjoy!
The Ultimate Paella
Recipe courtesy Tyler Florence

Total Time: 2 hr 30 min
Yield: 4 to 6 servings
Ingredients
Spice Mix for chicken, recipe follows
1 (3-pound) frying chicken, cut into 10 pieces
1/4 cup extra-virgin olive oil
2 Spanish chorizo sausages, thickly sliced
Kosher salt and freshly ground pepper
1 Spanish onion, diced
4 garlic cloves, crushed
Bunch flat-leaf parsley leaves, chopped, reserve some for garnish
1 (15-ounce) can whole tomatoes, drained and hand-crushed
4 cups short grain Spanish rice
6 cups water, warm
Generous pinch saffron threads
1 dozen littleneck clams, scrubbed
1 pound jumbo shrimp, peeled and de-veined
2 lobster tails
1/2 cup sweet peas, frozen and thawed
Lemon wedges, for serving
Special equipment:
Large paella pan or wide shallow skillet
Directions
Rub the spice mix all over the chicken and marinate chicken for 1 hour in the refrigerator.
Heat oil in a paella pan over medium-high heat. Saute the chorizo until browned, remove and reserve. Add chicken skin-side down and brown on all sides, turning with tongs. Add salt and freshly ground pepper. Remove from pan and reserve.
In the same pan, make a sofrito by sauteing the onions, garlic, and parsley. Cook for 2 or 3 minutes on a medium heat. Then, add tomatoes and cook until the mixture caramelizes a bit and the flavors meld. Fold in the rice and stir-fry to coat the grains. Pour in water and simmer for 10 minutes, gently moving the pan around so the rice cooks evenly and absorbs the liquid. Add chicken, chorizo, and saffron. Add the clams and shrimp, tucking them into the rice. The shrimp will take about 8 minutes to cook. Give the paella a good shake and let it simmer, without stirring, until the rice is al dente, for about 15 minutes. During the last 5 minutes of cooking, when the rice is filling the pan, add the lobster tails. When the paella is cooked and the rice looks fluffy and moist, turn the heat up for 40 seconds until you can smell the rice toast at the bottom, then it's perfect.
Cook's note: The ideal paella has a toasted rice bottom called socarrat.
Remove from heat and rest for 5 minutes. Garnish with peas, parsley and lemon wedges.
Spice Mix for chicken:
1 tablespoon sweet paprika
2 teaspoons dried oregano
Kosher salt and freshly ground pepper
Combine ingredients in a small bowl. Rub the spice mixture all over the chicken; marinate for 1 hour, covered