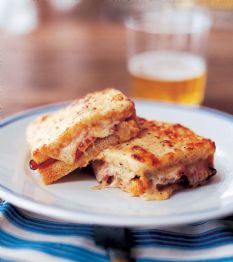 In honor of Bastille Day today, I wanted to share an authentic recipe for one of the most well-known and beloved french bistro dishes, the Croque Monsieur. As French as it gets, this haute, cheesy grilled ham and cheese sandwich began as a sort of "fast food" snack enjoyed at the countless bistros in Paris. There are many variations on the traditional bistro dish, most notably the Croque Madame, which includes a fried egg on top.
A key ingredient in this sandwich and one that sets it apart from the rest is creamy and nutty Gruyere cheese. You first start out by making a cheese sauce with butter, flour, Gruyere cheese, salt, pepper, nutmeg and Parmesan, which will later be used to pour over the sandwich. Then, you toast the bread and assemble the sandwich, smearing the toasted bread with mustard and adding the ham slices. Finally, you slather the sandwich with cheese sauce on top, add the remaining Gruyere cheese, and crisp it up to perfection in the broiler.
So for a taste of Paris at home, whip up this easy and delicious French favorite, the Croque Monsieur!
Croque Monsieur
Serves 4 – 8
Recipe Courtesy of Barefoot in Paris
Ingredients
2 tablespoons unsalted butter
3 tablespoons all-purpose flour
2 cups hot milk
1 teaspoon kosher salt
½ teaspoon freshly ground black pepper
Pinch of nutmeg
12 ounces Gruyère cheese, grated (5 cups)
½ cup freshly grated Parmesan cheese
16 slices white sandwich bread, crusts removed
Dijon mustard
8 ounces baked Virginia ham, sliced but not paper thin
Directions
Preheat the oven to 400 degrees.
Melt the butter over low heat in a small saucepan and add the flour all at once, stirring with a wooden spoon for 2 minutes. Slowly pour the hot milk into the butter–flour mixture and cook, whisking constantly, until the sauce is thickened. Off the heat add the salt, pepper, nutmeg, ½ cup grated Gruyère, and the Parmesan and set aside.
To toast the bread, place the slices on two baking sheets and bake for 5 minutes. Turn each slice and bake for another 2 minutes, until toasted.
Lightly brush half the toasted breads with mustard, add a slice of ham to each, and sprinkle with half the remaining Gruyère. Top with another piece of toasted bread. Slather the tops with the cheese sauce, sprinkle with the remaining Gruyère, and bake the sandwiches for 5 minutes. Turn on the broiler and broil for 3 to 5 minutes, or until the topping is bubbly and lightly browned. Serve hot.
Above, left photo: Quentin Bacon