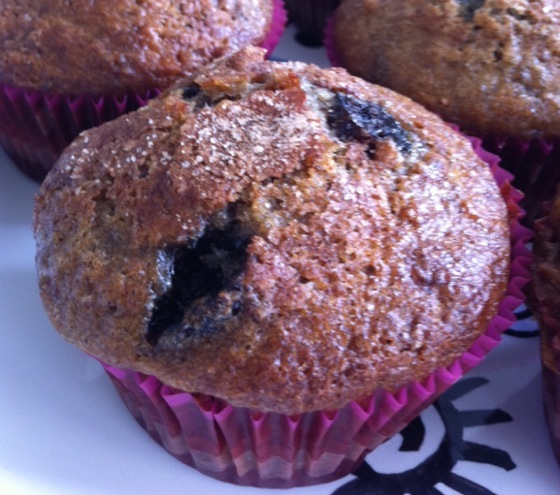 Love the taste of freshly baked, homemade, hot bran muffins every morning? I have found a recipe to make this happen. With this delicious and healthy recipe, you are able to make the muffin mix and keep the batter in the refrigerator for up to six weeks so you can bake the muffins as you wish! Frequently called "Baptist Muffins" or "Six Week Muffins," this full-of-fiber recipe includes 2 popular types of cereal, Grape Nuts and Shredded Wheat, as well as buttermilk and a selection of your favorite sweet mix-ins to create a deliciously chewy, hearty muffin with a moist inside and textured top. My favorite mix-ins are shredded coconut and chopped dates (1 cup each), but you can feel free to add raisins, cranberries, or chopped nuts instead as you wish. The recipes makes 4 – 5 dozen muffins, so you will have plenty of batter to keep in your refrigerator and bake fresh whenever you like.
BAPTIST MUFFINS
Makes 4 to 5 dozen muffins
Ingredients
2 cups Grape-Nuts
2 cups Shredded Wheat, crushed
3/4 cup hot water
5 cups flour
4 1/2 tsp. baking soda
3/4 tsp. salt
1/2 tsp. baking powder
2 1/2 cups sugar
1 cup oil
4 eggs
1 quart buttermilk
2 cups combination of any of the following (chopped dates, cranberries, coconut, raisins or chopped nuts) – I highly recommend 1 cup of shredded coconut and 1 cup of chopped dates!
Cinnamon and sugar, for sprinkling on top before baking
Directions
Mix together Grape-Nuts, Shredded Wheat and hot water and cool.
In separate bowl, mix together flour, baking soda, salt, and baking powder.
In large bowl, cream sugar, oil and eggs. Mix in cereal and oil mixture.
Alternately add flour mixture and 1 quart buttermilk to the creamed mixture. Stir in desired mix-ins ( dates, raisins, cranberries, shredded coconut or chopped nuts).
After pouring batter into greased muffin tins (or paper cupcake liners), sprinkle tops with cinnamon and sugar.
Bake for 15 to 20 minutes at 400 degrees F.
Batter keeps up to 6 weeks in refrigerator.