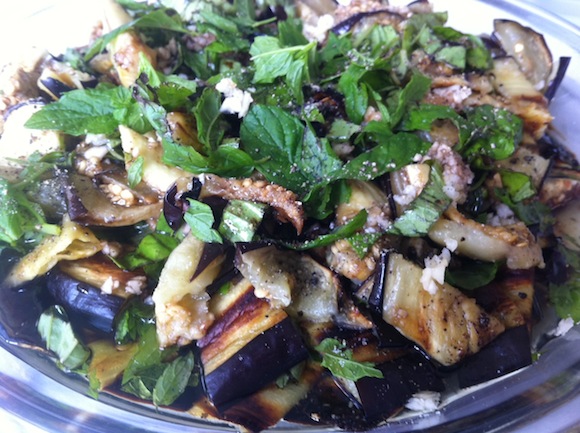 For a taste of the Mediterranean at home, I can think of no better dish to prepare then Melanzane Arroste Sottoaceto – Roasted Eggplant in Balsamic Vinegar. My grandmother's recipe is always a hit, with its vibrant zing of tangy balsamic vinegar and mix of fresh basil and mint coating dozens of pieces of smoky, roasted eggplant. The ingredient list is simple, but the combination of bold flavors is to die for. You can serve this dish as an appetizer with small pieces of toasted ciabatta or baguette, or as a side dish to your meal.
Roasted Eggplant in Balsamic Vinegar
Melanzane Arroste Sottoaceto
Recipe courtesy of Nick Stellino
Serves 4
Ingredients
1 large eggplant, cut in 1/2-inch thick slices
1/2 teaspoon salt
1/3 cup + 8 tablespoons olive oil
1/4 teaspoon pepper
2 tablespoons chopped fresh basil
2 tablespoons chopped fresh mint
8 tablespoons balsamic vinegar
Directions
Sprinkle the eggplant slices with 1/4 teaspoon of the salt and place them in a colander to drain for 20 minutes. Pat them with a paper towel until thoroughly dry.
Line the bottom of two large baking sheets with parchment paper.
Brush the eggplant slices lightly on both sides with 1/3 cup of the olive oil and bake in the hot oven for 10 minutes. Turn them over and bake until they start to brown, about 10 minutes more, Remove from the oven and set aside.
Cut the eggplant into small pieces with a kitchen sheer.
In a small glass baking dish, place 1/3 of the eggplant pieces, sprinkle with some of the salt, pepper, garlic, basil, mint, olive oil and vinegar, and repeat the process until all the eggplant is used.
Cover with plastic wrap and let sit overnight in the refrigerator to ripen. If you can't wait, it's still delicious if you let it sit only an hour or 2 as well!