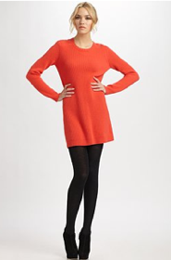 Late Summer/Fall crossover clothes aren't easy, but if you do it right, you will be stylin' your way through the seasons without a hitch. Sweater dresses are one of my favorite staples because you can start out in early Fall wearing them with a simple ballet flat or heavier sandal and then take it right through the cold weather with tights and boots. This season all the cool girls are experimenting with colored tights – blue, gray, striped, flat, wool – they are all fab. Check out the best of this season's sweater dresses that'll make you beg for fall every year!
A lightweight knit wool dress from Marc by Marc Jacobs with a cozy turtleneck. I love the rich magenta color contrasted with black opaque tights. I could picture this outfit strolling around Paris in mid-Novmeber… just sayin!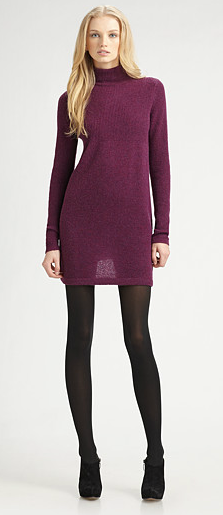 From A.P.C, I love this chunky wool/cashmere blend sweater dress in the most incredible color, "rose vie." The crewneck and yoked shoulders make for an utterly mod silhouette.
For a snow bunny look, I love this cream flecked cable sweater dress with roll neck and an exposed gold metal zip at the back for a touch of sass. By Topshop, of course.
A chic camel/black striped combo with a sexy, body-con shape is majorly cool. By French Connection, it features a classic round neck and cuffed 3/4-length sleeves. A perfect throw-on and go frock. Call it rugby-chic.
This merino wool dress from Steven Alan is the ultimate in luxury. With the finest, softest merino wool, this beauty is comfortable and effortlessly chic.