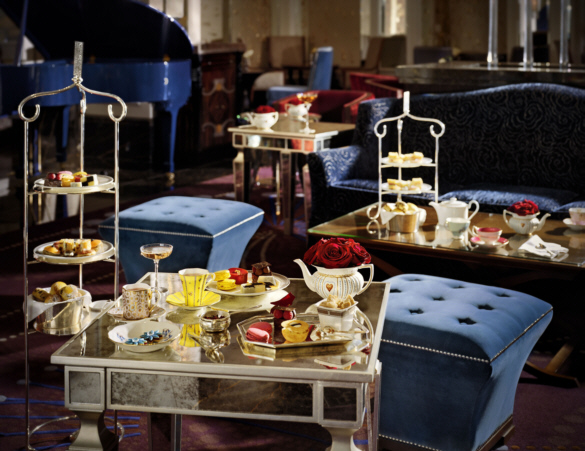 After visiting London this summer and enjoying an extravagant Afternoon Tea, I became inspired to make buttery, sweet scones. My boyfriend and I had Tea at the uber-chic Palm Court at the Langham Hotel on Regent Street in London. This Tea was awarded the Tea Guild's Top London Afternoon Tea 2010, the "OSCARS" of the tea world… and it certainly impressed! The Afternoon Tea was filled with endless plates of colorful small tea cakes, pastries and finger sandwiches and sides of clotted cream and the finest jams. The highlight was the deliciously light-as-air sweet, but not-too-sweet, scones with a crisp crust.  Each table received a tall tiered stand of all of the pastries and finger sandwiches elegantly displayed beside their table…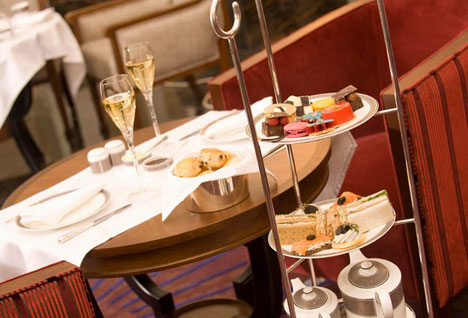 Although I do not have the original recipe from Palm Court, I was inspired to share my favorite recipe for "Harlem Scones" – a New York City favorite. These scones are moist and buttery inside and have a crispy crust. Feel free to experiment with different mix-ins, this recipe is a fantastic base!

Harlem Scones
Ingredients
3 1/2 cups unbleached all-purpose flour
1/2 tsp. baking soda
1 T. baking powder
1/2 tsp. Kosher salt
3/4 cup sugar
1 cup (2 sticks) cold unsalted butter cut into 1 inch cubs
1 cup driend currants, cranberries or chocolate chips as desired
3/4 cup heavy cream
3/4 cup buttermilk
Directions
Preheat oven to 375 degrees.
Line baking sheet with parchment paper.
Sift flour, baking soda and baking powder together into the bowl of an electric mixer.
Add the salt and sugar to the dry ingredients in the bowl.
Mix the above with the paddle attachment on low speed until combined.
Add the cold butter cubes, keeping at low speed, until mixture is grainy (for 4 minutes).
Then, add the currants to the mix. Keep on low for about 30 seconds.
Remove the bowl from the mixer.
Make a well in the center and add the buttermilk and heavy cream.
Return the bowl to the mixer and mix briefly on low until ingredients come together (some loose flour will remain in the bottom of the bowl).
Cover top of bowl with wrap and refrigerate for 1 hour.
Gently shape dough into rough balls about 2 1/4 inches in diameter.
Place on prepared pan about 2 inches apart.
Mix sugar/cinnamon together and sprinkle on top of each balled mixture.
Bake for 30 min. on middle rack.
Transfer to a wire rack to cool.