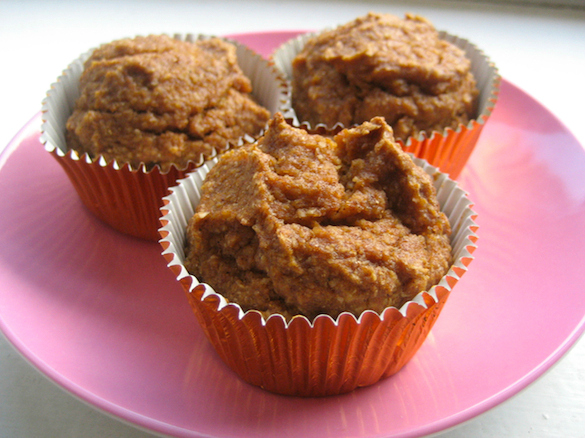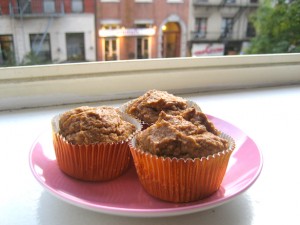 I am always on the lookout for delicious pumpkin recipes that are not only tasty, but healthy as well. I found an amazing recipe for low-fat pumpkin muffins created by one of my fave baking blogs, Love From The Oven. Full of whole wheat flour, flaxseed meal and oat bran, these muffins are bursting with fiber and have the hearty, nutty texture of multigrain muffins. With the addition of pumpkin, applesauce and a hefty dose of pumpkin pie spice, these muffins are truly a delight. They have a moist center and that perfect crunchy top that everyone loves – and no oil or butter. While you are baking, your kitchen will be filled with the delicious smell of fall. Enjoy with a small dab of honey butter or with nothing at all. The recipe is after the jump… check it out!
Healthy Multigrain Pumpkin Muffins
Adapted from Love From The Oven
Ingredients
2 cups Whole Wheat Flour
1 1/4 cups Oat Flour or Oat Bran
2 tsp Baking Soda
1/2 tsp Baking Powder
2 tbsp Cinnamon
2 tbsp Pumpkin Pie Spice
3/4 cup Flax Seed Meal
1 tbsp Salt
1 1/2 cups Sugar – white, brown or combo
2 cups Canned Pumpkin
Approx 1 cup Cinnamon or Original Applesauce (I use 3 individual serving cups of applesauce)
2/3 cup water
5 large egg whites
Chopped walnuts or pecans as desired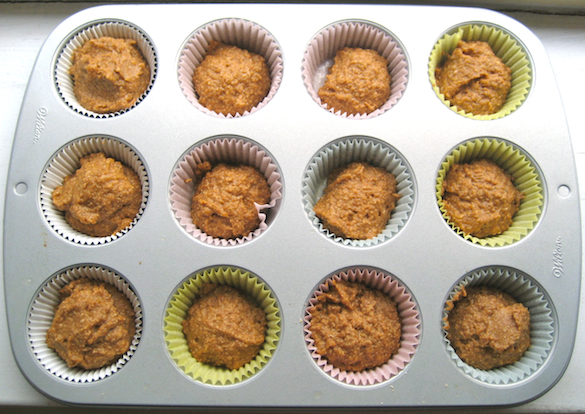 Directions
Preheat oven to 350 degrees F.
Combine all dry ingredients in a bowl (flour, sugar, oat bran, flaxseed meal, cinnamon, pumpkin pie spice, salt).
Combine all wet ingredients in a separate bowl (pumpkin, water, egg whites, applesauce).
Slowly add the dry ingredients into the wet ingredient mixture and stir until combined.
Place in greased muffin or cupcake pan (or use paper liners).
Bake for 15 minutes or until golden on top and cake tester comes out clean.
Remove from oven and let cool.