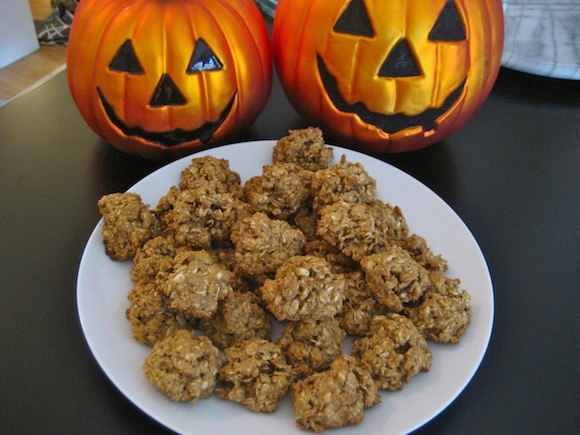 If you love oatmeal cookies and pumpkin you are in for a treat with these delicious Pumpkin Spice Oatmeal Pecan Cookies. With a recipe from one of my fave cooking blogs, Skinny Taste, I set out to make these scrumptious cookies. With no oil and very little butter, these cookies are made with pumpkin, oatmeal, sugar, eggs, pecans and an array of fall spices. They come out full of texture with crispy, browned edges and an oat-filled center. You get an extra kick of flavor from the pumpkin and spices that truly make for a unique and delectable cookie. Eat them for a light breakfast or anytime-of-day snack…
Pumpkin Spice Oatmeal Pecan Cookies
Recipe courtesy of Skinnytaste.com
Makes 32 cookies
Ingredients:
1 cup all purpose flour
2 cups quick oats
1 tsp baking powder
1/2 tsp baking soda
1/2 tsp salt
1/2 tsp ground cinnamon
2 tsp pumpkin pie spice
2 tbsp unsalted butter, room temperature
1/2 cup sugar
1/2 cup unpacked brown sugar
1 large egg
6 tbsp canned pumpkin (not pumpkin pie filling)
2 tsp vanilla extract
3/4 cup chopped pecans
Directions:
Preheat oven to 350°; line two baking sheets with parchment paper or use a silpat.
In a medium bowl, whisk together flour, oats, baking powder, baking soda, salt, pumpkin spice and cinnamon. In a large bowl, with a mixer, cream together the butter and the sugars on medium speed.
Add the egg, followed by the pumpkin and vanilla extract.
Working by hand, stir in the flour mixture and the oats until just combined and no streaks of flour remain; stir in the pecans.
Drop 1 tablespoon of the dough at a time onto prepared baking sheets. Bake for about 10-12 minutes, or until cookies become light brown at the edges.
Cool on baking sheet for 3 or 4 minutes, then transfer to a wire rack to cool completely.