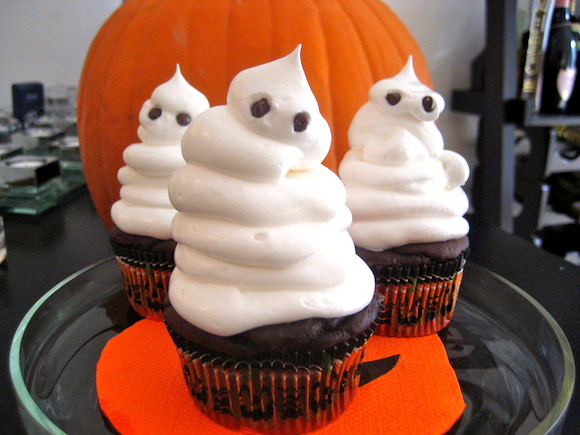 If you are looking for a spooky, fun dessert for Halloween, look no further than my Low Fat Fudgy Ghost Cupcakes. With low-fat cake batter (recipe courtesy of Skinny Taste), made with Dark Chocolate Fudge Cake Mix, canned pumpkin and water (that's it!) and my very own recipe for homemade whipped vanilla meringue frosting, these cupcakes are a festive way to celebrate Halloween. The cupcakes come out so moist and fudgy that they taste like a just-out-of-the-oven dark chocolate brownie. I finish them off with a traditional vanilla meringue frosting, generously piped into the shape of tall, fluffy white ghosts on the top of each cupcake. The shiny, airy white meringue shapes up a perfect ghost and 2 mini chocolate chip eyes finish off these spooky treats. Enjoy!
Low Fat Fudgy Ghost Cupcakes
Chocolate Cupcake Recipe Courtesy of Skinny Taste

Cupcake Ingredients:
18.25 oz Duncan Hines Dark Chocolate Fudge cake mix
1.4 oz sugar free, fat free, instant chocolate pudding
1 cup canned pumpkin (not pumpkin pie filling)
1 1/3 cups water
Meringue Ghosts Ingredients:
8 large egg whites
1 1/2 cups granulated sugar
1/2 teaspoon cream of tartar
1 pinch fine salt
1 teaspoon vanilla extract
Mini chocolate chips
Directions: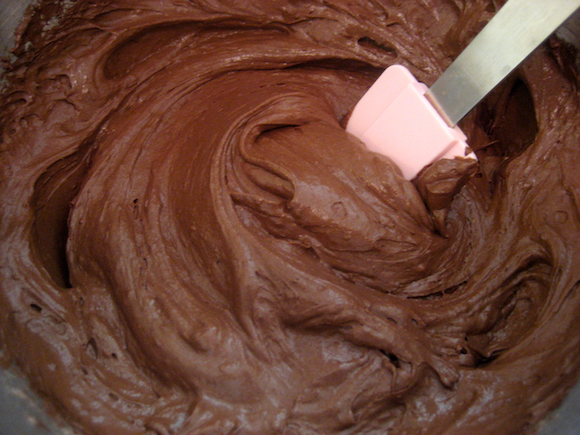 For Cupcakes: Preheat oven to 350°.
Fill cupcake tins with liners.
Combine pumpkin puree and water in a large bowl; mix to combine.
Add chocolate pudding mix and mix well.
Add chocolate cake mix and beat 2 minutes.
Fill cupcake liners 2/3 full and bake about 25 – 27 minutes, or until a toothpick inserted comes out clean.
Cool on wire rack for 15 minutes.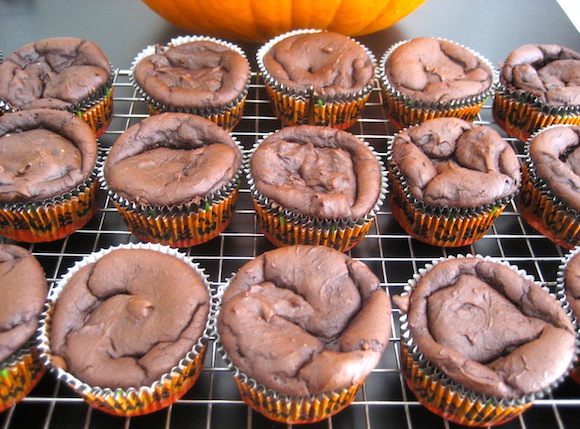 For Frosting: Bring a few inches of water to a boil in a saucepan that can hold a mixer's bowl above the water.
Whisk the egg whites, sugar, cream of tartar, and salt in the bowl by hand.
Place the bowl above the boiling water and continue whisking until the mixture is hot to the touch and the sugar dissolves, about 1 to 2 minutes.
Transfer the mixture to an electric mixer and beat at medium-high speed with a whisk attachment until eggs beat up into a stiff meringue, about 5 minutes.
Add a teaspoon of vanilla extract and lightly beat into the meringue.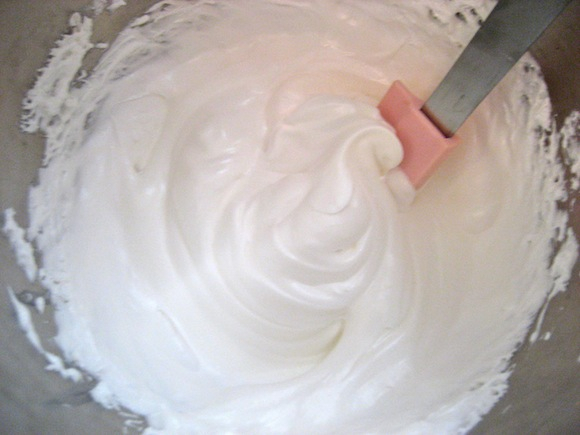 To Decorate: Using a piping bag (or a ziplock bag cut at the edge), pipe about 1/2 cup meringue on top of each cupcake to make a ghost. Start wide at the bottom and make narrower at top.
Decorate with 2 mini chocolate chips as eyes.