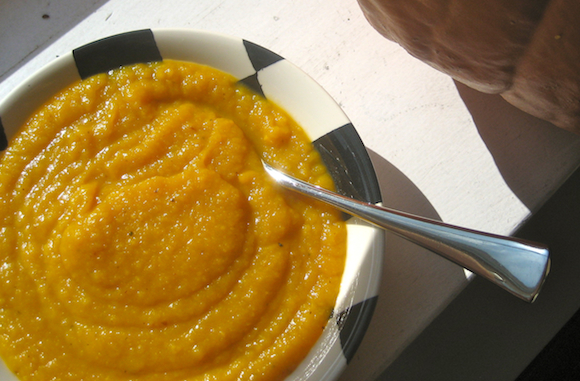 There is nothing like butternut squash soup on a cool autumn day. This recipe for Roasted Butternut Squash & Apple Soup is my grandmother's and it has been one of my favorites for years. The best part about this soup is the addition of zesty apples to add a bit of tang to the soup. You start by preparing your butternut squash and apples (peeling, coring, chopping, etc.) and then roasting the squash, apples and onions on a baking sheet in the oven until tender and just golden. You then add the roasted fruit and vegetables to a soup pot, along with chicken broth and an array of fall-appropriate spices. After pureeing everything, you get a simple, healthy and delicious Butternut Squash and Apple Soup. Serve with a bit of grated Parmigiano-Reggiano on top and a slice of crusty bread. Irresistible!
Roasted Butternut Squash & Apple Soup
Ingredients
2 medium butternut squashes, quartered, seeds removed
3 apples (Granny Smith or McInstosh work well)
2 Spanish or yellow onions
2 tablespoons extra virgin olive oil
Salt and freshly ground black pepper
2 cups chicken broth or water, more as needed
1/2 teaspoon ground cinnamon
1/2 teaspoon ground nutmeg
Pinch of chili powder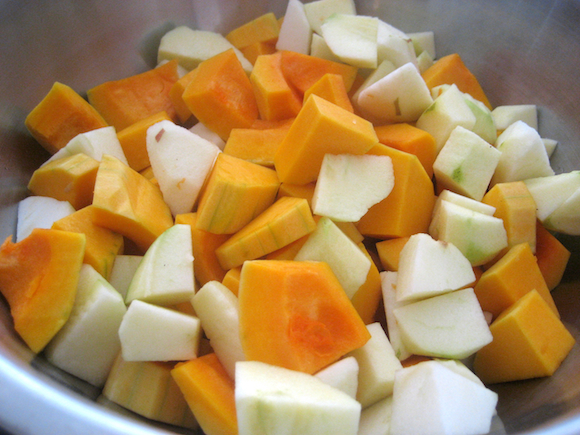 Directions
Preheat oven to 400 degrees.
Peel squash, remove seeds, and cut into chunks.
Peel and core apples, cut into chunks.
Remove skin of onions and roughly chop.
Place cut squash, apples and onions onto baking sheet. Drizzle extra virgin olive oil, salt and pepper over all.
Rub everything to coat well.
Roast for 45 minutes or until very tender and just golden.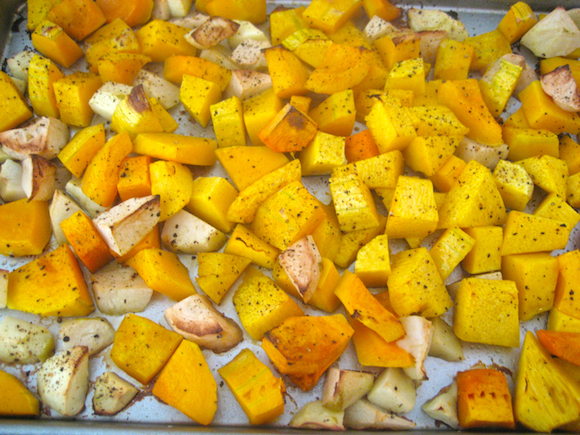 Once finished, if you have a hand-held immersion blender, add roasted fruit and vegetables to large soup pot along with chicken broth. Immersion blend with hand-held blender until smooth.
If you do not have an immersion blender, working in batches, purée squash and apples in a food processor or blender. Then, transfer purée to soup pot.
Place over medium-low heat. Add cinnamon, nutmeg and chili powder.
Heat for a few minutes just until steaming, and adjust seasonings to taste.