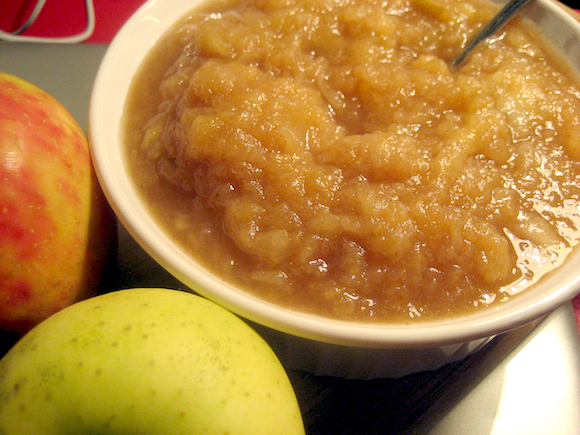 My boyfriend and I went apple picking at Stuart's Farm in Westchester County, NY, and ever since I have been thinking of creative ways to use the bushels of apples we brought home. With almost 200 acres of trees, we were able to pick a variety of apples — Golden Delicious, Red Delicious, Empire, Mutsu, Jonagold, Ida Red, Northern Spy, Black twig, and Baldwins. There is no better way to enjoy hand-picked apples than with a homemade batch of applesauce. Although there are many variations of applesauce out there, I prefer a simple Cinnamon Applesauce recipe, with fresh lemon juice, apple cider, cinnamon and nutmeg. If you like your applesauce sweet, feel free to add a 1/4 cup of brown sugar, however, since the apples we picked were so sweet I really didn't need to add any. The apples cook on your stovetop for about 25 minutes and fill the house with a warm smell of cinnamon and nutmeg. Use this applesauce as a snack, in baking (as a substitute for oil), or as a side dish with chicken or pork. Delicious!

Cinnamon Applesauce
Ingredients:
2 lbs. sweet assorted apples (such as honeycrisp, pink lady or fuji)
2 tablespoons fresh lemon juice
1 teaspoon ground cinnamon
dash ground nutmeg
1/3 cup fresh apple cider
Directions:
Peel and core the apples. Then, cut into 1 inch chunks.

Combine the apple chunks, lemon juice, cinnamon, nutmeg and apple cider in a medium saucepan.
Cover and cook the apple mixture over medium heat for about 25 minutes, stirring occasionally, until the apples are soft. Use a potato masher (or the prongs of a fork) to mash the apples to further break them down. Stir, and cook two more minutes. Remove from the heat

Serve warm from the pan or store in an airtight container in the refrigerator for up to one week.