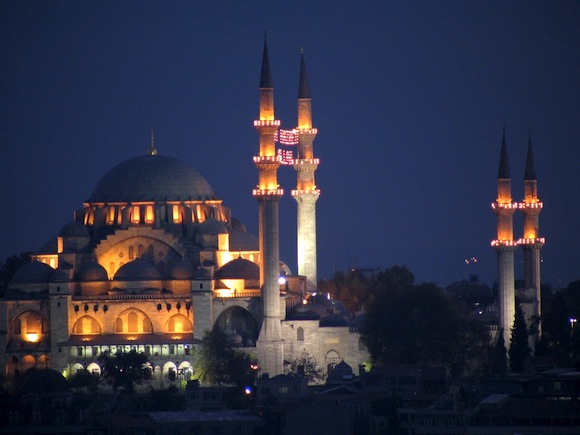 My boyfriend and I just got back from a memorable trip to Europe. Our travels brought us to Istanbul, Turkey, a bustling city famous for seamlessly merging cultures of the East and West. Istanbul is a hot travel destination – and for good reason. The contrast between the magical lit-up skyline of centuries-old mosques and minarets contrasted with trendy, Ibiza-style nightclubs lining the Bosphorus shores, is simply unparalleled. Istanbul is the only city in the world that encompasses both Asia and Europe, and so vividly showcases the ancient and the progressive, the conservative and the fashionable. Be prepared to spend the morning being transported back to a time when Sultans ruled opulent Ottoman palaces and spend the night enjoying a thrilling nightlife and restaurant scene rivaling New York and London. Welcome to Istanbul.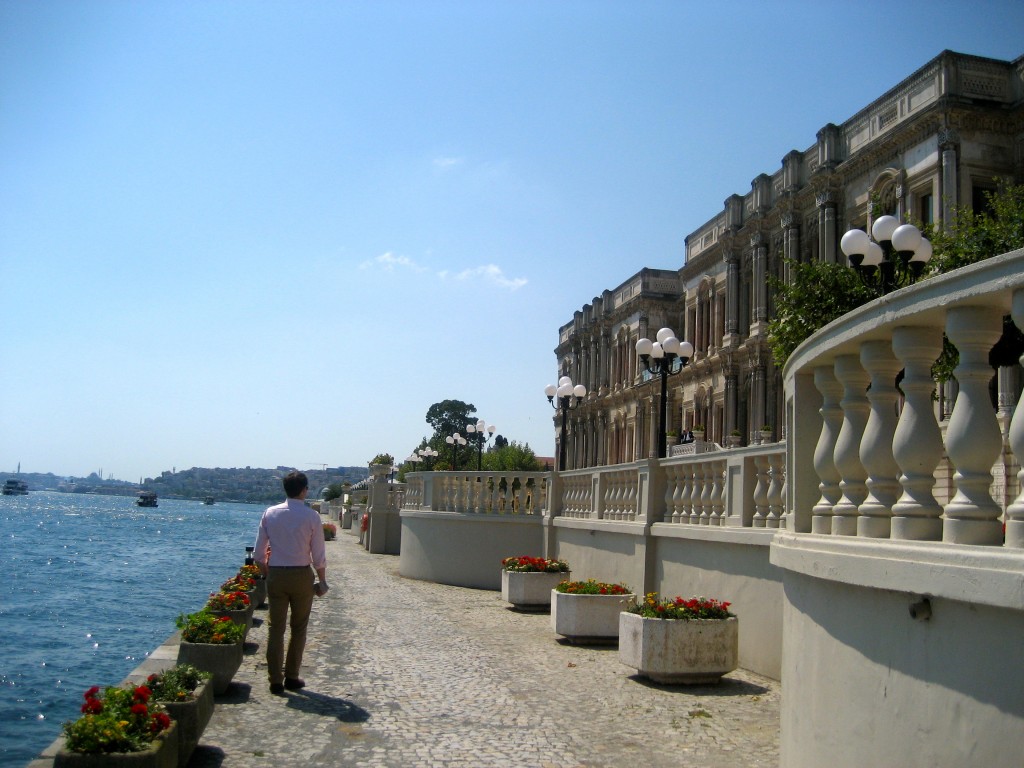 WHERE TO STAY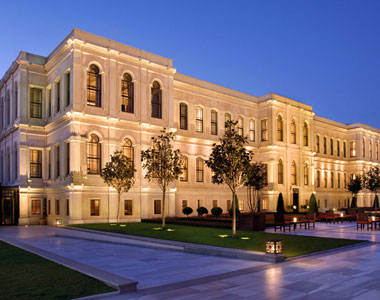 Four Seasons Hotel Istanbul at the Bosphorus
Four Seasons Hotel Istanbul at the Bosphorus
Cırağan Cad. No:28; Beşiktaş
Tel +90 212 381 4000
www.fourseasons.com/bosphorus
In my opinion, the best hotel in Istanbul. Featuring a revered location directly on the Bosphorus, the Four Seasons at the Bosphorus is simply stunning. The hotel has only been open a few years and has already marked its place as one of the premier hotels in the world. Featuring a chic urban spa, fine restaurants and pools that overlook the Asian shore. At night, the outdoor bar/lounge turns into a trendy place to see and be seen with the beautiful crowd of Istanbul.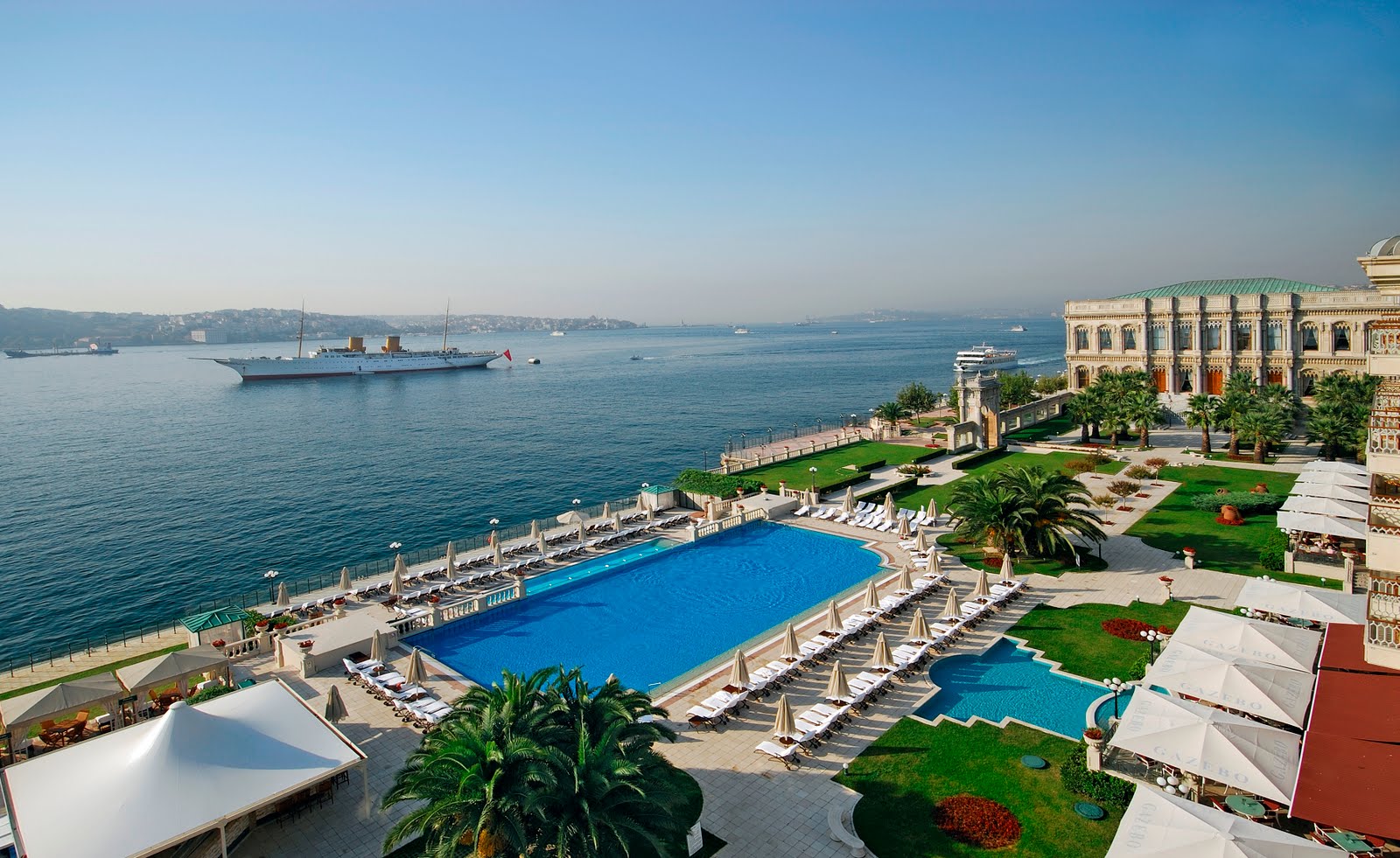 Çırağan Palace Kempinski Istanbul
Çırağan Palace Kempinski Istanbul
32 Çırağan Caddesi; Beşiktaş
Tel +90 212 326 4646
www.kempinski.com/istanbul
A close second, the Kempinski is a former mid-19th-century palace, located on the site of an 18th-century residence belonging to the last Ottoman sultans. Converted into a hotel, the palace still retains a great deal of its rich Ottoman history. The service, atmosphere and amenities will make you feel like royalty and is nothing short of lavish. The daytime pool scene is the best in Istanbul.
RESTAURANTS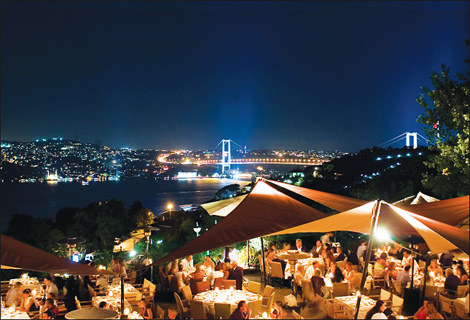 Sunset Grill & Bar
Sunset Grill & Bar
Adnan Saygun Caddesi Yol Sokak 2; Kuruçeşme
www.sunsetgrillbar.com
If you only get to go to one restaurant in Istanbul, go here. Perched high on a cliff, Sunset Bar & Grill features a breathtaking view of the Bosphorus and the vast city below it, with dozens of outdoor tables sitting underneath billowing sailcloths with the only light coming from the flicker of candlelight and stars. The menu features supremely fresh sushi and international specialties, as well as a selection of traditional Turkish dishes. Sunset, as the locals simply call it, is by far the most romantic and posh setting in the city. Reservations are required, so be sure to email info@sunsetgrillbar.com before you leave town to secure your spot.
Venge
Akasyalı Sok. No:2 4; Levent
A traditional Turkish Kebab House in Istanbul's Financial District. Enjoy mezze, grilled meats, kebabs, koftes and more. A local fave.
Mikla Restaurant
Mesrutyiyet Cad. 167-185; Tepebasi
www.miklarestaurant.com
On the rooftop of the Marmara Pera hotel, Swedish-Turkish chef Mehmet Gürs brings delicious Nordic-inspired specialities to a stunning outdoor space with 360-degree views.
Otto
5 Sehbender Sk. Asmalimescit Mah
A small, popular Italian restaurant famous for its delicious pizzas and colorful late night scene.
Nu Terrace
Tepebaşı Mesrutiyet Caddesi 147-149 Petit-Champs Passage
A trendy two-level restaurant and "mega-club"… This place is huge and you can easily spend all night here.
BARS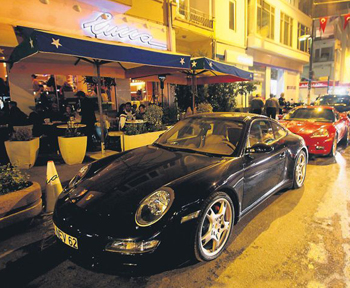 Lucca Lounge & Bar
Lucca
Cevdet Paşa Caddesi 51; Bebek
luccastyle.com
Drinks at Lucca Bar in Bebek are a MUST in Istanbul. With Chanel bags and Louboutins aplenty, Lucca packs a trendy and super stylish crowd. Known for its killer mojitos, the bar scene spills onto the street where Istanbul's coolest pull up in expensive cars to enjoy the lively buzz of this eatery.
Bebek Hotel
Cevdetpaşa Caddesi No.34 80810; Bebek
For a clubby, old-school vibe, head to Bebek Hotel's outdoor lounge directly on the Bosphorus. Enjoy a full cocktail menu with views of lights from the Asian shore in the company of well-heeled locals. It's very old-school chic.
PARTY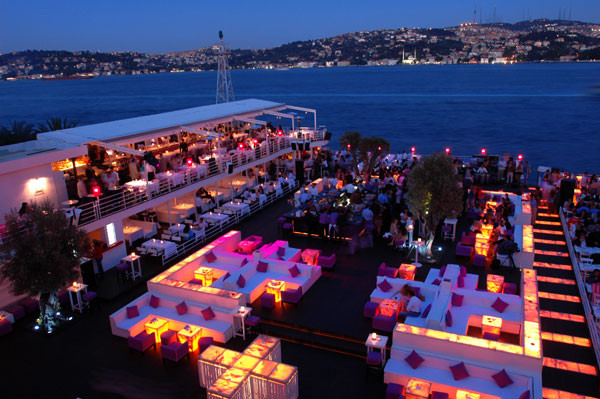 Reina, Istanbul
Reina
Muallim Naci Cad. No: 44 Ortakoy – Istanbul
Start out the night with dinner at one of Reina's posh open-air restaurants serving Asian, Mediterranean or Turkish cuisine.  After dinner, the space turns into a full-blown nightclub, with different music playing on different floors. Go early because by midnight a line forms at the door.
Anjelique
Salhane Sok. No:5 Ortaköy
Both a world restaurant and nightclub, Anjelique is situated in a three-story seaside mansion in Ortaköy. Situated directly on the Bosphorus, it feels as if you are partying on a cruise ship with the glistening water in the distance.
SHOPPING
When it comes to shopping, there is only one Turkish word you need to learn: Nişantaşı. Go here for top-notch shopping for everything from well-known Italian labels to super-cool stores only found in Turkey.
HISTORICAL SIGHTS & ATTRACTIONS
My boyfriend and I had a private tour guide take us on a tour of Istanbul's most notable historical sights. The rate was quite reasonable and we would highly recommended this experience to anyone visiting Istanbul for the first time. If you are looking for one of the best, email me and I will send you our tour guide's contact information!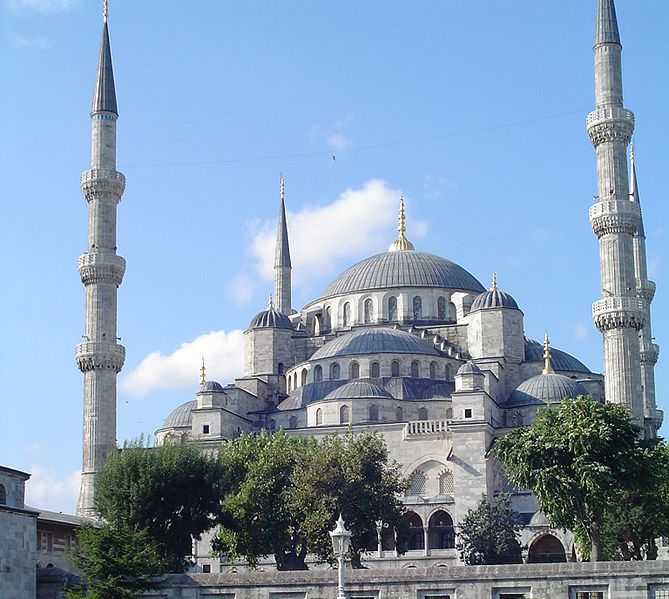 The Blue Mosque
The Blue Mosque
The Sultan Ahmed Mosque. Famous its stunning blue tiles and glass work covering the walls. One of the most recognizable structures in Istanbul. A must.
The Grand Bazaar
One of the oldest and largest bazaars in the world. Home to 4,000 shops – with jewelry, pottery, spice, and carpet shops. A definite feast for the eyes unlike anything you've ever seen!
The Spice Bazaar
Dating back to 1664, the Spice Bazaar is the second-oldest covered shopping area in Istanbul. A place to buy every kind of spice you can imagine along with dried fruits, nuts, tea, candy and caviar. Get plenty of dried figs, apricots and pistachios.
Aya Sofia
One of Istanbul's most treasured monuments and achievements of Byzantine architecture. For almost 500 years it was the principal mosque of Istanbul The Aya Sofia was a former church, mosque and now a museum.
Topkapı Palace
An sprawling, opulent palace turned in historical museum. Home to all of the Ottoman sultans (and their harems) for nearly four centuries. On display are opulent thrones, stones, clothing, fine art collections and other belongings carefully preserved from the days of the Ottomon empire.
FOR THE FOODIES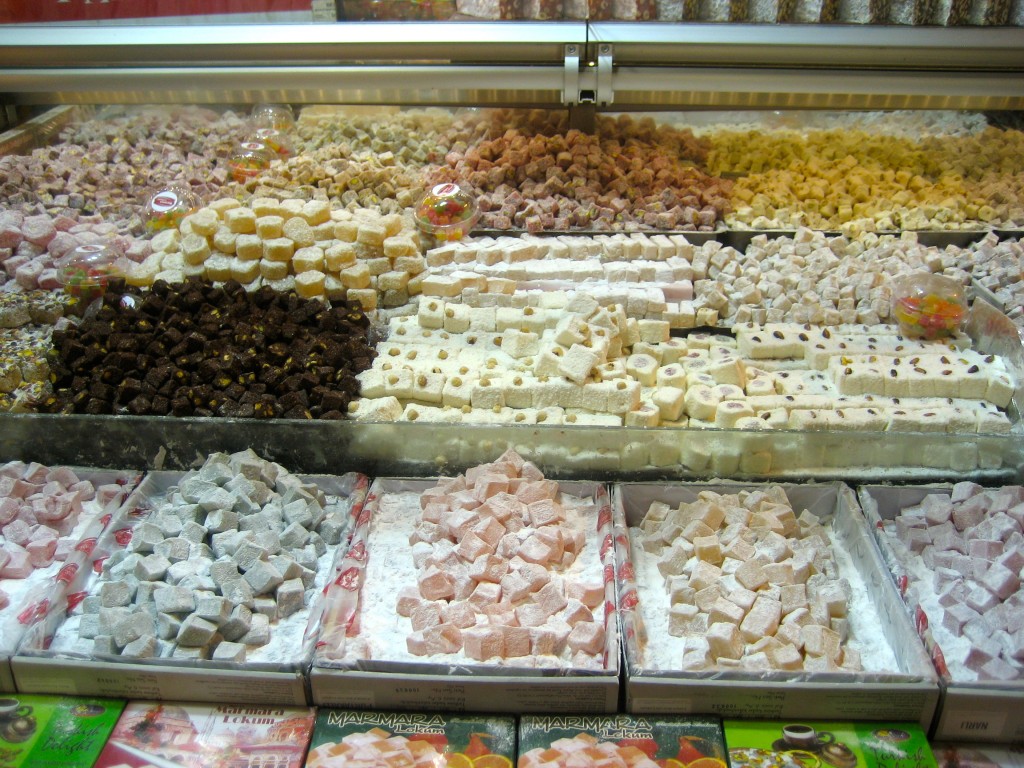 Lokum, "Turkish Delight"
Lokum: After a week in Istanbul, I was officially hooked on Lokum, "Turkish Delight." Lokum is a traditional Turkish candy made of sugar and a gel-like starch flavored with either rosewater, lemon, or a variety of nuts (pistachio being the most popular, and my favorite). Turkish Delight was invented in the late 1700s, when Ali Muhiddin Hacı Bekir, confectioner to the imperial court in Istanbul, was tasked was creating a soft candy for the Sultan, who was getting tired of all of the hard candy around. For the best Lokum in Istanbul, go straight to the source: Haci Bekir, located in the Spice Bazaar.