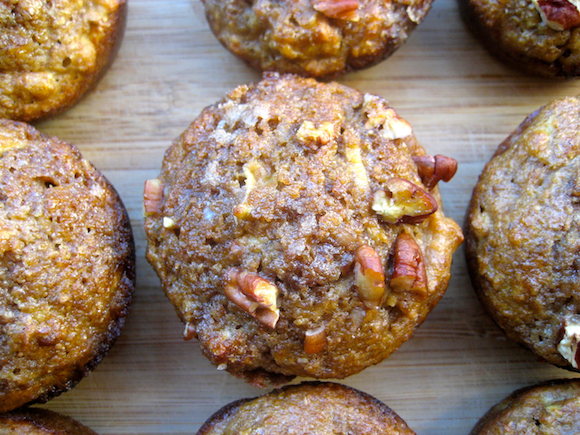 Continuing with the apple theme, I set out to make hearty apple bran muffins. I love bran muffins in general so I was excited to try making them with fresh-picked apples. For this recipe I used both shredded apple and small apple chunks, which bring a lot of texture and moistness to the muffins. With the addition of flaxseed meal (you can substitute toasted wheat germ as well), these muffins are full of fiber and make the perfect healthy snack. Try them warm with a little whipped butter… heavenly!
Apple Bran Muffins
Ingredients
5 Tbsp packed light brown sugar
3 Tbsp chopped pecans
2 large eggs
1 1/4 cup Kellogg's Original All-Bran, or similar product
1 cup fat-free skim milk, or fat-free buttermilk
2 Tbsp canola oil
2 Tbsp molasses
1 cup all-purpose flour
1/4 cup flaxseed meal (ground flaxseed, not whole)
2 tsp baking powder
1 tsp ground cinnamon
1/2 tsp ground nutmeg
1/2 tsp baking soda
1/4 tsp table salt
1 large apples, peeled, cored, and shredded
1 large apples, chopped into small pieces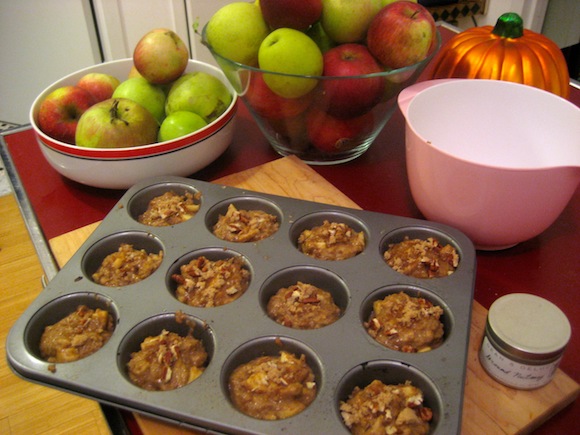 Directions
Preheat the oven to 375°F. Spray a nonstick 12-cup muffin tin with nonstick spray.
Mix 1 tablespoon of the brown sugar with 1 tablespoon of the pecans in a small bowl; set aside for the topping.
Lightly beat the eggs in a large bowl. Add remaining 4 tablespoons brown sugar, bran cereal, milk or buttermilk, oil, and molasses; let soak 5 minutes.
Meanwhile, combine the flour, flaxseed meal, baking powder, cinnamon, nutmeg, baking soda, and salt in a medium bowl. Stir the flour mixture into the cereal mixture just until blended. Stir in the apples (shredded and chopped) and the remaining 2 tablespoons pecans.
Spoon the batter into the cups. Sprinkle the brown sugar and walnut topping evenly over the muffins. Bake until a toothpick inserted in a muffin comes out clean, 20–23 minutes. Cool in the pan on a rack 5 minutes. Remove from the pan and cool completely on the rack. Yields 12 muffins.