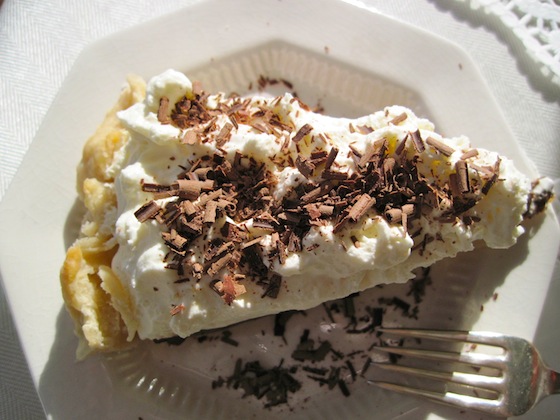 If you are looking for the perfect chocolate pie to bake this holiday season, look no further than my Chocolate Cream Pie. A family-favorite, this deliciously creamy and chocolately pie is a guaranteed hit. Start out by baking a homemade pie crust made with Wondra for a more tender, flakier crust than regular flour. Then, prepare 3 boxes of cook & serve chocolate pudding for the pie filling. Top with fluffy homemade whipped cream and you have a delicious, beautiful and easy pie. A Chocolate Cream Pie is a welcome treat during the holidays when tables are usually full of the traditional pumpkin and pecan pies. Enjoy! 
Chocolate Cream Pie
Favorite Pie Crust:
1 ¾ cup Wondra flour
1 tsp. salt
¾ cup crisco
¼ cup cold water
Pie Filling:
3 boxes of cook & serve chocolate pudding mix
5 1/2 cups whole milk (do not use low-fat)
Topping:
1 pint heavy cream
1 teaspoon vanilla extract
2 tablespoons confectioner's sugar
shaved bittersweet chocolate curls
Directions
Make pie crust:
Preheat oven to 425 degrees.
Stir flour and salt, add Crisco shortening and mix with electric mixer on low speed adding water at end.
Form into flattened ball, wrap in waxed paper and chill.
Then roll out dough with a rolling pin on waxed paper dusted with Wondra and topped with another piece of waxed paper.
Place in 9″ pie plate and crimp the edges.
Pierce pie crust all around with tines of fork and then put on tin foil "collar" to keep edges from over-browning.
Bake at 425 degrees for 7-11 minutes or until golden. Let cool.
Make pie filling:
Make chocolate pudding according to box directions using 5 1/2 cups milk, bringing to a full boil, stirring constantly with wire whisk.
Remove from heat and cool slightly.
Pour into cooled, baked pie crust. Refrigerate until set.
Make topping:
Whip heavy cream, vanilla extract and confectioner's sugar until soft mounds form.
Once cool, top pie with whipped cream and shaved chocolate curls, if desired.