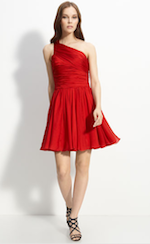 The holidays are a time to rock sparkly, festive clothes and there is no better (and easier) look than a ravishing red dress. With any of these fab 5 dress picks, all eyes will be on you at your next holiday party. Best of all, the look requires no special accessories because the color steals the show. Pair with black or nude stilettos and you are good to go!
In the finest silk chiffon, this one-shoulder mini dress with a ruched body and swingy skirt from Halston Heritage is the flirtiest dress of them all.
For a little glitz, I love this form-fitting sequined tank dress from none other than the sequin-queen, Alice & Olivia. With a deep red color and sexy black mesh back, this dress is fun and sophisticated.
This season we are seeing one-shoulder dresses everywhere and BCBG takes this trend to the max with a crepe Palais dress. With pleating at the bodice and a feminine ruffle draping the shoulder, this mini dress is simple and perfect.
The party girl will adore this silk organza strapless dress from Rachel Roe. In dazzling ruby red, this mini dress is slim and structured on top and overflowing with vertical organza ruffles on the bottom.
Lastly, in fire-engine red, this one-shoulder dress from Tibi in fluid silk is minimalist-chic. Reminiscent of a Calvin Klein runway frock, I love the simplicity and stark lines.