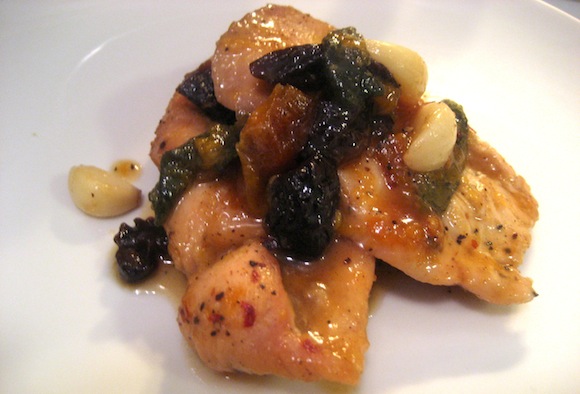 I am thrilled to share a fantastic dinner recipe for Apricot Glazed Chicken with Dried Plums and Sage. This dish is so easy to make and so impressive at the same time, you won't believe it. Perfect for a weeknight dinner or the main dish at your next dinner party, this recipe is gourmet and unique. You can use any cut of chicken you prefer – a full roasting chicken, a mixture or chicken breasts and thighs or even simply just boneless, skinless chicken breasts as I prepared last night for my boyfriend and I.
I started out with Food Network star Dave Lieberman's popular recipe for Apricot Glazed Chicken with Dried Plums and Sage and tweaked it a bit by scaling the portion down for 2 and adding a few extra garlic cloves and a dash of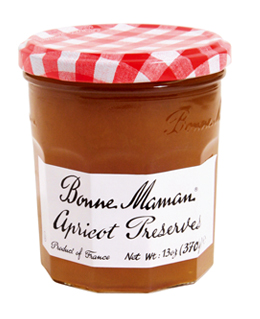 peperoncino flakes. With a flavorful glaze of high-quality apricot preserves, white vinegar and olive oil, and a hefty addition of dried prunes, whole garlic cloves and fresh sage leaves, this dish creates a sweet and sour sauce that caramelizes the chicken beautifully. I used Bonne Maman Apricot Preserves, a brand imported from France and packaged in their iconic red and white gingham-capped jars. Bonne Maman translates to "Grandmother" in French, and truly these 100% all-natural preserves do taste like they were made in your grandmother's kitchen. Lastly, the fresh sage leaves offer a very distinctive flavor, setting this dish apart from all of the usual roast chicken recipes. Once out of the oven, the garlic cloves are roasted until soft and browned, and the ingredients meld into a cohesive glaze. I guarantee this dish will be a huge hit in your household and you will be amazed at how easy it is! Enjoy!
Apricot Glazed Chicken with Dried Plums and Sage
Recipe adapted from Dave Lieberman
Ingredients
1 roasting chicken, cut into pieces or approximately 1 pound chicken breasts and/or thighs (your preference)
3/4 cup (or about half of a 12-ounce jar) of  apricot preserves
12 medium dried plums, pitted
3 tablespoons extra virgin olive oil
1 tablespoon white vinegar
3 pinches salt
15 grinds black pepper
12 cloves garlic, peeled
10 to 15 sage leaves
1 tsp peperoncino (crushed red pepper flakes), to taste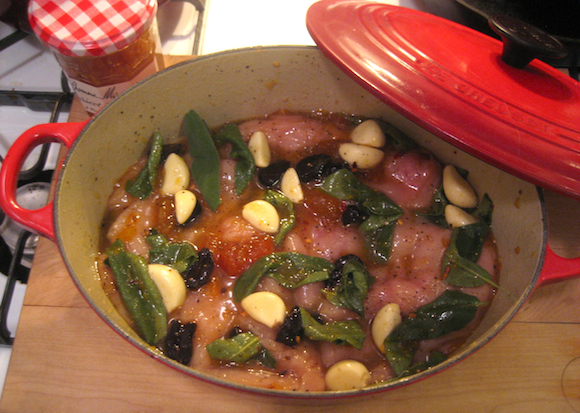 Directions
Preheat oven to 400 degrees F.
Trim any extra fat from the chicken pieces and transfer them to a roasting or baking pan or dutch oven.
Toss all of the ingredients together with the chicken until the chicken is evenly coated with the sauce. Arrange the chicken pieces skin-side up (if using chicken with skin) in the pan, spaced evenly apart. If you are using just chicken breasts, it's ok they overlap slightly.
If you're looking to prepare in advance, you can do everything up to this point and cover the roasting dish and refrigerate until you're ready to roast the chicken.
Roast, uncovered, until the tops of the chicken pieces are browned and the chicken is cooked through, and the juices run clear, about 30 to 35 minutes.