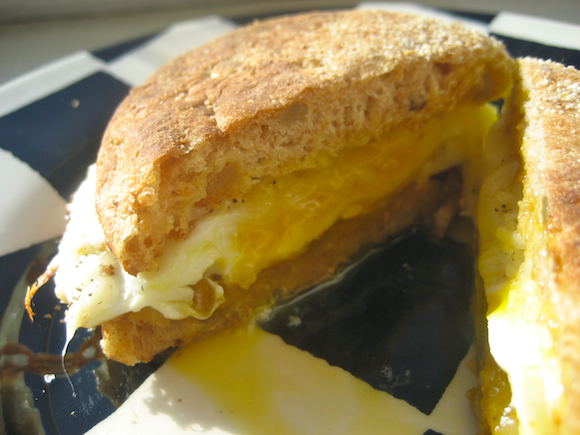 Every weekend my boyfriend makes us mouth-watering egg sandwiches, so I decided to share the deliciousness. The recipe and ingredients couldn't be more simple, but it's easy to forget what a fantastic breakfast a simple egg sandwich can be. So here it goes: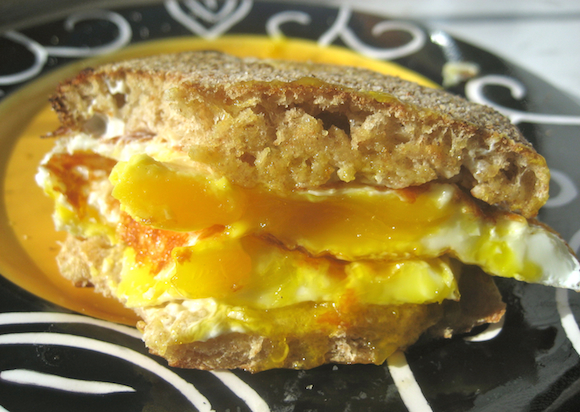 What you need: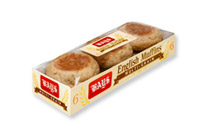 Organic, Cage-Free Eggs (yes it makes a big difference) – You can use 1 or 2 eggs in each sandwich, as desired.
Bays English Muffins or similar. These aren't your usual Thomas' English Muffins. They are restaurant-style and available in white or multigrain. I get them at Dean & Deluca in NYC, but if you aren't in the city, find them online here.
Cheese, your preference. I like to use sharp cheddar, thinly sliced fontina or basic American cheese.
Meat, optional. Add a strip or 2 of crispy smoky bacon, proscuitto, sliced breakfast sausage or chorizo.
Toppings, get crazy. Add sliced avocado, sliced tomato, onion or my boyfriend's favorite – cream cheese.
Finishings. A few shakes of freshly ground pepper and a dash of kosher salt is essential. Add hot sauce or butter  if you dare.
The Method:
Fry 1 -2 eggs per sandwich in a hot skillet. I like to keep them a little runny (as in these photos), so cook them sunny-side up or over-easy. Salt and pepper eggs while cooking. If you like crispy cheese, one great tip is to add the cheese on top before you flip the egg, so when flipped, the cheese is "sautéed" on the bottom.
Toast an English Muffin until browned. If using, butter English Muffin.
Place fried egg on bottom of English Muffin, add toppings and cover with top of English Muffin. Cut once down the middle.
Enjoy!