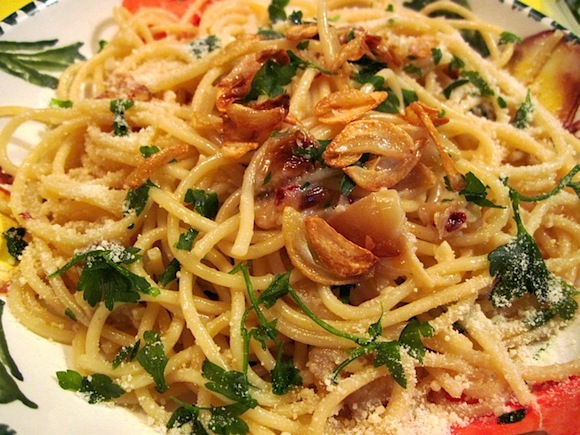 If you love garlic and are looking for a quick, easy dinner full of flavor, look no further than Three Garlic Pasta. It's a supercharged version of "spaghetti with garlic and oil," amplified by garlic prepared 3 ways – roasted, sliced and chopped. To roast the garlic in the oven, use a terra cotta garlic roaster or simply wrap full cloves of garlic in tin foil and roast in the oven for about an hour until garlic is soft and golden. Then, sauté thinly sliced garlic and chopped garlic in olive oil, for 2 more variations and textures of garlic. After tossing your three types of garlic with "al dente" spaghetti, olive oil, white wine, parsley, red pepper seeds, salt and pepper, you have a tasty pasta dish that is sure to impress. It's Italian peasant food made elegant and new. Enjoy! 
Three Garlic Pasta
Recipe Courtesy of Martha Stewart
Ingredients
1 head plus 8 cloves garlic
1 pound spaghetti
2 tablespoons olive oil
3/4 cup dry white wine
1 cup loosely packed fresh flat-leaf parsley, roughly chopped
1 teaspoon red-pepper flakes
Salt and freshly ground black pepper
Parmesan cheese, for grating
Directions
Preheat oven to 425 degrees. Wrap garlic head in foil, or place in garlic roaster; roast until soft and golden, about 1 hour. Let cool, trim tip of head; squeeze out cloves, using back of knife. Transfer to small bowl; set aside.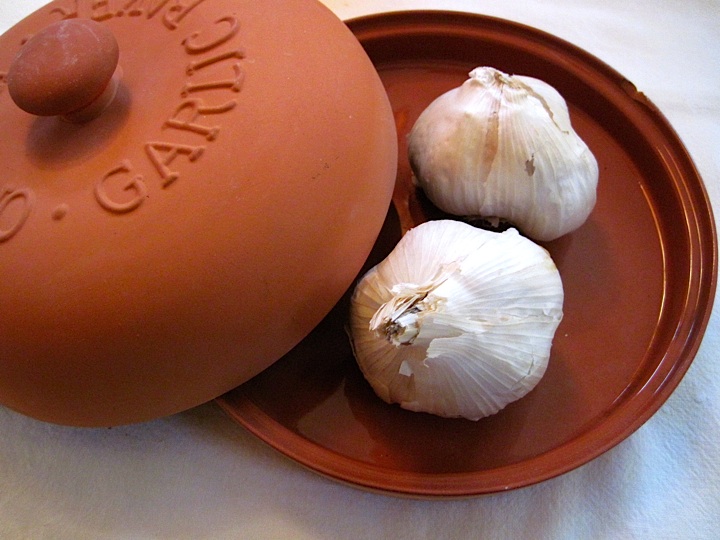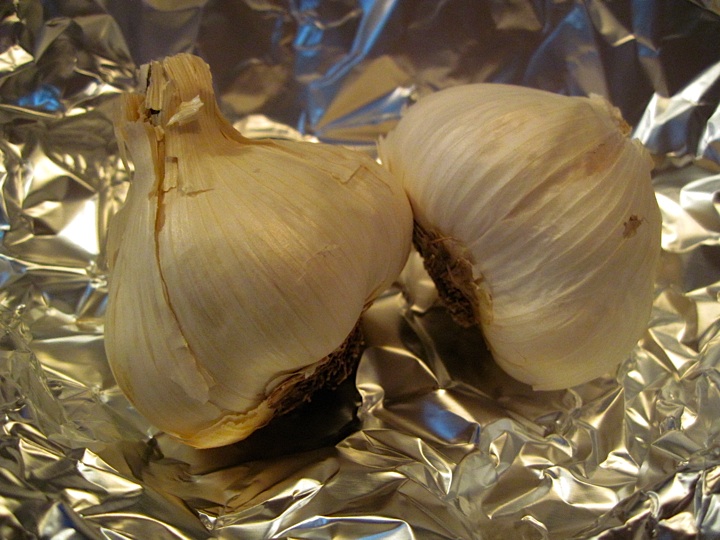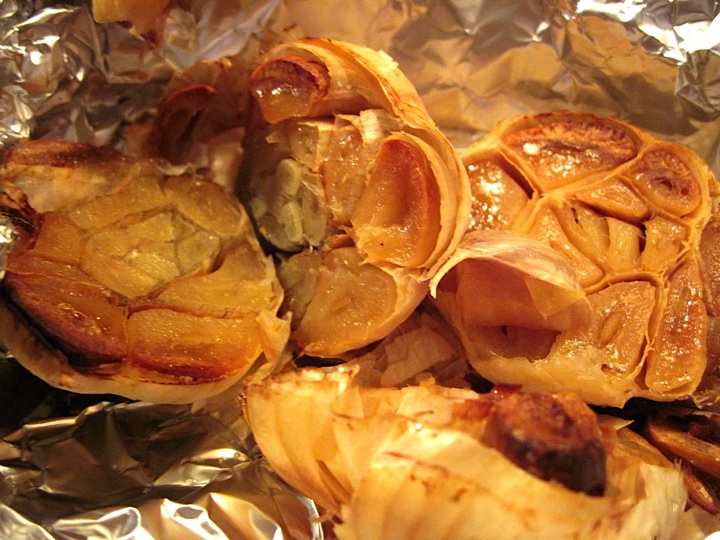 Cook pasta until al dente. Drain, and run under cold water to stop cooking.
Thinly slice five cloves of unroasted garlic. Finely chop remaining three cloves. Heat oil over medium heat in large skillet. Add sliced garlic; toast until golden and crisp.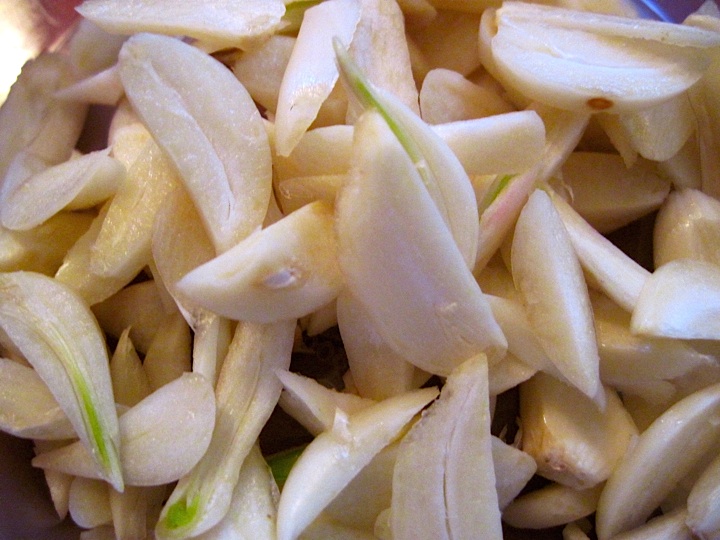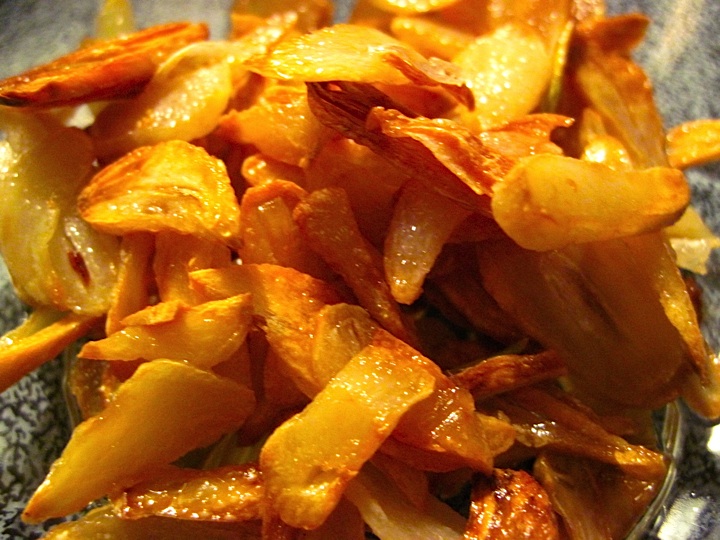 Remove garlic with slotted spoon; set aside. Add chopped garlic; sauté until translucent, about 1 1/2 minutes.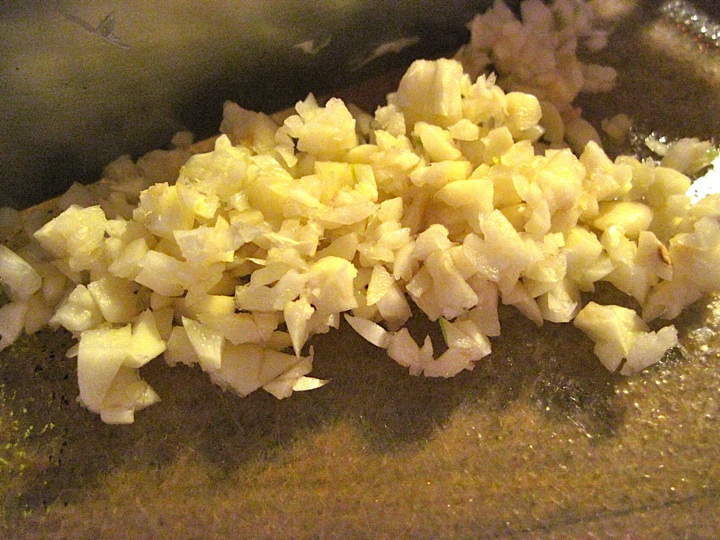 Add roasted garlic and white wine; let simmer about 3 minutes. Add pasta, parsley, red pepper, and salt and pepper to taste; toss. Serve sprinkled with toasted garlic slivers. Grate Parmesan over each serving.