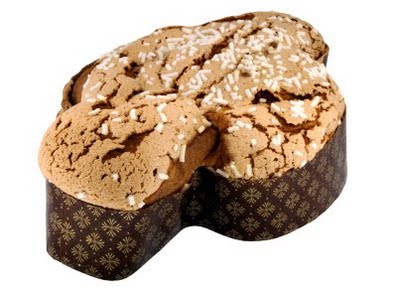 When I lived in Lugano, Swizterland, I would always look forward to the delicious pastries served during Eastertime – my favorite was Colomba, a sweet, spongy, eggy Easter bread in the shape of a dove. The cake-like bread is soft, buttery, moist, sweet and melt-in-your-mouth delicious. I hadn't had it since living in Europe, so I was truly delighted while stopping into Dean & Deluca for lunch yesterday to find imported Colomba cakes for sale straight from Italy!
 A symbol of Easter and Springtime in Italy, the Colomba is similar in consistency to the beloved Christmas cake, the panettone, but boasts a distinct amaretto flavor and crunchy, sugared almond topping, making it more like a dessert cake (although good enough to eat all day long). The tradition of serving Colomba at Easter dates back to the second half of the sixthtenth century when it was offered to (and subsequently adored by) Alboino, the King of Longobardi.
If you are in New York, stop by Dean & Deluca to pick up the same one I found — the Rustichella Colomba Cake — available at their Prince Street store. If not, you can order it online here for delivery nationwide. Although made in several variations, this one is made the classic way with cream butter, fresh eggs, unbleached flour, almond extract and candied orange peel, and topped with sugared, sliced almonds. Enough said. I highly recommend this little taste of Italy any time of year.