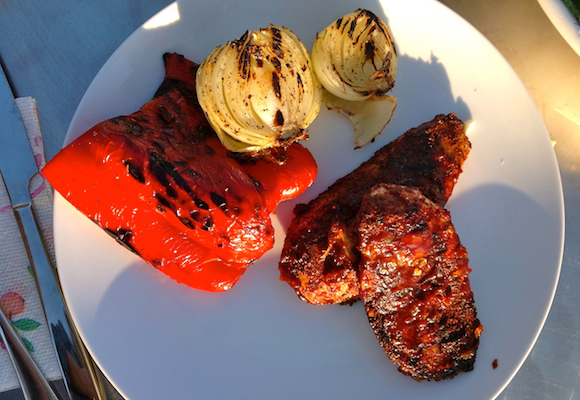 It's starting to feel like summer, so that means it's time to bring out the grill. My boyfriend and I wanted to try out our brand new roofdeck, so I prepared a simple barbecue to get us in the summer spirit. I decided to make my own barbecue sauce for the first time, and it turned out so good I do not think I will ever buy pre-made barbecue sauce again. My Whiskey Barbecue Sauce is made with, yes, whiskey along with garlic, ketchup, tomato paste, brown sugar, Worcestershire sauce and vinegar. The combination is tangy and sweet, with a definiate kick of whiskey. Combined with a spicy BBQ dry rub, the chicken grills up to perfection to create a full-bodied, smoky and sweet barbecue flavor.
To contrast these bold flavors, on the side I prepared a light Lemon Kale Salad, recipe below, along with a couple simple grilled red peppers and Spanish onions. I hope these recipes will get you excited for the summer season.
Whiskey Barbecued Chicken & Lemon Kale Salad
Ingredients
Chicken
1 1/2 lbs boneless, skinless chicken breasts
1/4 cup BBQ-blend spice rub (I used Dean & Deluca BBQ Rub)
Whiskey Barbeque Sauce
1 tablespoon garlic, finely minced
1/4 white or Spanish onion, finely minced
1/3 cup whiskey
1/4 teaspoon ground black pepper
1/4 tablespoon salt
3 tablespoons tomato paste
2/3 cup ketchup
1/4 cup light brown sugar, packed
1/4 cup white wine or champagne vinegar
3 tablespoons Worcestershire sauce
1/3 teaspoon hot sauce, or to taste
Lemon Kale Salad
5 cups kale, chopped
1/3 white or Spanish onion, sliced thin
1/4 cup crumbled feta
Zest of 1 large lemon
Juice of 1 large lemon
2 cloves of garlic, finely minced
2 teaspoons honey
1/2 teaspoon kosher salt
Ground black pepper, to taste
1 teaspoon white wine or champagne vinegar
1/4 cup extra virgin olive oil
Directions
First, prepare the chicken. After washing and drying chicken, rub thoroughly with BBQ dry rub on both sides. Cover and refrigerate for 1 hour, if possible.
Next, prepare the barbecue sauce. In a small saucepan, combine garlic, onions and whiskey. Simmer over medium heat for about 10 minutes. Add remaining ingredients (pepper, salt, tomato paste, ketchup, brown sugar, vinegar, Worcestershire, hot sauce) and bring just to a boil. Reduce heat to low and simmer for about 15 minutes.
Next, prepare the salad. Chop kale and onions. Add to a salad bowl along with feta. To make the dressing, combine lemon juice, lemon rind, garlic, salt, pepper, honey and vinegar. Then, slowly add olive oil in a steady stream while whisking. Reserve dressing on side until ready to toss and serve.
Preheat an outdoor gas or charcoal grill to a medium heat. Arrange the chicken pieces on the preheated grill and cook, turning once mid-way, for a total of 8-10 minutes. Once turned (after 4 – 5 minutes cooking), baste chicken with about 1/2 of your Whiskey Barbecue Sauce. Once finished and off the grill, brush chicken liberally with the remaining Whiskey Barbecue Sauce, coating both sides completely.
Toss salad with dressing and serve as a side dish with the chicken (and grilled vegetables, if using).
Enjoy!