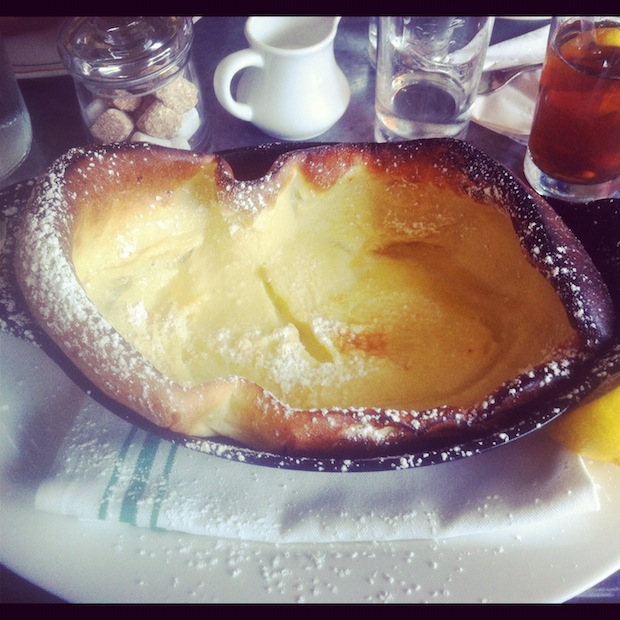 It was time for sunday brunch and this week my fiancé and I decided to forgo the usual mad rush to Peels, Five Points or Café Cluny and try out a chic new neigborhood bistro from Waverly Inn alum Eric Korsh and his wife, Ginevra Iverson, formerly of Prune, called Calliope. This impressive pedigree seriously got our hopes up – and it sure did deliver.
It's in the former Belcourt space on a crowded stretch of Second Avenue at Fourth Street, with an ambience bursting with East Village meets Paris charm. It was a scorching hot July morning in the city, so we decided to sit indoors, but still alongside the adorable sidewalk tables set up alfresco. After a quick glance of the small, but eye-catching, menu, I immediately decided on the German Pancake with lemon and sugar. A sucker for any excuse to eat something sweet, I was overjoyed with this selection.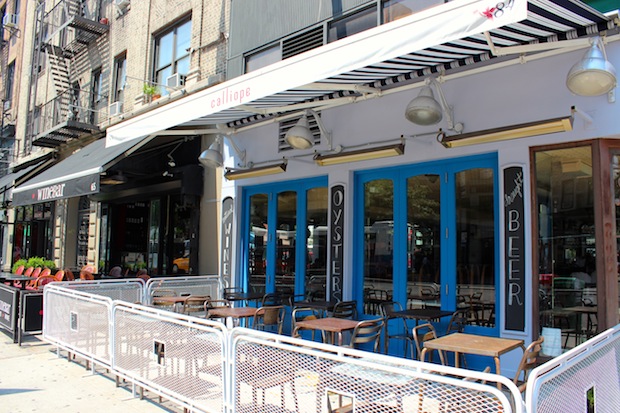 My fiancé opted for the Toast With Housemade Jam and the Fine Herb & Sorrel Omelette. He would have tried the Omelette Bennet Arnold – an opened faced omelette with smoked sable fish and a serving of béchamel – but the combination of the night prior's sushi dinner and the wish to differentiate this brunch from his usual Sunday morning homemade Russ & Daughters-aided creation – see future post! – tilted him towards the sans poissons option. He'll be back to sample Bennet Arnold, as well as the choice of three house smoked fish ($10 – all three for $26) and oysters (M/P … times 2).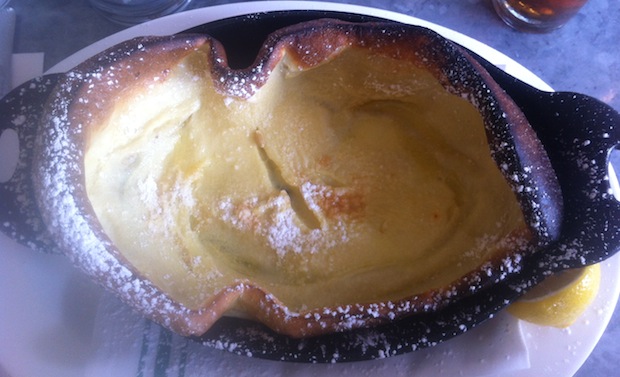 When the food arrived (very promptly I must say) and we took our first bite, we were very impressed. My German Pancake was a delectable cross between a soufflé and an omelet baked in a small cast iron pan and dusted with powdered sugar and a squeeze of fresh lemon juice. It was sizzling hot, crispy on the outside, deliciously undercooked on the inside and light as air. Perfection. The toast — sign of a good brunch place — generously buttered and toasted with a crisp crust, was divine with homemade jam. The omelette, slow cooked with fragrant herbs and a surprise of crème fraîche, was delightful. Leave the lines behind and come to Calliope — that is until everyone catches on and I need to find a new hidden gem.
Calliope
84 East Fourth Street
New York, NY
calliopenyc.com