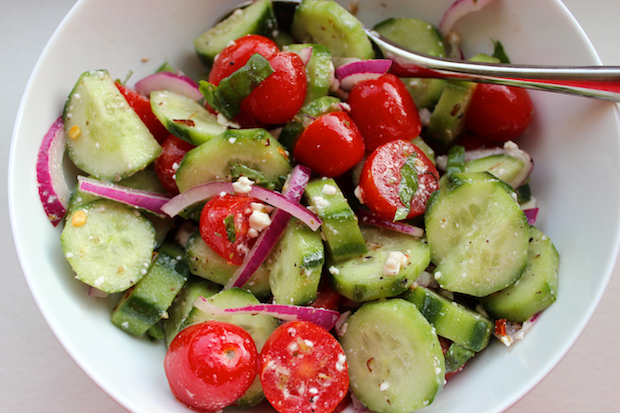 For a great side or light lunch, try my healthy and refreshing Summer Tomato Cucumber Salad. This fresh and cool salad is made with sweet cherry tomatoes, crunchy cucumber and thinly sliced red onions and topped with crumbled feta, basil and a light red wine vinaigrette. Serve alone with crusty bread or alongside your favorite meal. Enjoy! 

Summer Tomato Cucumber Salad
Ingredients
1 seedless cucumber, peeled, halved lengthwise and sliced
1/2 red onion, very thinly sliced
2 cups cherry tomatoes, sliced in half
2 tablespoons chiffonade fresh basil (leaves stacked, rolled and sliced)
1/4 cup crumbled feta cheese
2 tablespoons extra virgin olive oil
1 tablespoon red wine vinegar
pinch of kosher salt, to taste
pinch of ground black pepper, to taste
Directions
Toss together all ingredients in a large bowl to combine.
Let the salad stand for 10 minutes before serving.