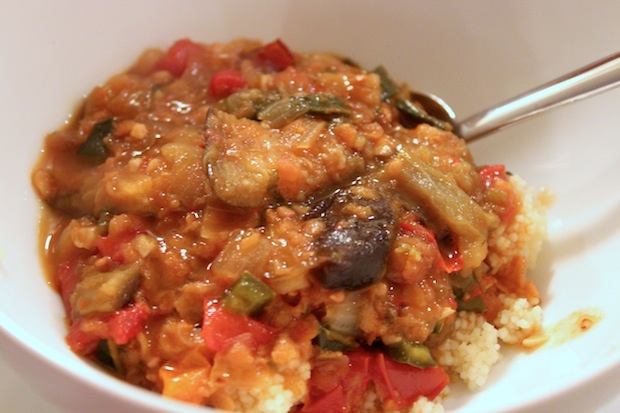 I love recipes with a "secret ingredient." I have been hearing a lot about the many uses for Pomegranate Molasses, an essential ingredient in traditional Middle Eastern cooking, so I had to give it a try. Pomegranate Molasses is a syrup-like reduction of pomegranate juice and sugar that has a really unique flavor and turns out to be the "secret ingredient" in this delicious vegetarian stew. This dish hails from Antakya, a coastal town in southern Turkey, where it is a summer staple for Turks in the region. If you haven't heard, the coast of Turkey is full of quaint little beach towns with fabulous authentic restaurants along the shore.
This is one of those stews that gets better the longer you simmer it over the stove. With lentils, eggplant, onions and tomatoes, the stew is hearty and satisfying. A drizzle of pomegranate molasses over the top adds a surprising tartness that makes this dish so unique. Serve the stew on its own or over couscous for a tasty, light meal. Pomegranate Molasses can be found at Middle Eastern markets – I went to Kalustyan's in NYC to pick up mine.
Eggplant and Lentil Stew with Pomegranate Molasses
Recipe courtesy of Musa Dagdeviren via Food & Wine
Ingredients
One 1 1/2-pound long, narrow eggplant
Salt
1/2 cup lentils
Water
2/3 cup extra-virgin olive oil
1 medium onion, finely chopped
4 medium garlic cloves, minced
2 medium tomatoes, chopped
2 long green chiles, such as Anaheims—stemmed, seeded and coarsely chopped
2 tablespoons chopped mint leaves
1 tablespoon tomato paste
1/4 teaspoon crushed red pepper
1/4 cup pomegranate molasses (see Note)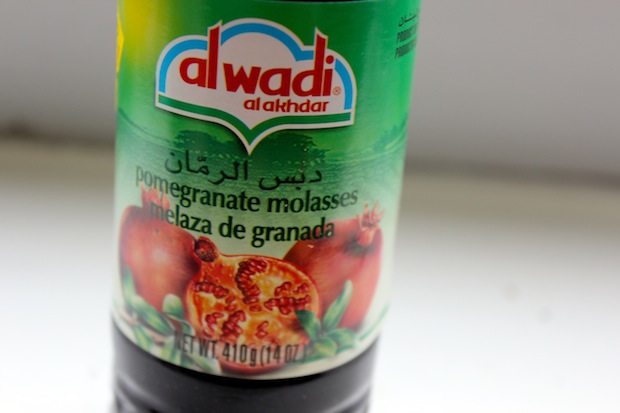 Directions
Partially peel the eggplant so it has lengthwise stripes, then cut it lengthwise into 4 slices. Score each slice on 1 side in a crosshatch pattern. Cut each slice crosswise into 3 pieces and set on a rimmed baking sheet. Sprinkle with salt. Let stand for 1 hour.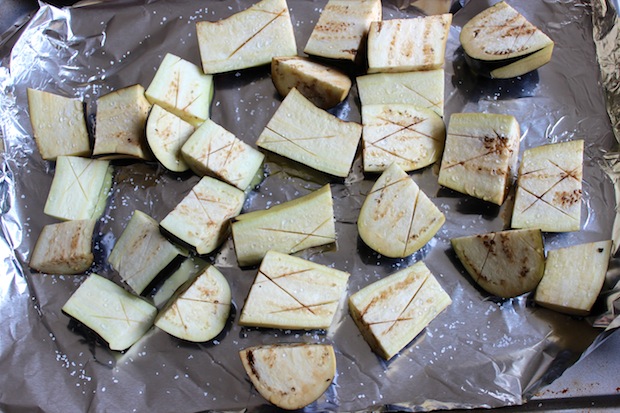 Meanwhile, in a small saucepan, cover the lentils with 2 inches of water and bring to a boil. Reduce the heat to moderate and simmer until tender, about 15 minutes. Drain the lentils.
Coat a small enameled cast-iron casserole with 1 tablespoon of the olive oil. In a bowl, toss the onion with the garlic, tomatoes, green chiles, mint, tomato paste, crushed red pepper and 2 teaspoons of salt.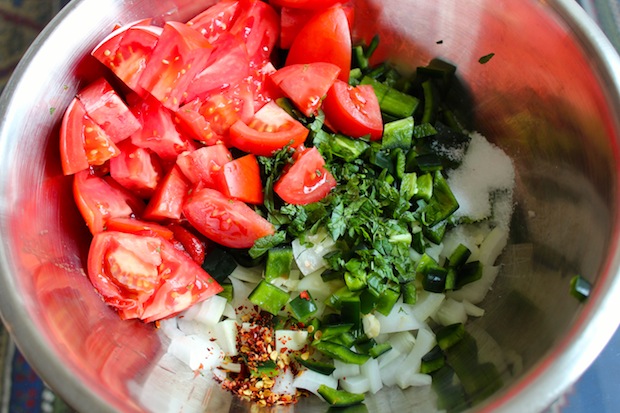 Rinse the eggplant and pat dry.
Spread 1/2 cup of the vegetable mixture in the casserole and top with half of the eggplant.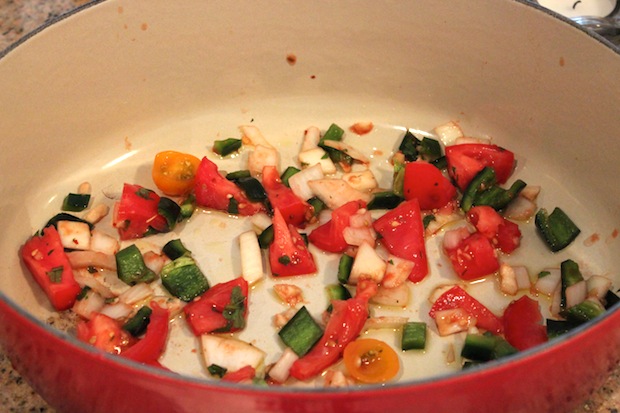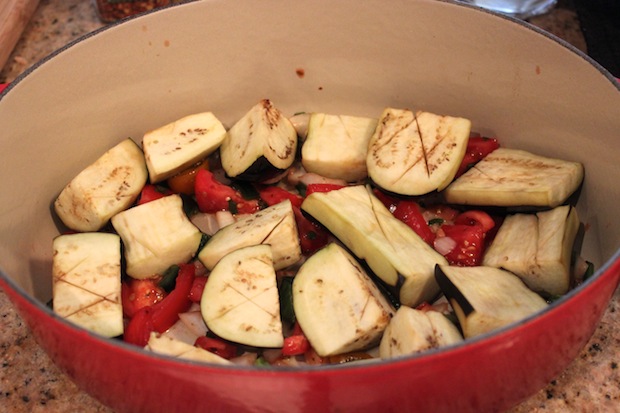 Cover with half of the lentils and half of the remaining vegetable mixture. Top with the remaining eggplant, lentils and vegetables.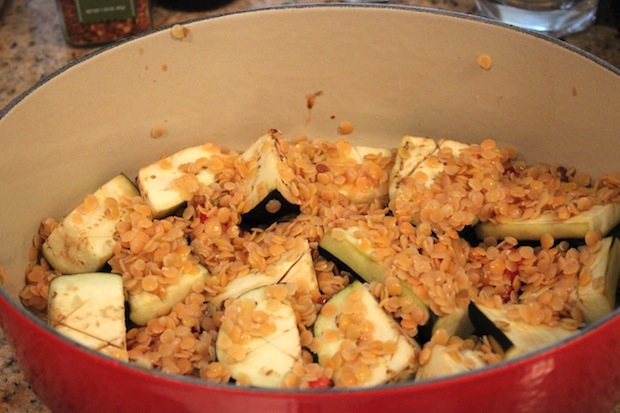 Pour the remaining olive oil around the side and over the vegetables, then drizzle with the pomegranate molasses.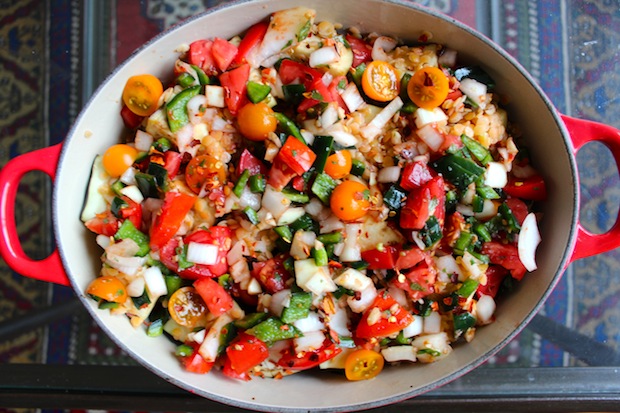 Bring the stew to a boil. Cover and cook over low heat until the eggplant is very tender, about 1 1/2 hours. Serve hot, warm or at room temperature.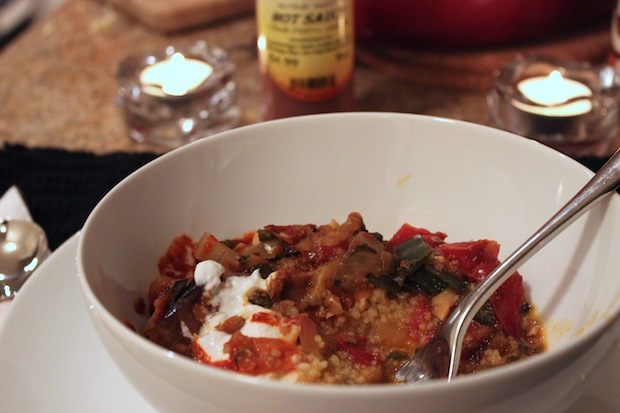 MAKE AHEAD: The eggplant and lentil stew can be refrigerated for up to 2 days. Reheat gently.
NOTES: Pomegranate molasses is available at Middle Eastern markets.