Every year I look forward to baking during the weeks leading up to Halloween. With thousands of ghost, goblin and pumpkin-inspired recipes out there, it's hard to decide exactly what to make. Lucky for you I have scoured the web for my absolute favorite baked Halloween treats. Get in the spirit and bake one of these spooky treats this year!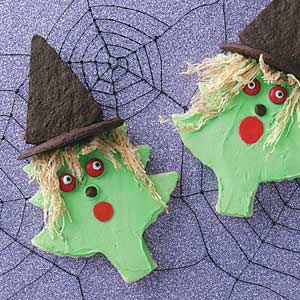 1. Halloween Cutout Cookies Recipe – I LOVE how these cookies use Christmas tree cookie cutters to create a witch's head – it's never too early bring them out of the cupboard! With M&M eyes, a generous layer of bright green frosting and light chocolate wafers for a witch hat, these cookies are playful and fun.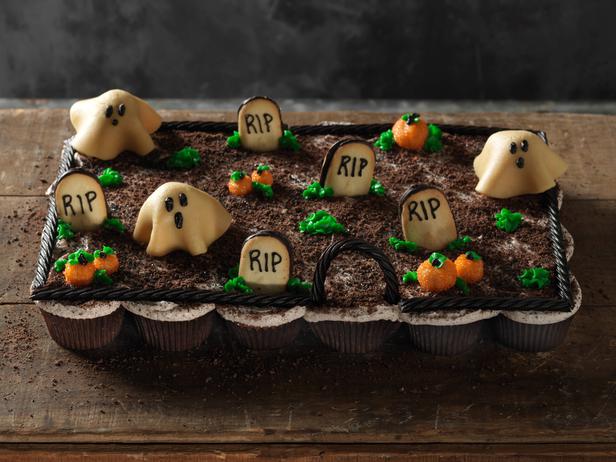 2. Pull Apart Graveyard Cupcakes – Crushed chocolate cookies atop a dozen moist cupcakes make a spectacular graveyard dessert platter. Edible decorations such as licorice, marshmallows, lollipops and marzipan make for festive toppings amid the graveyard "dirt." I love how this is all in one dish!
3. Buddy Valastro's Candy Pie – Leave it to Rachael Ray to find a recipe that uses all of your leftover candy to create a trick-or-treat pie. Start with your favorite store-bought pie crust (or make your own if you are feeling adventurous), and then add all of your leftover, unwrapped candy to the pie until it is filled. After baking for 3o-4o minutes, the candy with melt and the flavors with mesh together. Finish it off by drizzling hot white chocolate over the top. Check out the video here.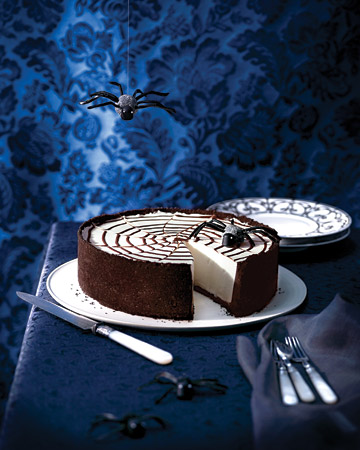 4. No Bake Spiderweb Cheesecake – For something a little more elegant, try this creamy and easy no bake cheesecake with none other than a ganache spiderweb. A chocolate wafer crust is filled with a decadent cream cheese filling and topped with homemade dark chocolate ganache. Garnish with homemade gumdrop candy spiders.
5. Low Fat Fudgy Ghost Cupcakes – the chic brûlée's very own

Fudgy chocolate cupcakes are topped with ghoulish, light-as-air meringue. Use mini chocolate chips for the eyes!