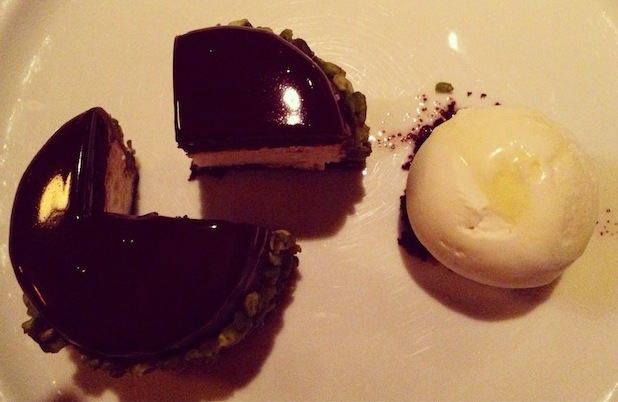 This past weekend we finally made it back to one of the fanciest Italian restaurants in New York, Del Posto. The hotspot, run by celebrity Italian food personalities, Mario Batali, Joe Bastianich and Lidia Bastianich, occupies an opulent space in Chelsea, where  live piano fills a bustling, warmly-lit dining room. Del Posto received a four-star rating from New York Times critic Sam Sifton a couple years back, much to the surprise of discerning editors and restaurant-goers alike who doubted it deserved a coveted spot next to the finest dining establishments in the city–Per Se, Daniel, Le Bernardin, Eleven Madison Park and Jean Georges.
The last time we dined at Del Posto was a little over a year ago and although we remembered a pleasant experience, let's just say it was very late at night and post a-few-too-many martinis/champagnes, so wanted to circle back for a more proper experience to really see what all the fuss was about. Upon arrival we were greeted with the requisite aloof Italian maître d', who, after correcting my pronunciation of my own Italian last name, showed us to a lovely table for two on the second floor balcony. The ambiance, complete plush furniture and plenty of dark wood and marble, is somewhat over the top and undeniably theatrical, but very comfortable nonetheless. We chose the Il Menù Del Posto 5-course meal.
To start, the bread basket, an assortment of still-warm baquette, airy foccacia, and crusty olive rolls, was phenomenal. It was served with a selection of whipped lardo (pure indulgence) and fresh cream butter. We may or may not have received a second serving of lardo 😉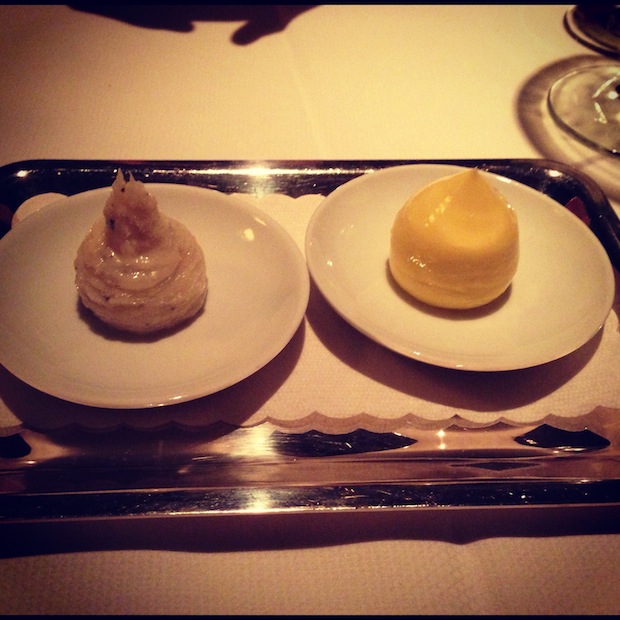 For our first course, I really wanted to try their white truffles from Italy, so we had them over petite veal agnolotti that were lightly tossed in a butter sauce. Although not the best white truffles I have ever tasted, they were very fragrant and flavorful and certainly did the trick.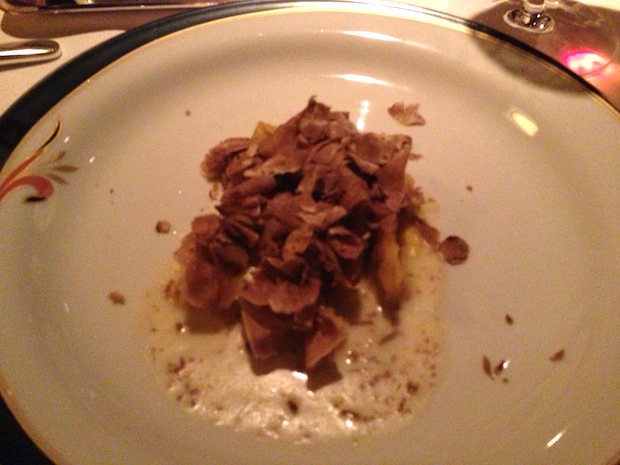 Our second pasta course was garganelli verdi al ragu bolognese, a tasty al dente penne-like spinach pasta with a traditional bolognese sauce and sprinkling of Parmigiano–Reggiano. This is one of Del Posto's most popular and satisfying pasta dishes.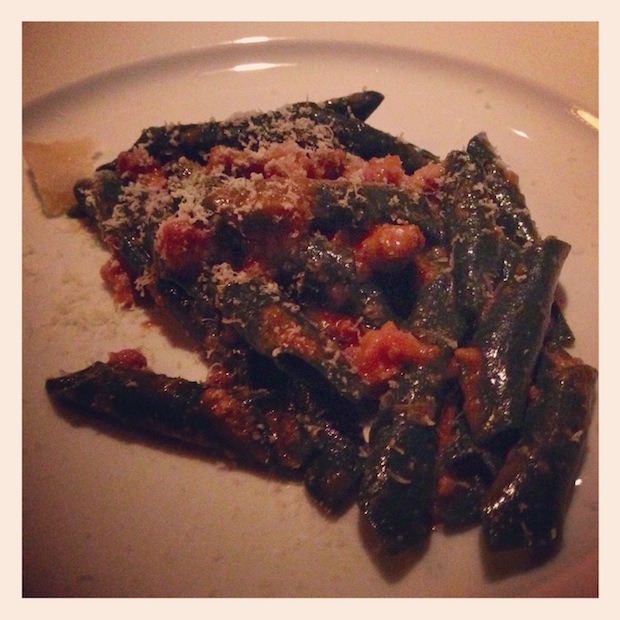 For my secondi, I chose the lobster with shitake, celeriac, mustards and hazelnuts. When it arrived to our table, our waitress drizzled a rich balsamic and browned butter sauce over the top. The lobster was excellent and the earthy vegetables complemented the lightness of the lobster very well.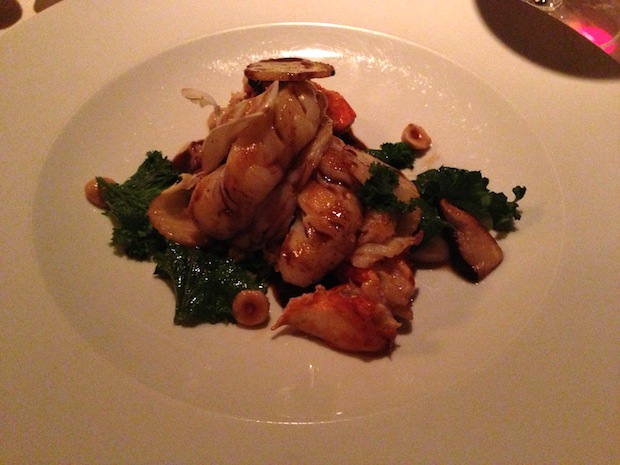 Last, but certainly not least, Pastry Chef Brooks Headley did a brilliant job on the desserts. I had the tortino, a delectable cake with alternating layers of creamy ricotta and rich chocolate cake, all covered in silky chocolate ganache with crunchy Sicilian pistachios lining the sides. A scoop of extra virgin olive oil gelato was pure perfection.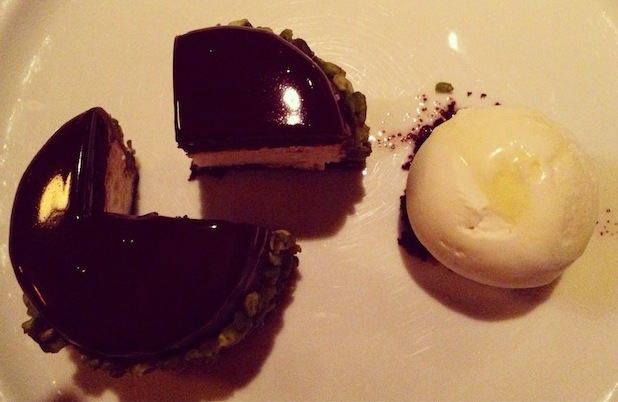 We were sent home with an elegant box of mini pistachio cookies each. The cookies were a beautiful green color, dense, flavorful and finished off with a perfect single pistachio and dusting of salt resting on top.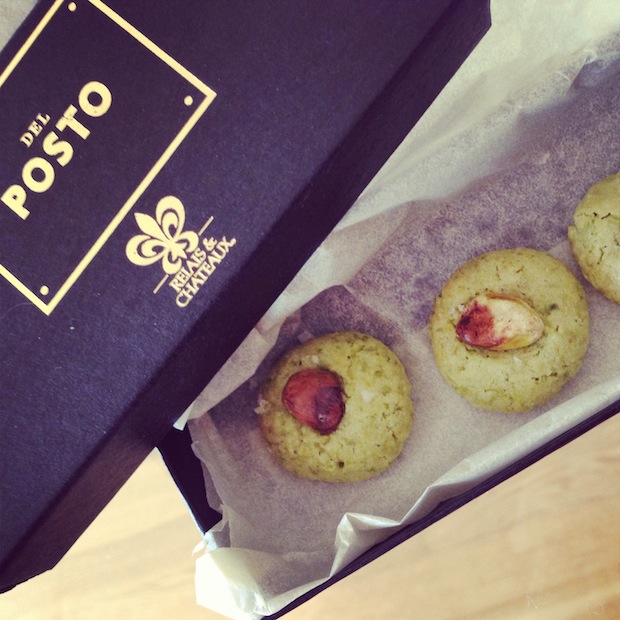 Although there were a few things we'd change (such as our waitress serving one of our courses while my fiancé was away from the table), it can't be denied Del Posto offers a unique and elegant dining experience that successfully merges fine dining with traditional Italian cuisine, a feat that is rarely pulled off in the restaurant world.
Del Posto
85 Tenth Avenue
New York, NY
DelPosto.com