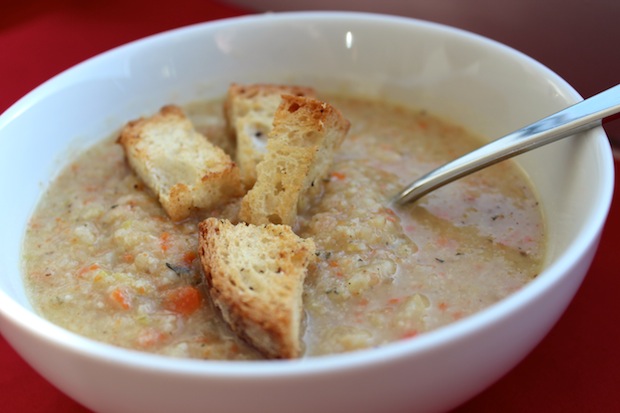 Last night I made a hearty Roasted Cauliflower Soup with homemade garlic croutons. If you are looking for an easy weeknight dinner packed with nutrients and good-for-you vegetables, look no further than this recipe. I decided to roast the cauliflower in the oven before I added it to the soup to bring out all of the flavors and it was totally worth the extra step. I also decided to forgo the cream and half-and-half usually used in cauiliflower soups because this soup is thick and creamy enough on its own (who needs the extra calories?). I made a few homemade garlic and thyme croutons for extra crunch to serve on top. Perfection! 

Roasted Cauliflower Soup
Ingredients
Soup
2 heads cauliflower, leaves and thick core removed, chopped into 1-inch flowerets
1 tablespoon extra-virgin olive oil
1 onion, chopped
1 leek, white and light green parts only, chopped
3 cloves garlic, minced
2 carrots, chopped
2 celery stalks, chopped
1 teaspoon fresh thyme leaves, finely chopped
1 bay leaf
1 1/2 quarts chicken stock
1/2 cup good Parmesan cheese, grated
Salt and freshly ground black pepper
cooking spray
Croutons
3 large slices Italian or other crusty bread, cut into cubes
1 tablespoon olive oil
1/2 teaspoon garlic powder
1/4 teaspoon fresh thyme leaves, finely chopped
Salt and freshly ground black pepper
cooking spray
Directions
Preheat oven to 425°F.
Place cauliflower on baking sheet that is sprayed with cooking spray. Sprinkle a few shakes of salt and pepper on cauliflower.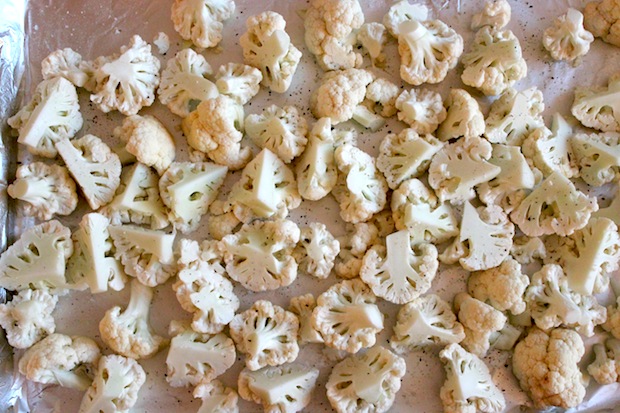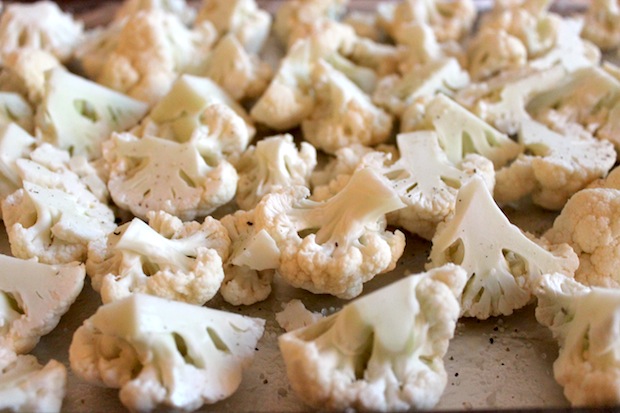 Roast for 30 – 35 minutes or until just starting to brown. Let cool. Reduce heat of oven to 325°F (we'll need it for the croutons in a bit..).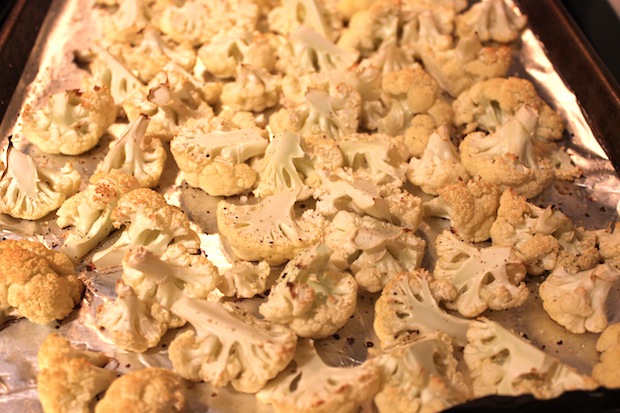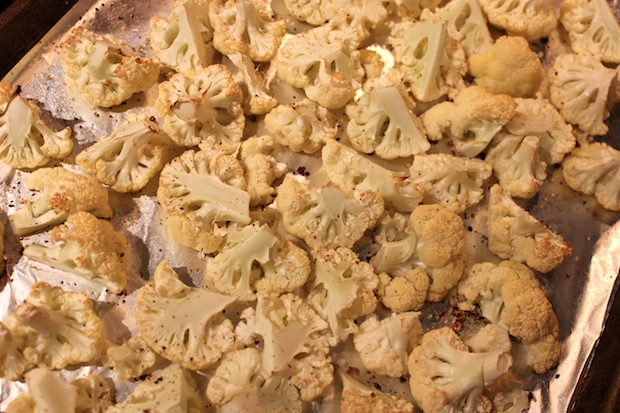 Heat the olive oil in a large saucepan or soup pot over medium heat and add the onion, leeks and garlic. Add a few shakes of salt and pepper (and red pepper seeds, if desired). Start chopping the thyme and reserve.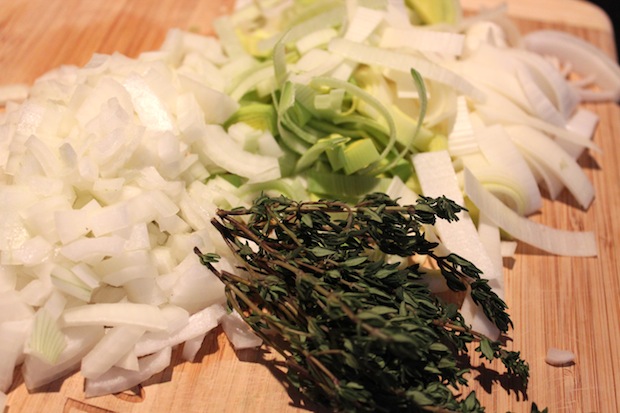 Cook onions and leeks until softened, about 5 minutes.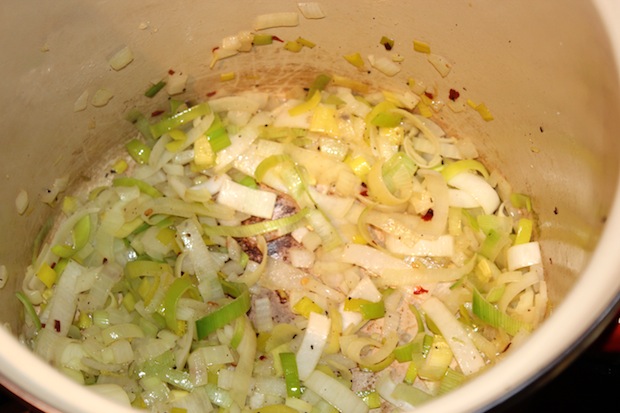 Add carrots and celery and cook for an additional 5 minutes.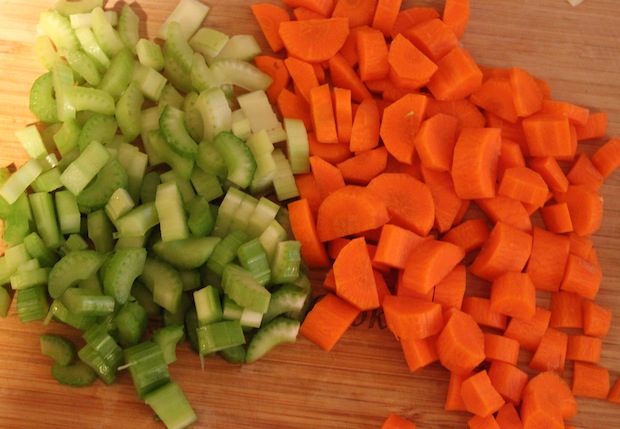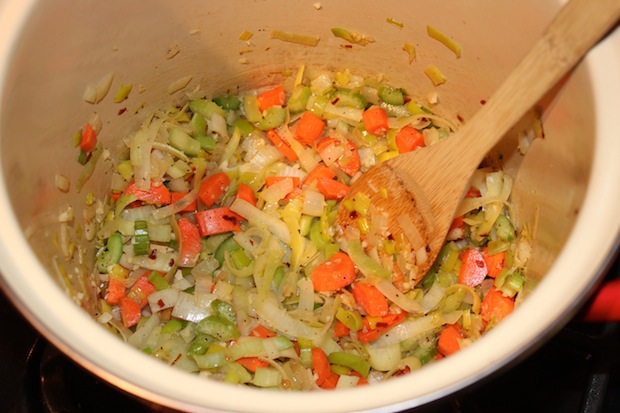 Add thyme and cook for 30 seconds. Add the roasted cauliflower, chicken broth and bay leaf and bring to a boil. Reduce temperature to low and simmer for about 20 minutes.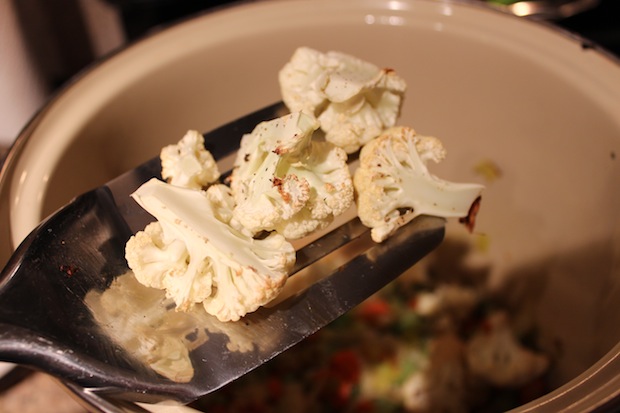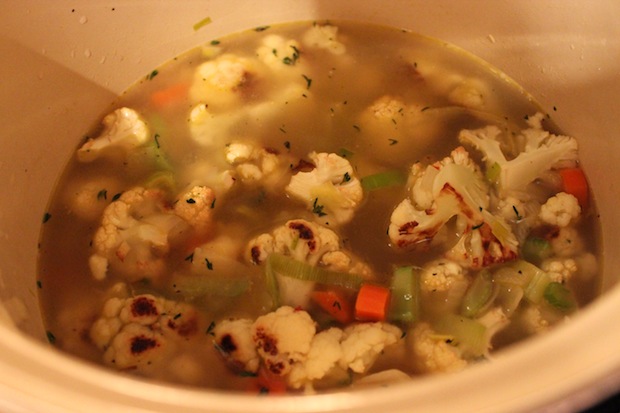 Meanwhile, make the croutons. Spread bread cubes on a baking sheet sprayed with cooking spray. Toss with olive oil, garlic powder, thyme and salt and pepper to taste. Bake for 7-12 minutes or until golden brown (watch them closely because cooking time varies based on size of bread and actual oven temperature). Let cool.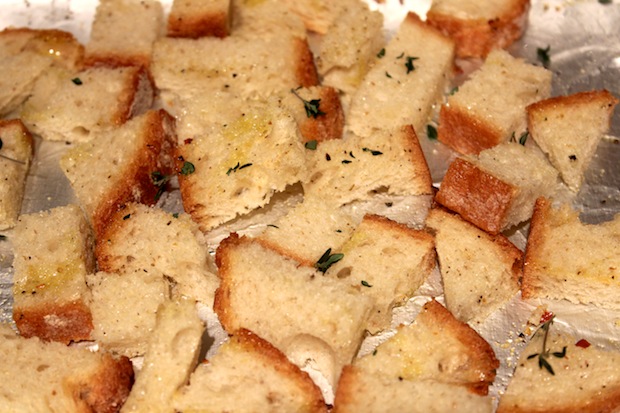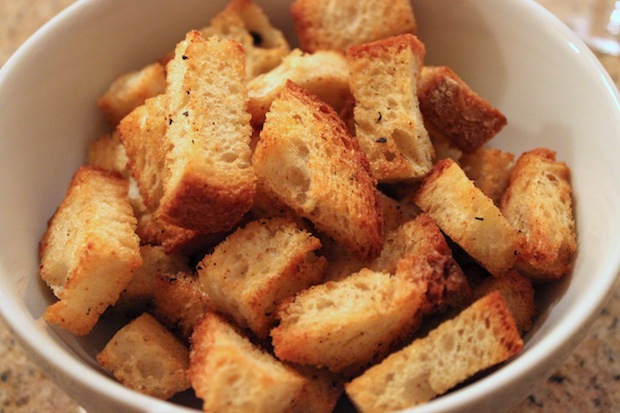 Discard bay leaf and use a hand-held immersion blender to puree soup to desired consisentcy. If you do not have an immersion blender, you can put the soup in a regular blender, working in batches (please use caution when blending hot liquids!). If using a regular blender, return soup to pot.
Simmer for an additional 10 minutes. Stir in Parmesean and salt and pepper to taste. Serve with homemade croutons.