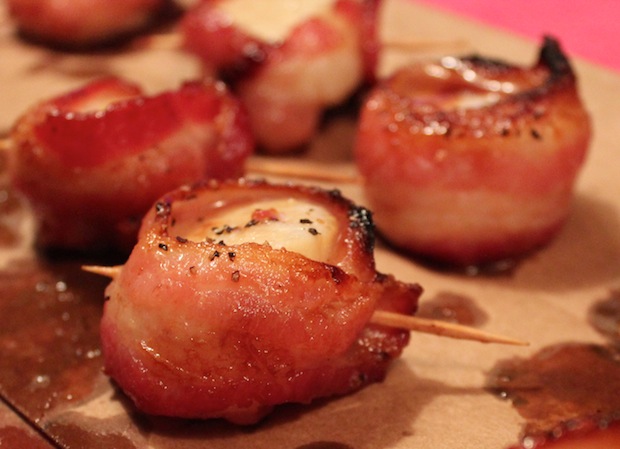 For a simple and classic hot hors d'oeuvre, what's better than a sizzling scallop wrapped in bacon? I made these crowd favorites around the holidays for an elegant appetizer and decided to serve them recently as a light dinner alongside a salad. The recipe has been around forever, but I wanted to post about it today to bring them back in style! 
Make sure to buy fresh scallops from a fish market or a grocery store like Whole Foods with a stellar fish department. I hope you enjoy this quick and timeless recipe for Scallops Wrapped in Bacon!
Scallops Wrapped in Bacon
Ingredients
12 slices smoked bacon or other thick-cut bacon
12 scallops
1/4 cup brown sugar
Freshly ground black pepper and salt
Wooden toothpicks or short wooden skewers
Directions
Preheat your oven broiler. Line a roasting pan or baking sheet with aluminum foil.
Season the scallops on all sides with salt and pepper. Wrap each scallop in 1 piece of the bacon, securing it tightly through the center with a toothpick or short wooden skewer. Repeat with the remaining scallops.
Dab a 1/2 teaspoon of brown sugar on the top and a 1/2 teaspoon on the bottom of each scallop (each will have 1 teaspoon of brown sugar total).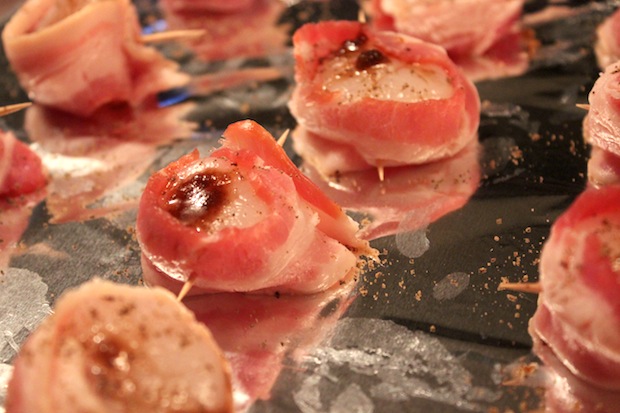 Broil for 8 minutes. Flip scallops over and broil for an additional 8 minutes or until the bacon is sizzling and brown.
Enjoy!