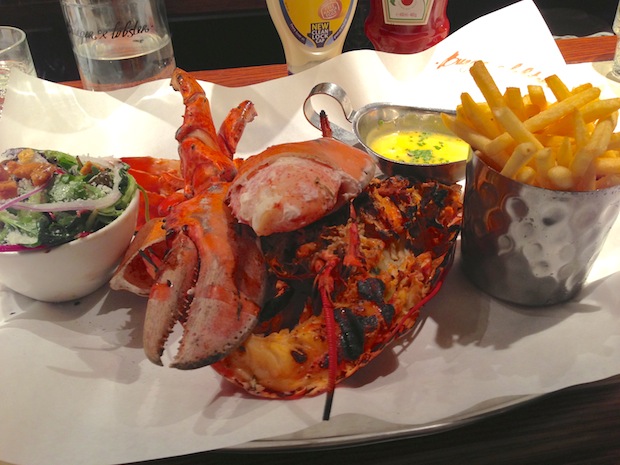 This weekend I checked out the Mayfair location of London hotspot Burger & Lobster. This no-reservations eatery constantly has a queue running out the door and, as we found out, for good reason. In lieu of printed menus, the waitstaff verbally offers 3 simple menu options: a burger, lobster or lobster roll. Considering all 3 of these dishes are some of my favorite foods ever, this was totally fine with me. It's a unique concept to offer such a limited menu, but if you know what you are in for, it makes for a highly satisfying meal.
The ambience is casual with a buzzy vibe and a mix of families, couples and solo diners chowing down at the bar. We had heard horror stories of 2-3 hours queues, but on a Saturday at 1:00 p.m. we were able to get seats at the bar within a few minutes. We were quoted a 30 minute – 1 hour wait for a table in the main dining room, but decided to brave it at the bar first, and seats opened up right away. We weren't entirely sure if the seats at the bar were first-come though, so don't tell anyone 😉
They make killer Pimm's Cups and a variety of other fun cocktails, not to mention a short, but good, wine list. The beer selection was also solid, according to the husband. They carried Samuel Adams, a Boston-based beer which fittingly brings to mind summer lobster bakes in New England, and is a rare find in London.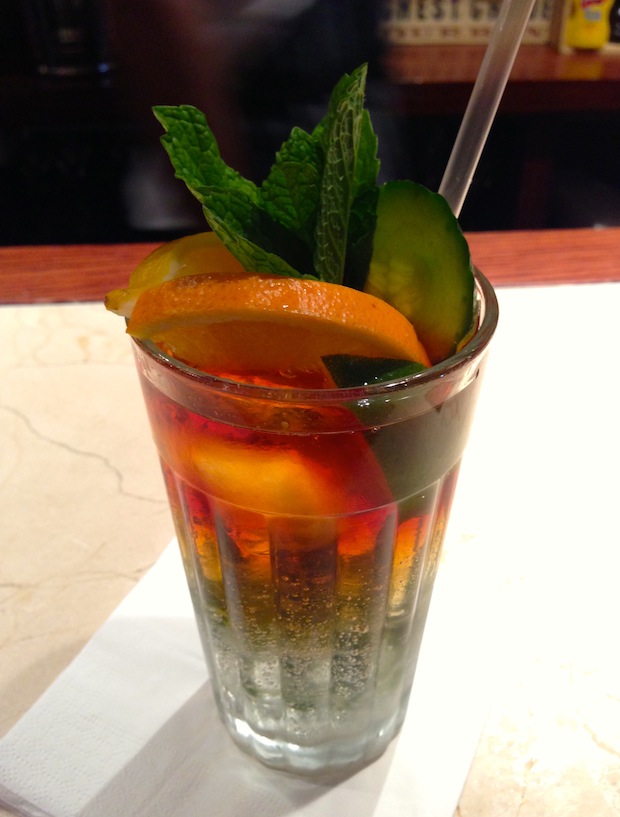 The dishes are served with 2 sides – skinny french fries and a surprisingly tasty mixed green salad with a drizzle of balsamic vinegar, grated parmesan and crunchy mini croutons. You couldn't ask for more perfect accompaniments. On each of the tables is a bottle of Heinz Ketchup and Hellmann's mayonnaise (no messing around). The only choices you have are the following:  if you want your burger with or without cheese and/or bacon and, for the lobster, if you'd like it steamed or grilled. We opted against the lobster roll because, although it looked delicious, it was the cold kind made with mayonnaise (i.e. lobster salad) and I strongly prefer the "Connecticut-style" hot lobster rolls dressed with melted butter. Just a personal preference.
As I have mentioned before, being an ex-New Yorker, I am highly critical of burgers and I give this one high marks. The meat was juicy and the buttered, seeded bun with fresh lettuce, tomato, shaved onion and pickle was perfection, along with melted, gooey cheese. The fries were hot, crispy and salty. My husband described the burger as a mix of 'backyard grill' and 'gourmet burger' and that is pretty hard to find.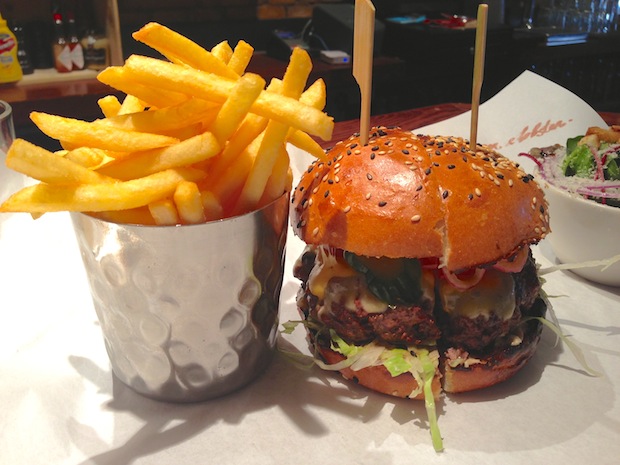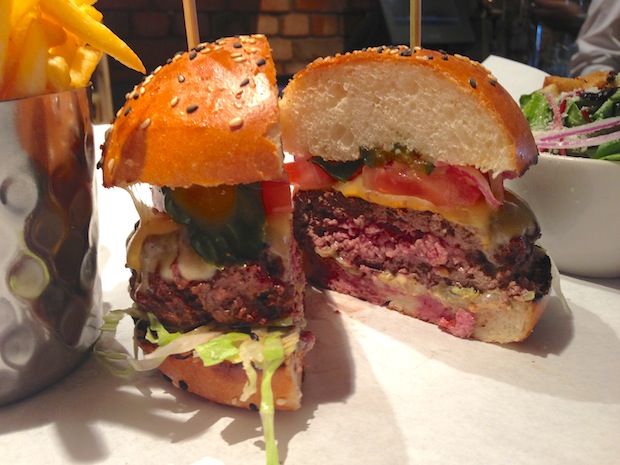 The grilled lobster also did not disappoint. It was succulent, meaty and chargrilled without being dried out. It's served with a to-die-for butter sauce. It's hard to go wrong when you dip fresh lobster meat in butter sauce because, after all, what doesn't taste good dipped in drawn butter?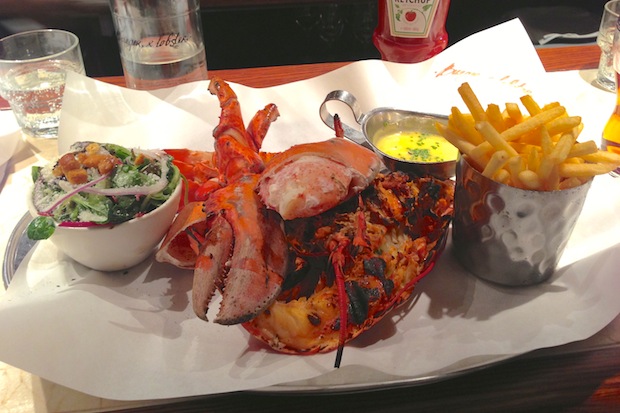 I will be returning (soon) to Burger & Lobster in Mayfair and highly recommended it to all the Londoners out there.
Burger & Lobster
www.burgerandlobster.com
29 Clarges Street
London W1J 7EF