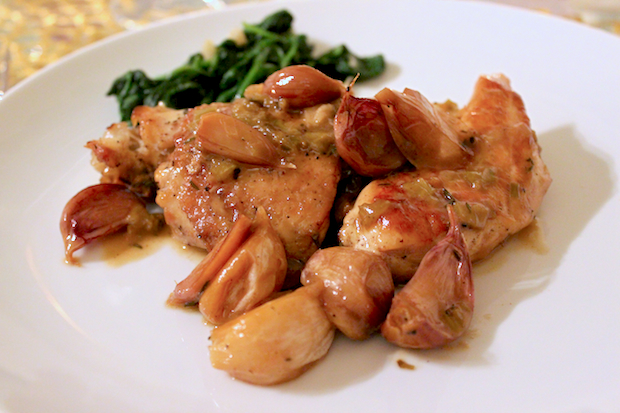 Last night I made the classic Provençal recipe, "Chicken with 40 Cloves of Garlic." This recipe has been around for decades and I'm determined to make it trendy again. I love garlic, so I knew I'd enjoy any sort of recipe that features it in a large quantity, but you really don't have to be a die-hard garlic lover to fancy this dish. The garlic is slow-roasted and softened during the cooking process, so the usually strong flavor is mellowed and smooth as butter.
Chicken is the other star of the dish and I opted to use 2 breasts and 2 thighs in my recipe, which is a good amount for 2 people, including a bunch of leftovers, but you can use any type of chicken pieces you'd like. The garlic is kept unpeeled so it is allowed to steam and remain moist while cooking. The other components are very Provençal-esque, including fresh thyme, scallions and dry white wine. For the wine, I chose a Chardonnay grown in the Maconnais region of southern Burgundy, Macon-Lugny Les Charmes, although any good-quality dry white wine will do. It was delightful and, conveniently, doubled as our beverage of choice for dinner, so I recommended picking something nice and doing the same.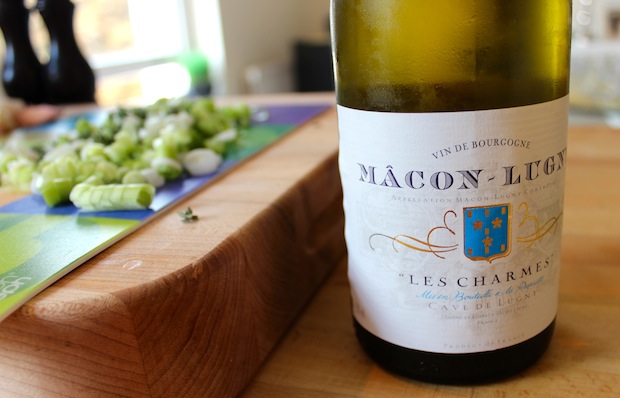 Chicken with 40 Cloves of Garlic is very simple to make and requires minimal prep. After roasting the chicken, vegetables and garlic in the dutch oven for 1 1/2 hours, the chicken was tender and fell off the bone, and the white wine sauce was punchy and flavorful. Each of the 40 cloves of garlic roasted up to perfection and were so meltingly soft they could be squeezed out and smeared on a piece of bread. You should also enjoy the squeezed garlic flesh with your chicken. Enjoy!
Chicken with 40 Cloves of Garlic
Ingredients
2 tablespoons olive oil
1 tablespoon unsalted butter
2 chicken thighs, with skin on and bone in
2 chicken breasts
1 bunch or 6 scallions, finely sliced
8 – 10 sprigs fresh thyme, leaves removed and stems discarded
40 cloves garlic (3 to 4 heads), unpeeled
1 cup dry white wine
Salt and freshly ground black pepper, to taste
Before we get to the directions, here is the dutch oven I used, as well as a few ingredients I gathered up to get started.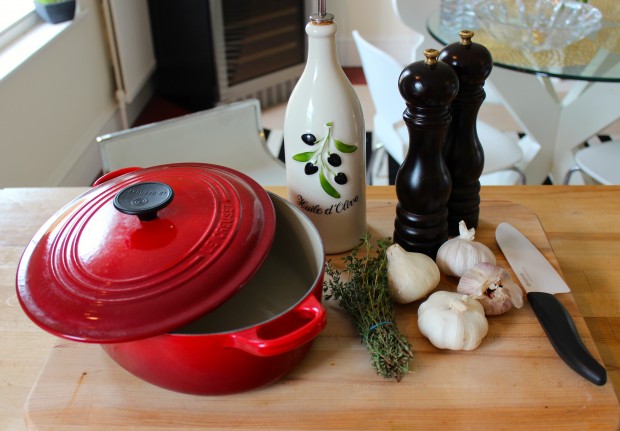 Directions
Preheat the oven to 350 degrees F (175 degrees C).
First, prep the garlic. Separate the heads of garlic and remove excess pieces of papery husk, but don't peel them. Set aside.
As you can see, I used a combination of garlic with white- and purple-colored skins, just because that is what I found fresh at the market that morning. But, feel free to use any color of garlic you'd like.
Finely chop the scallions, discarding the dark green parts. Set aside.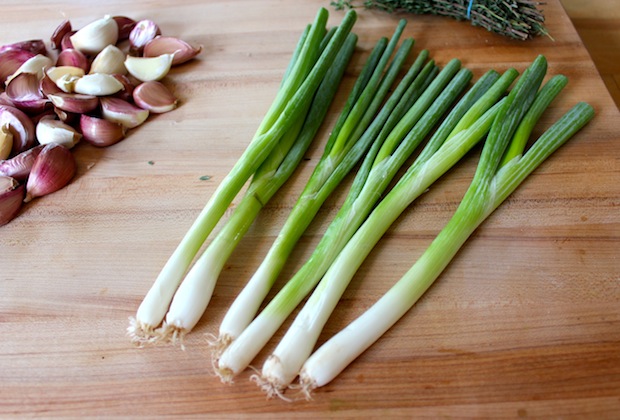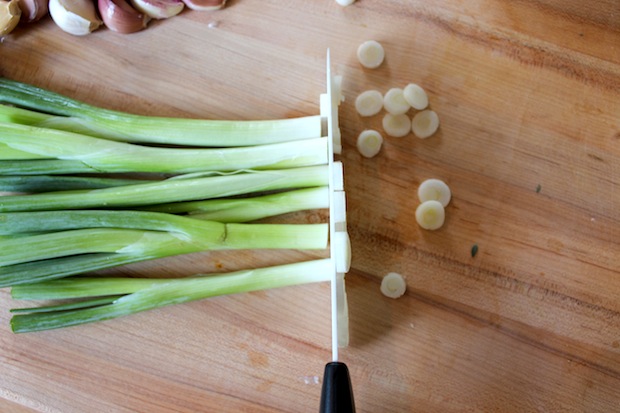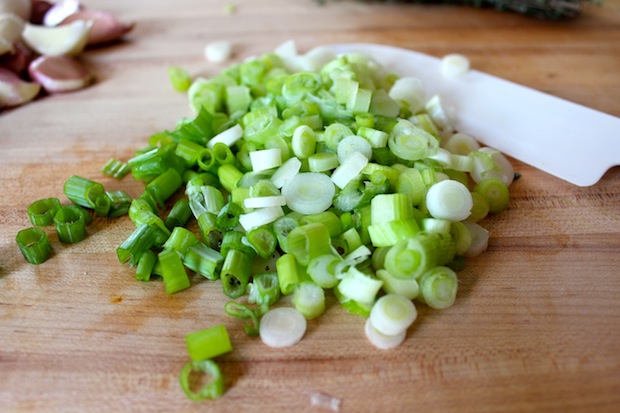 Heat oil and butter in a dutch oven or similar flameproof and ovenproof casserole (make sure you choose something with a tight-fitting lid available).
Working in batches, sear chicken over medium-high heat (about 5 minutes), making sure not to crowd the pan. Remove from pan and reserve.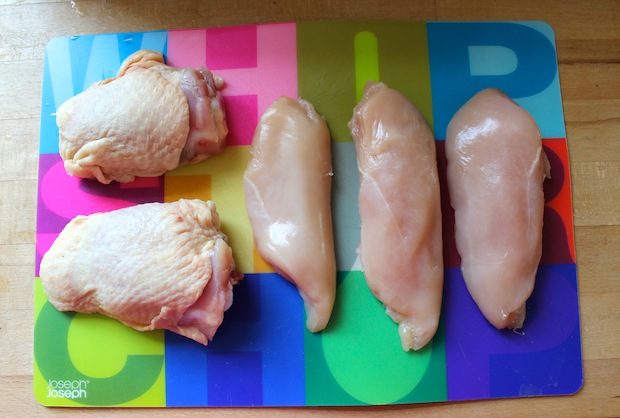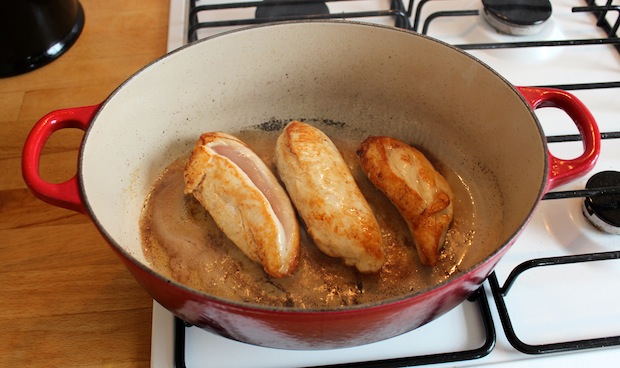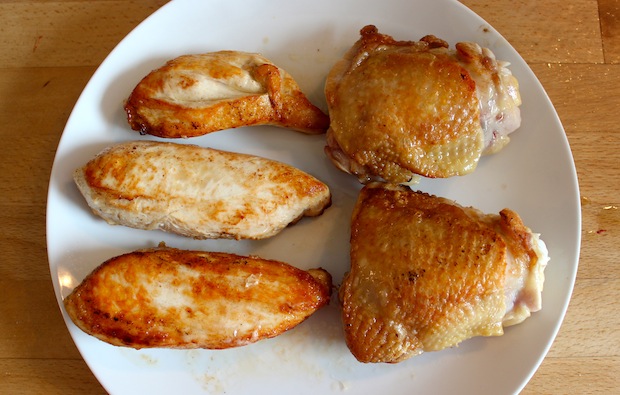 Reduce heat to low. Saute scallions and thyme for 1-2 minutes.
Turn off the heat, but leave the dutch oven on the stovetop. Place 20 cloves of garlic evenly on the bottom of the pan.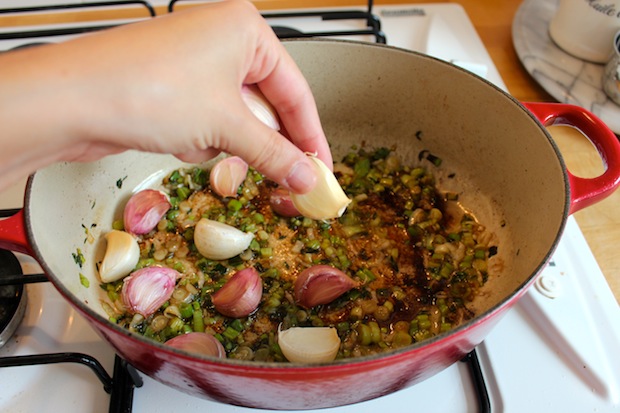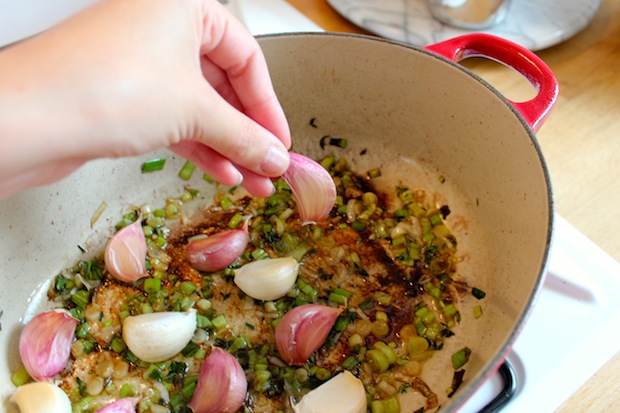 Then, add the chicken skin side up.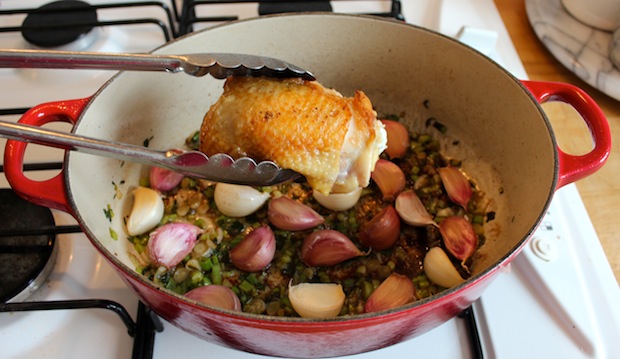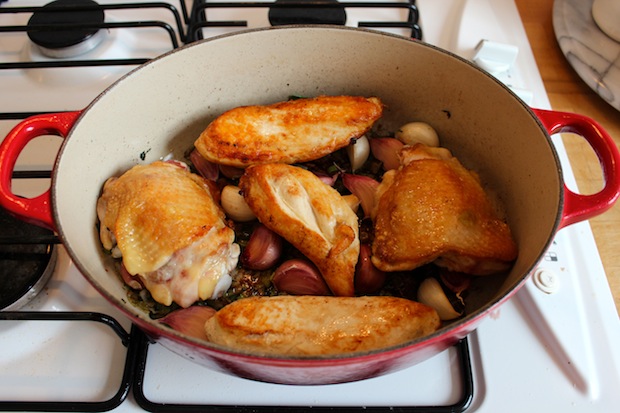 Add 20 more cloves on top of the chicken and on the sides.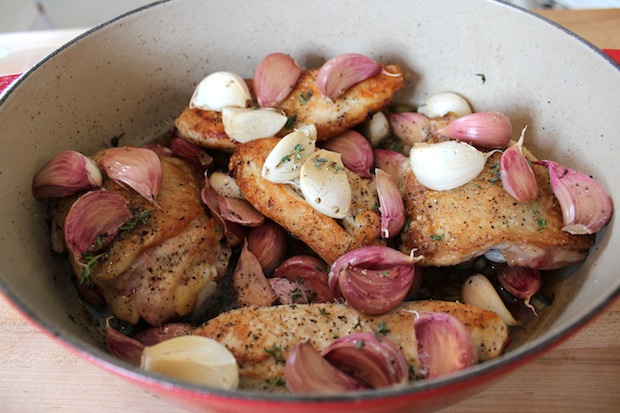 Add the white wine.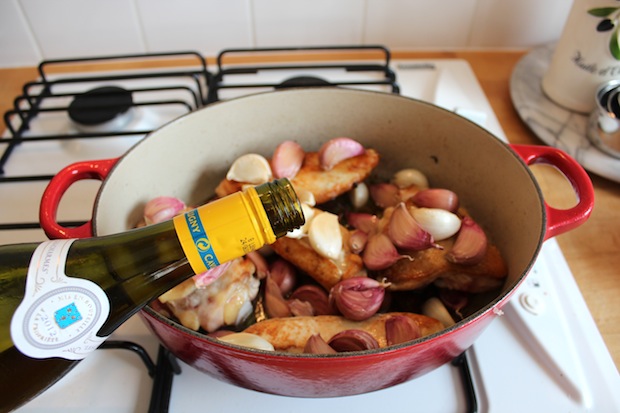 Season with salt and pepper to taste.
Place in the oven covered for 1 1/2 hours.
It will look something like this when you take it out of the oven…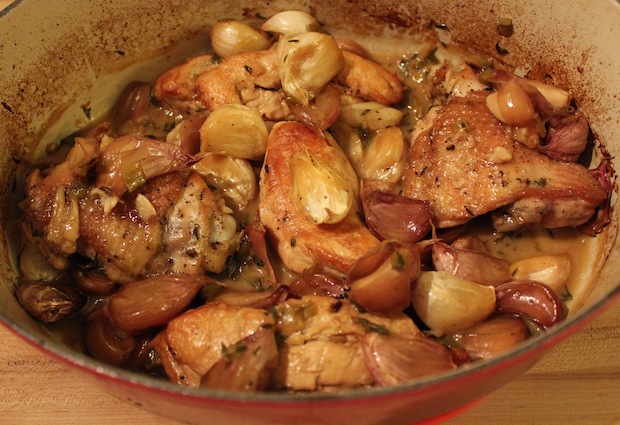 Don't forget to include lots of cloves of garlic when you are plating the chicken. I love the roasted, golden color!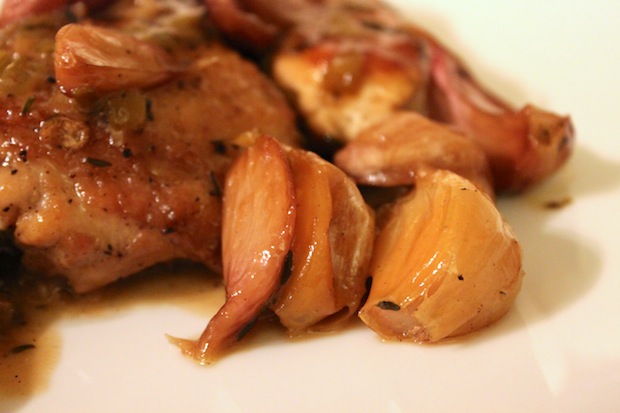 Once you get to eating the garlic, don't eat the skin, simply squeeze out the insides out and smear it on the chicken. This is the best part. You can discard the skins. Once you taste it, you'll know why there are 40 cloves!