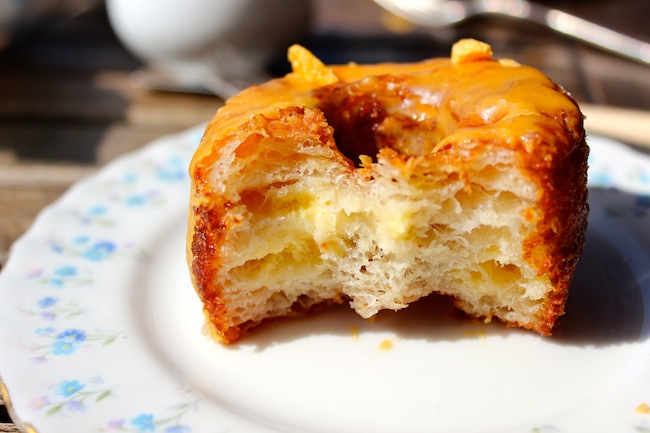 Much to my disappointment, I happened to have moved out of New York just a week after the Cronut craze took the city by storm. Perhaps for this reason I have resisted jumping on the Cronut bandwagon, despite the fact that I would have gladly joined the crazies queuing at 5:00 a.m. in front of Dominque Ansel's Soho, NYC, bakery, just for a chance to get my hands on the pastry du jour. In case you haven't heard, Cronuts are a cross between a flaky croissant and a doughnut, filled with rich cream, deep fried and frosted with a flavored sugary glaze.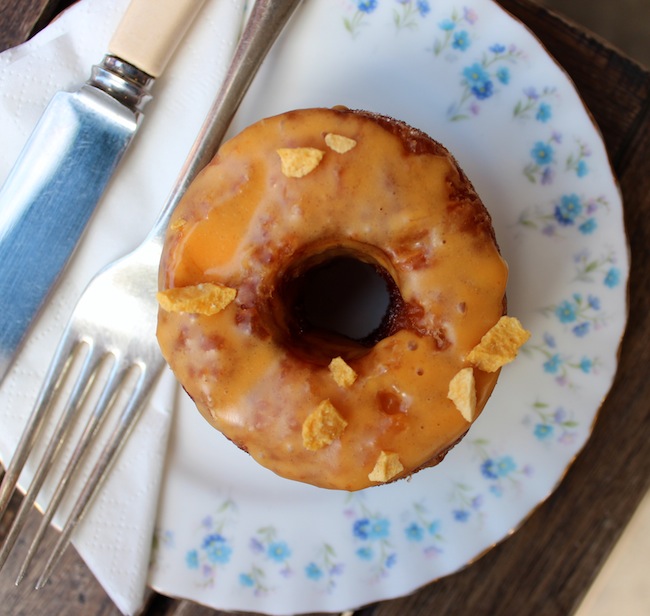 A couple months later, Cronuts officially made their way across the pond. I finally decided to give in and check out one of the London bakeries who now sells this much buzzed about treat. Because Cronuts are trademarked by Dominque Ansel, bakers all over the world who replicate the pastry have come up with some pretty creative sounding names including "greggsnut" and "dosant," just to name a couple.
I did my research and decided to get Cronuts from Cocomaya, a chic artisan bakery and chocolatier in Paddington, who sells them as 'Cro-doughs'. It came as no surprise that cronuts are also highly in demand here in London, so after reading stories about bakeries selling out within hours of opening, I decided to go ahead and reserve a couple a few days before I wanted to pick them up. The nice folks at Cocomaya gladly obliged.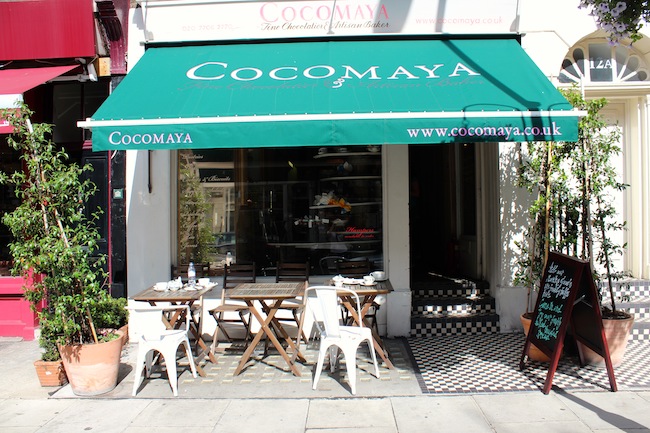 Cocomaya was started by two former fashion executives, Joel Bernstein and Walid al Damirji. Once you enter the shop there is no mistaking a heavy influence of fashion not only in the decor, but in the meticulous design of the sweets and savory items as well. When I arrived on Saturday morning, I was so distracted by the dozens of freshly made treats that graced the windows –Vienna-style pastries, savory biscuits and handmade cinnamon buns, just to name a few– that I almost forgot why I was there. Well, not really 😉 I was obviously on a Cronut mission this time around, but what I saw definitely made me want to come back another time to sample some other items.
Once I collected my reserved Cro-doughs, my husband and I sat outside on one of their little alfresco tables overlooking a charming and quiet stretch of Connaught Street. The  Cro-doughs, served on elegant patterned china, were lovely to look at it – layers upon layers of crispy, golden pastry were visible on the sides and the top had just the right amount of icing, with plenty oozing down the sides.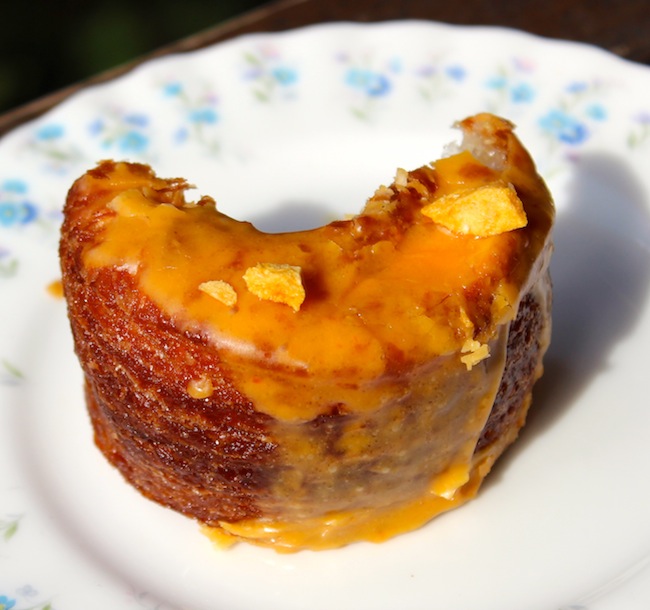 They were smaller than I'd imagined, but considering how rich they are, this was certainly not a problem. Cocomaya changes their  Cro-dough flavor monthly, and this month's flavor was passionfruit. I am normally not a fan of anything passionfruit, but these cronuts made me a believer. The outside was crispy in the lightest way possible and the inside was soft, with a small amount of not-too-tart passionfruit cream on the inside. Absolutely decadent! We finished ours within a minute or 2. It's hard to believe any Conuts exist that are better than these. The pictures truly speak for themselves.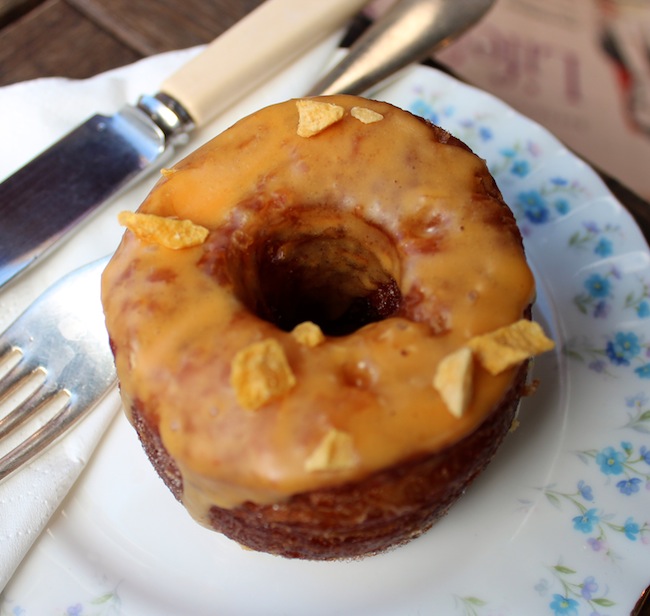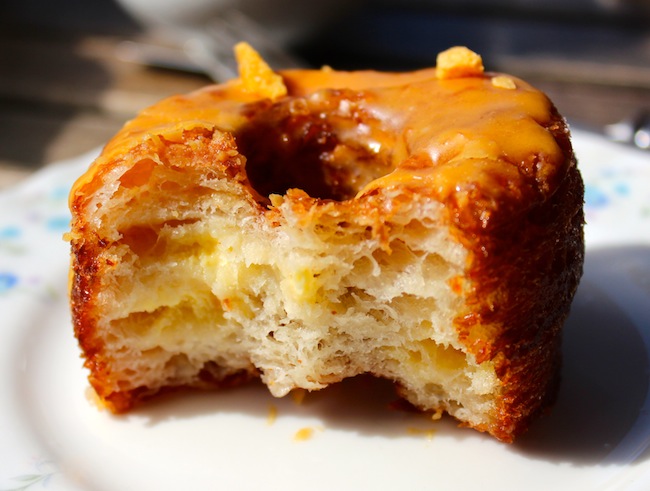 All in all, Cronuts lived up to the hype and I recommend all sweet-loving Londoners check out Cocomaya. I'll certainly be back.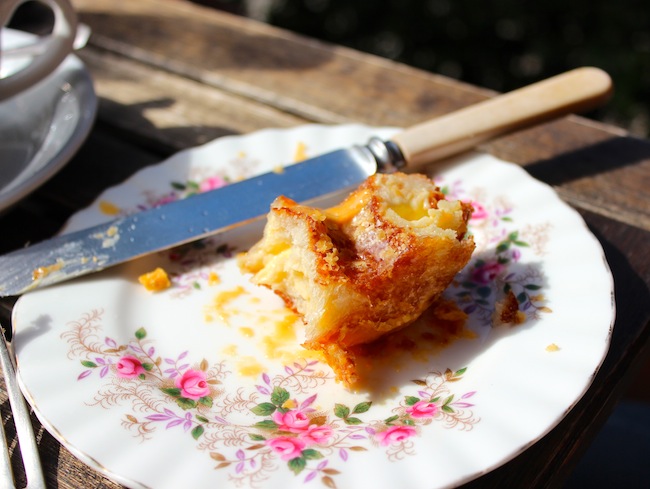 Cocomaya
cocomaya.co.uk
12 Connaught Street
London, W2 2AF
020 7706 2883