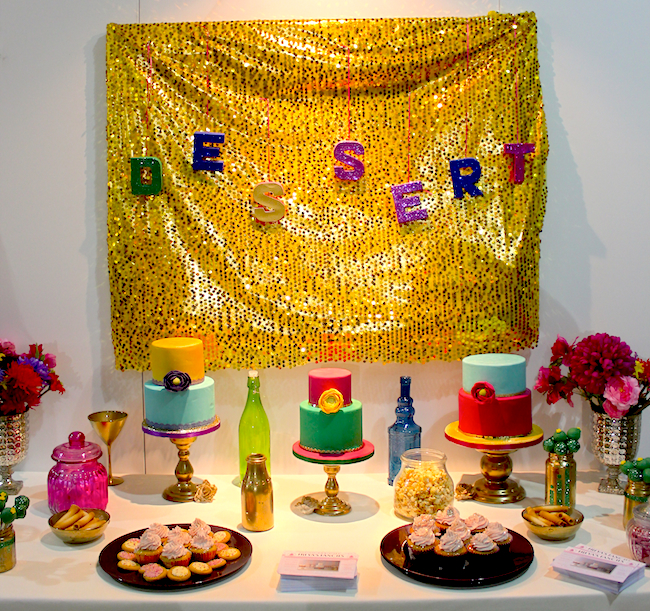 This weekend I checked out London's annual Cake & Bake Show at Earls Court, a baking exhibition featuring live competitions, celebrity demonstrations, sugarcraft showcases, and a marketplace featuring up and coming stars in the world of sweets. When I first heard about the show, I went on the website to get tickets immediately because not only am I a baking fanatic, but I thought it would be a great way to get to a pulse on what's going on in the London food scene.
Upon my arrival, my first impression was that it looked like any typical trade show – dozens of booths lined up in rows, with bakery owners standing proudly in front of their wares, along with a few live demonstrations and new product presentations sprinkled in as well. It seemed to me it attracted mostly tourists, amateur bakers and even (gasp) a hen party or two, rather than "industry" people and the media.
To my surprise, cupcakes DOMINATED the show. I know everyone, including myself, loves cupcakes but after seeing booth after booth of the same thing it got old really fast. There are really only so many things you can do with cupcakes (red velvet? butterscotch? butterscotch-red velvet?). Just saying.
Because there were so many cupcake options, it was hard to decide which to sample. Lured by their pretty displays and adorable egg carton mini cupcakes, I ended up stopping first at La-di-da Cupcake Co. Their white chocolate cupcake tower was beautiful: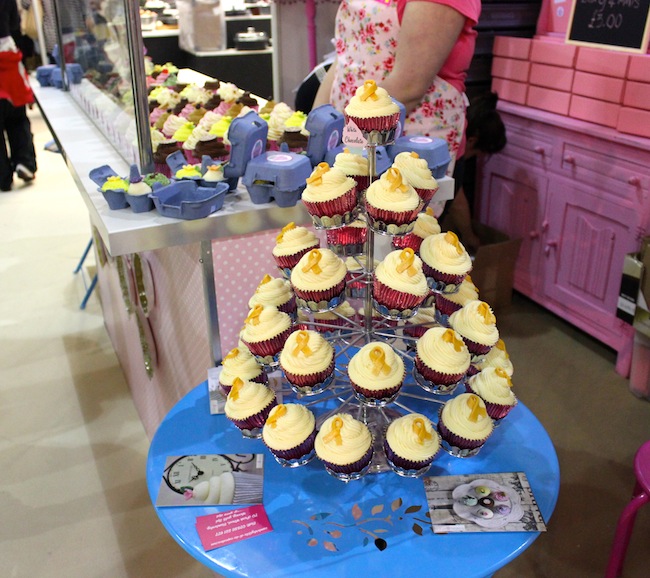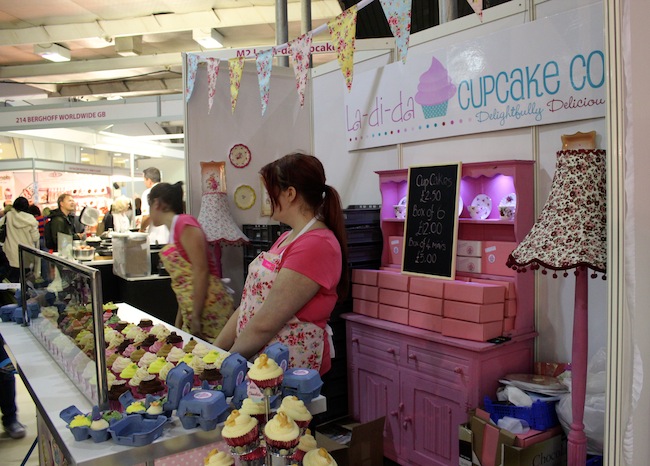 I bought a 4-pack of mini cupcakes in one of the little egg cartons. All were vanilla cake, with icings of mint, lemon, strawberry and vanilla buttercream. The cupcakes were fresh and moist. There was almost as much icing on each mini cupcake as there was cake, which is typically a real crowd pleaser. I was a bit disappointed there wasn't any chocolate cake or chocolate icing in my box (my favorite!), but I enjoyed the vanillas.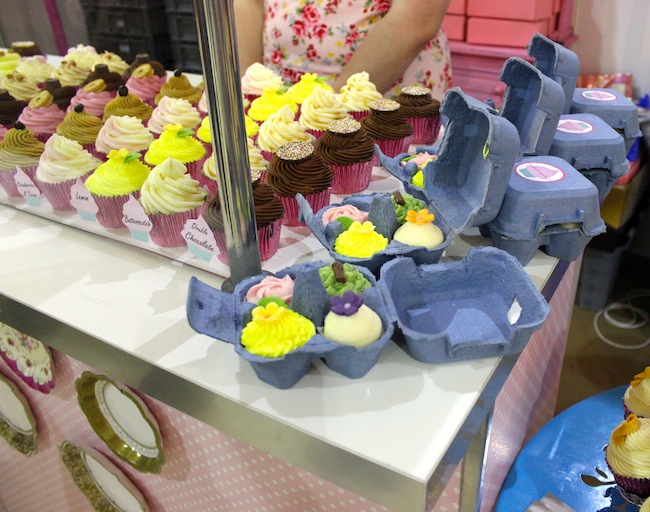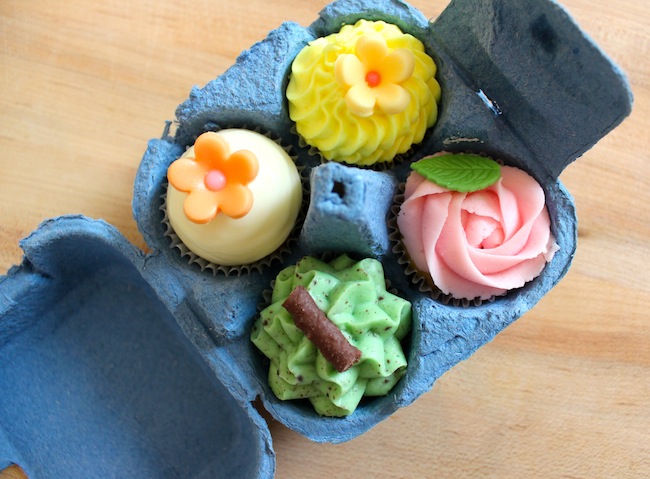 One of my favorite finds at the show was this Minnie Mouse marzipan figure from MarzipanLand. Anyone who knows me knows that I am the biggest Minnie Mouse fan ever, so how could I resist a smiling, beautiful Minnie in all her edible marzipan glory? She is far too precious to eat, but she would make a stunning cake topper or dessert table addition for a little girl's birthday or for a grown-up Minnie lover like me. The detail on the marzipan was impeccable and the colors were vibrant, as you can see from the photos. I do feel bad about one thing though – the baker asked me if I wanted to buy the Mickey Mouse as well and I said no. It would have made for one adorable pair!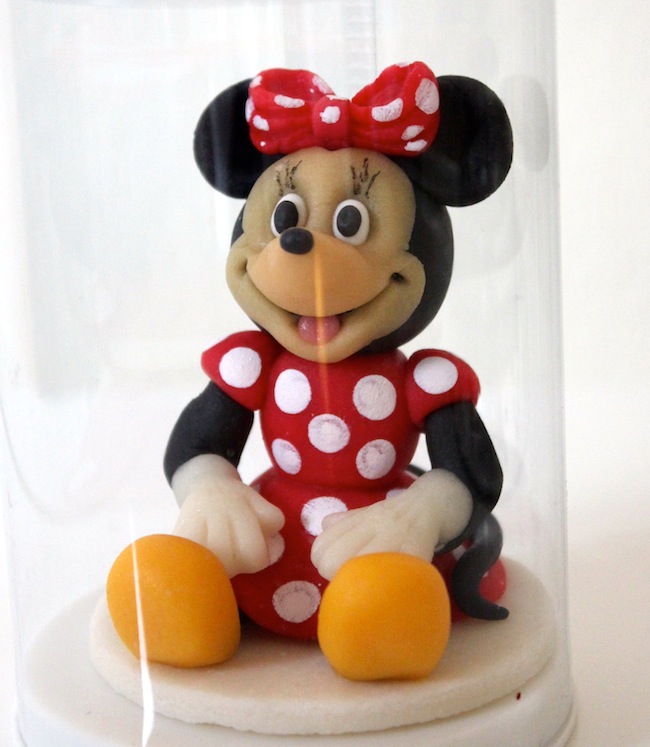 Here are a few more lovely creations from MarzipanLand, including marzipan roses, petals and fruits in a rainbow of colors…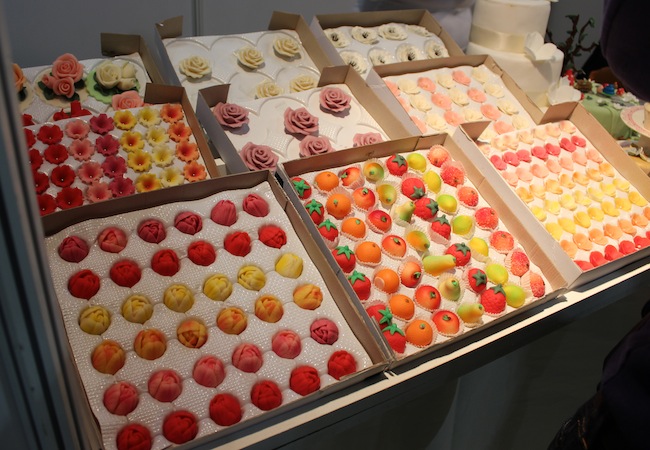 Cake pops were also a very hot item at the show. I tried a dark chocolate one first from Emmaruth's Cupcakes, a bakery based in Kent. It was adorned with jewelry-like pearl sprinkles and a glittery yellow candy coating and the inside was moist and very chocolatey just how I like.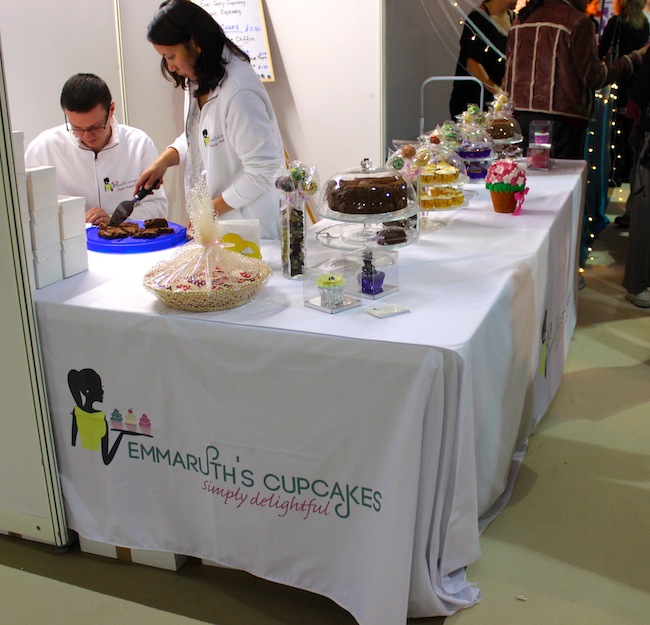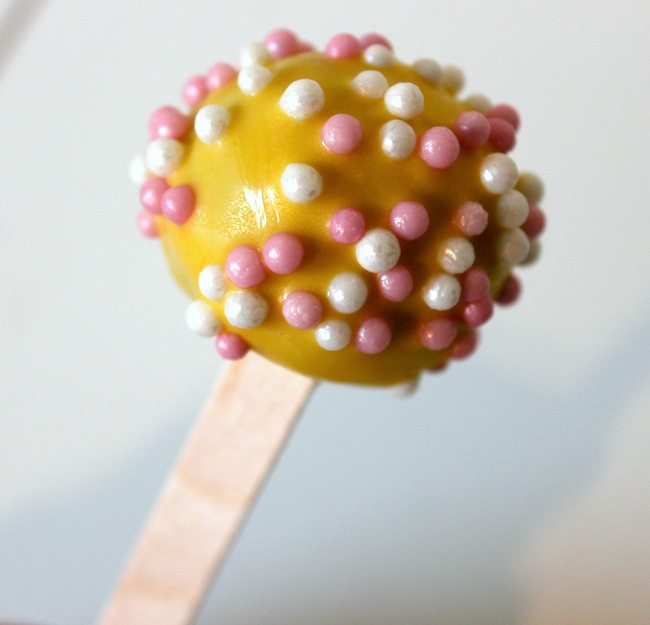 Emmaruth had some very pretty cupcakes as well, including what I like to call the Pacha Ibiza one 😉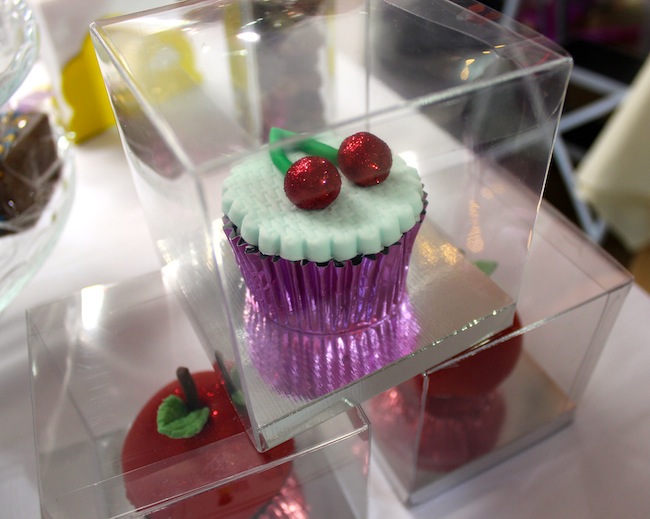 I also tried a cake pop from Love Cakery, an independently owned 'Cupcakery' offering a made to order service for parties events. I chose one with vanilla cake, covered in a blue candy coating, and adorned with rainbow sprinkles and micro Smarties toppings. It was very good as cake pops go and certainly beautiful to look at. I can easily picture these cake pops at a birthday party.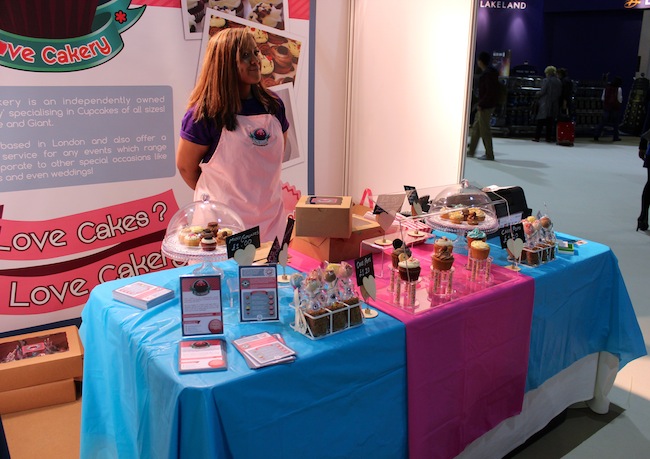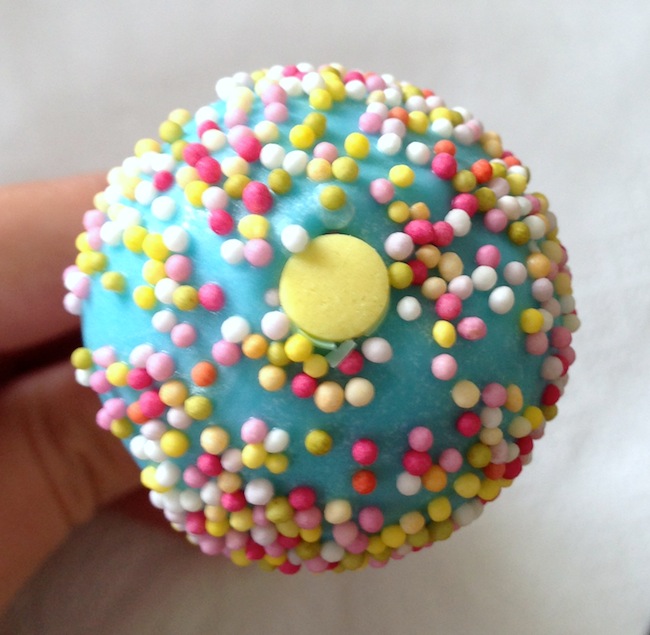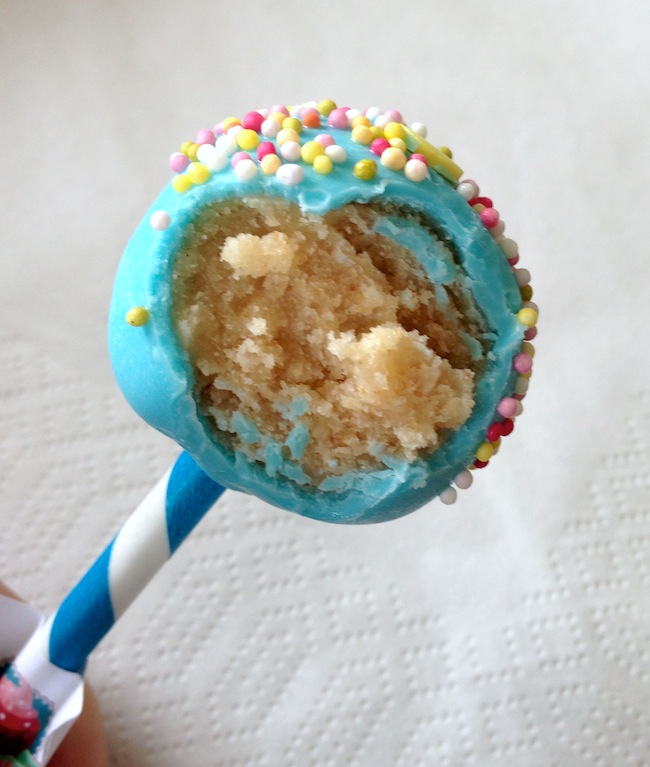 RonLikesCakes offered a selection of vegan treats, completely free from animal products and therefore saturated fats. They also do not use milk, eggs, gelatine, honey or alcohol in any of their baked goods. As far as vegan desserts go, these were some of the better ones I've had. I sampled the brownie at the show and bought a peanut butter cookie and rocky road bar to take home. The brownie was cake-like, rich, moist and very satisfying.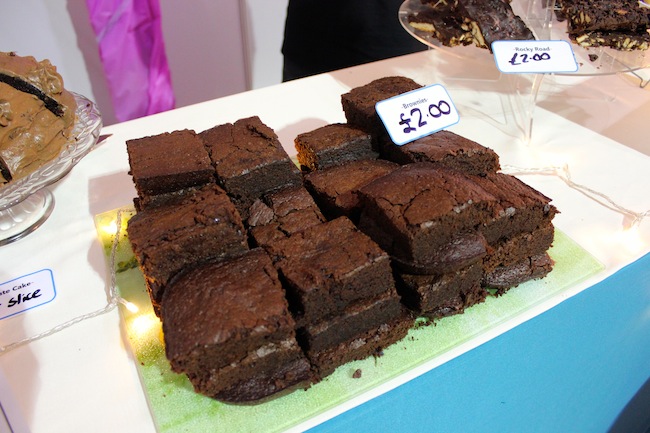 The peanut butter cookie was crumbly with great flavor and the rocky road bar had a nice amount of crunch and chocolate, although I could have did without the raisins.
I also tried the rich chocolate brownie from The Brownie Bar. It was so gooey and chocolatey  that it tasted more like a slice of flourless chocolate cake – and that's a huge compliment! It was so good I dug into this one on the taxi on the way home. They also had some other great brownie flavors I'd love to try, including nutella, malteser, almond blondie, lemon meringue and salted caramel.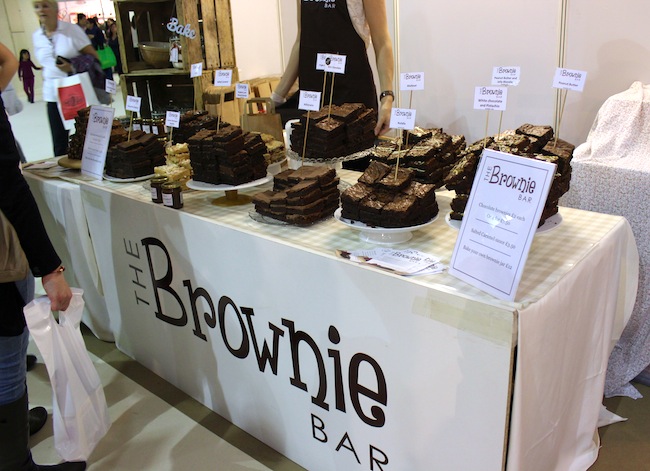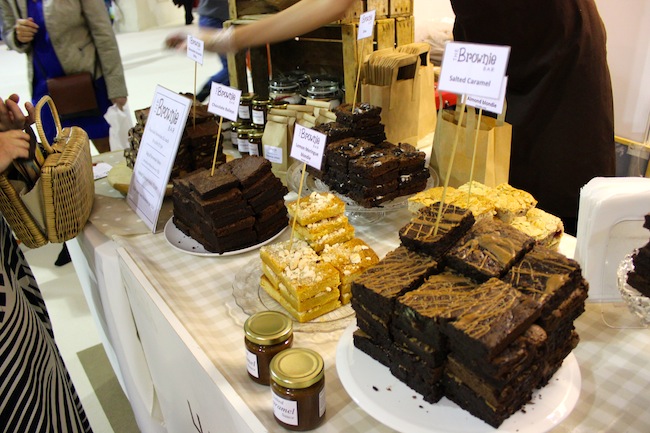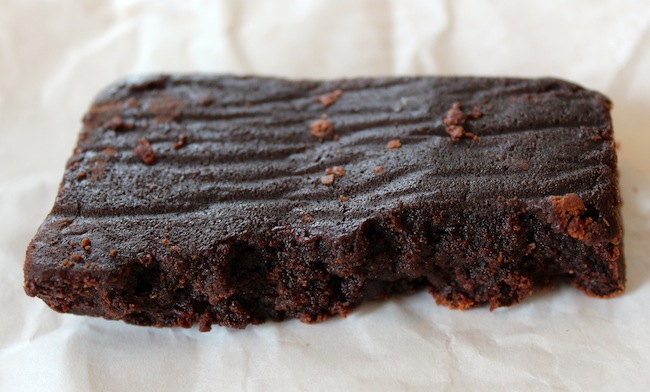 In a sea of endless cupcakes and brownies, it got to the point where it was refreshing to see some giant Swiss meringues. These beauties were from Merangz.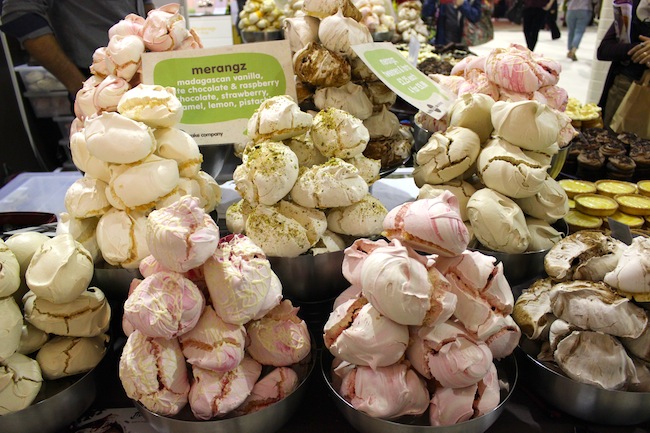 I enjoyed viewing the remarkable dessert tables. This elegant and feminine table from Barney's Bakery would be perfect for a wedding. I love the use of gold and the simple, but timelessly elegant, color scheme.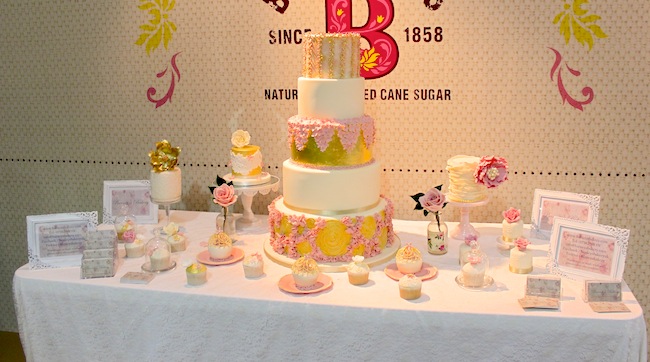 The Queen Elizabeth II and Welsh Corgi Dog cake sculptures by talented British sugarcraft artist Michelle Wibowo were the most unique and perhaps the coolest. The detail and precision was amazing and it was so life-like! Michelle will create all sorts of custom cakes and toppers and a quick look at her website reveals one of her latest creations, an impressive Andy Murray Wimbledon cake that took 30 hours to make and consumed more than 5 kg of icing sugar!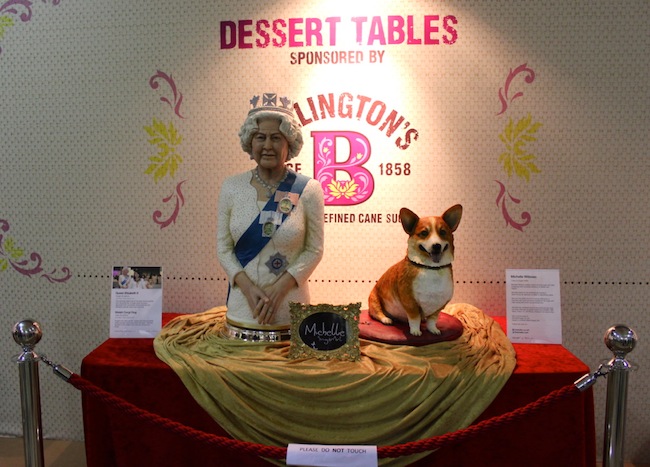 This show-stopping display of British pride by Amanda Bartlett and Amy Brown was another highlight. I loved the long blue and white bow draped over the tiered cake. Other features included red, white and blue candy jars, fluffy cupcakes, expertly iced union jack biscuits and delightful looking pops in a variety of shapes and flavors, all adorned with bows.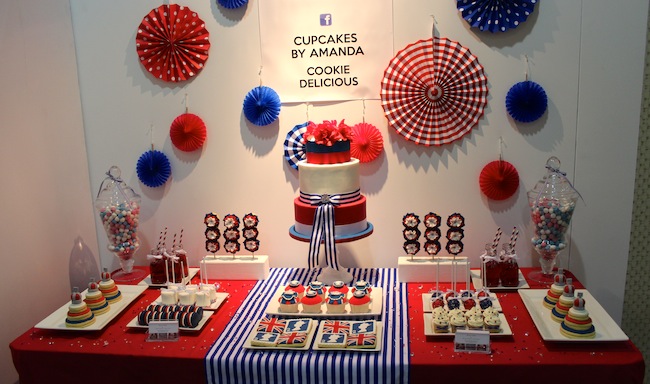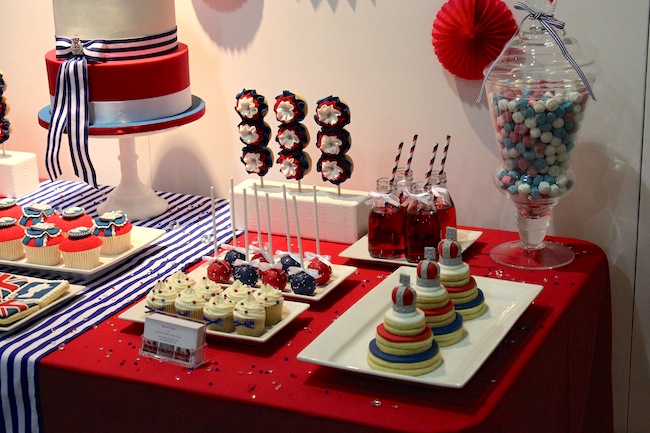 I loved the design of this dessert table by Freya's Fancies. Colorful, upbeat and glittery, the table featured double-layer cakes, pink-frosted vanilla cupcakes, popcorn, emerald green cake pops, biscuits and fresh flowers in metallic vases. One of my favorite tables for sure.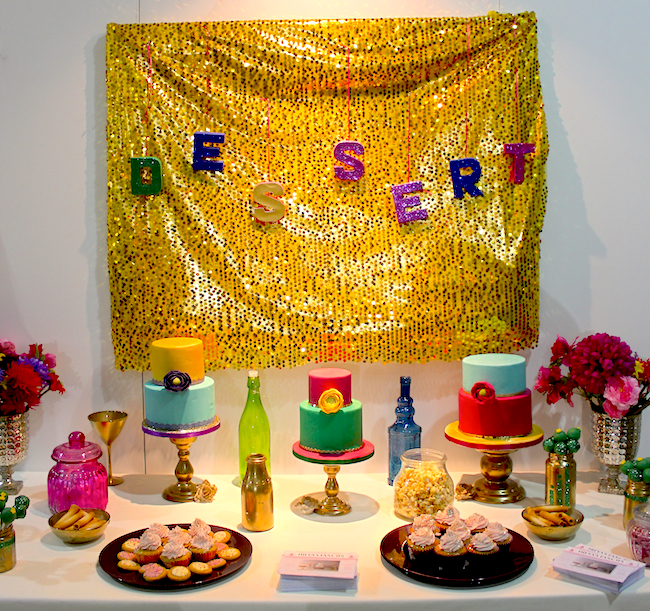 This chic cake creation by Olofson caught my eye in a sea of traditional wedding cakes. The colors and geometric pattern à la DVF reminded me of a mod dress I'd like to wear.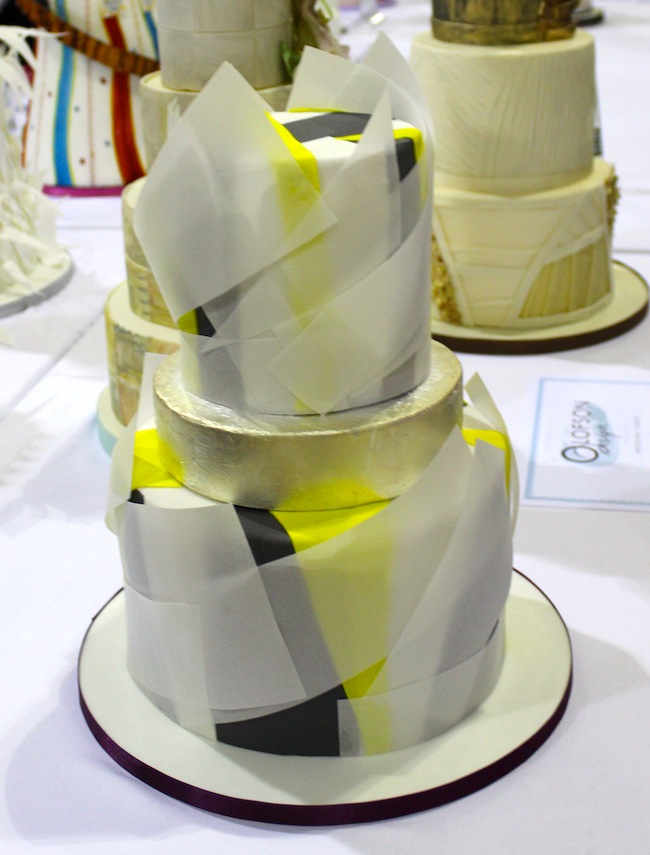 The supplies for sale at the show were pretty ordinary. A bunch of round and rectangular pans, dozens of spatulas, piping bags and cookie cutters, along with cake pop molds and things like that. I am in the market for a madeline pan so I was hoping they would have one there. No luck.
I was very surprised not to see more breads and savory items. For a show focused on baking, it seemed there should have been a sizable presence of savory items such as scones, croissants, pretzels, shortbread and puff pastry creations, just to name a few.
All in all, I'm happy I checked out this year's Cake & Bake Show, but I won't be returning next year. Although I saw some stunning baking artistry and sampled some tasty treats, I was expecting more innovation and variety. I'd rather visit Borough Market on a Saturday, who packs in some serious sweets, as well as continue my weekend excursions to hole-in-the-wall bakeries in all corners of the city.