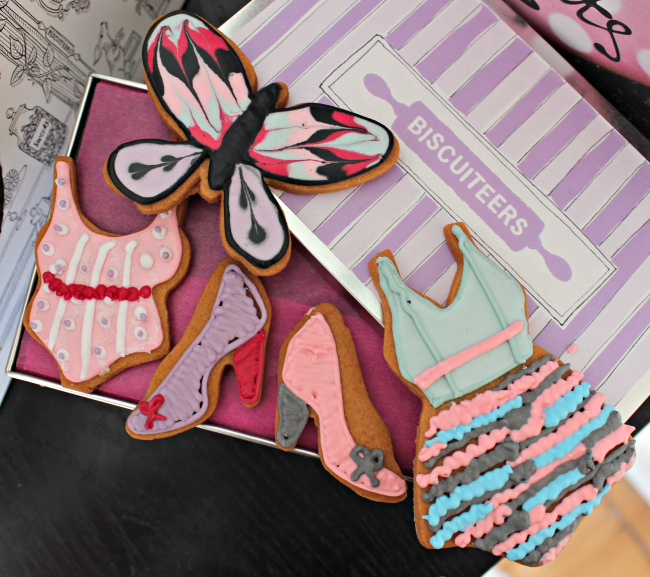 Last week I took an icing masterclass at Biscuiteers' adorable Notting Hill biscuit boutique. Biscuiteers biscuits are truly a work of art and their collections include everything from biscuit tins full of royal baby-inspired rattles and silver spoons to biscuit-adorned thank you cards. (Just a note to my American readers – here in the UK, cookies are called "biscuits" so you'll notice me referring to cookies as biscuits in this post – it takes some getting used to!)
If you have ever tried icing biscuits at home using royal icing, you know that it is not easy and requires practice and skill. This is where the experts at Biscuiteers come in. I love to eat iced sugar cookies (who doesn't?!) and I've made them in the past (see last year's Christmas Cookies), but I really wanted to take my icing skills to the next level, so I decided to enroll in Biscuiteers' 2-hour icing class. Each of their classes has a different theme, such as the circus, sugar skulls, vintage birthdays, and fashion, which I chose for obvious reasons 😉
The classes take place downstairs in their icing cafe, a charming little spot where, on a regular day, you can go for an informal tea and coffee enjoy some of their biscuits, cakes and chocolates. The table was set up with a little workstation for each student, consisting of plain biscuits on a sheet of wax paper, a laminated print out of biscuit photos (to use as a guide), along with bowls of icing sugars already in piping bags and squeeze bottles of icing (for flooding) in a variety of pretty colors.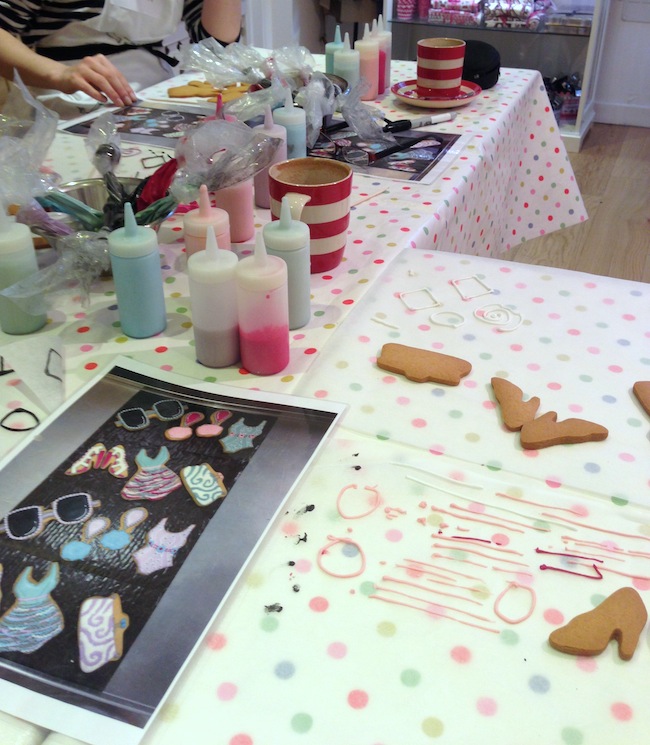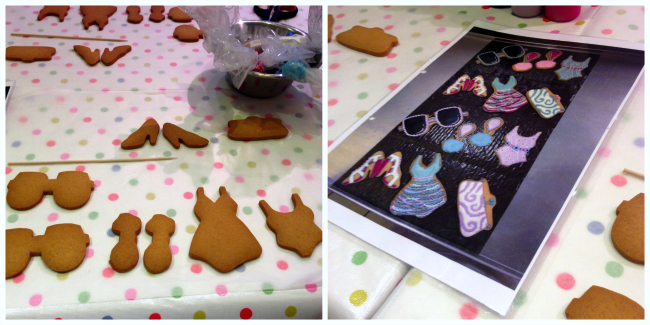 The staff was very welcoming and cheery, and the students were all eager and excited to get started. After all, it's hard not to be happy with the smell of warm cookies in the oven!
I started to learn some valuable basic tips right from the start, which I'll highlight as I go on. The first thing we did, before we started on the biscuits, was practice the simple art of holding and using a piping bag to create straight lines, squares, and circles on a sheet of wax paper (trust me, it sounds easier than it is).
TIP #1 ~ Fancy decorating tips are NOT necessary for icing biscuits
Who knew. The last time I iced biscuits I obsessed over getting the perfect decorating tips for my piping bags. Wilton seems to have hundreds of varieties. Obviously, decorating tips are necessary for various forms of advanced cake and pastry decorating, but for this purpose–useless. All you have to do is cut a very small corner off a plastic bag and you are good to go. If it's good enough for Biscuiteers, it's good enough for me!
TIP #2 ~ Learn the piping mantra: "Touch, Lift, Squeeze"
In order to avoid clumps, uneven lines and jagged corners, hold your piping bag like you are holding a pen and then touch the biscuit gently with the icing, lift up the piping bag and squeeze out the icing at a steady pace until you finish the line. Then, wipe off the corner of the piping bag before you start your next line, and repeat.
TIP #3 ~ Don't work too close to the biscuit when icing
The most important thing I learned was to lift the bag while you are piping in order to have more control over where it's going. Most people tend to work very close to the biscuit when they are starting out, but that is not the right way to do it. Lifting the bottom made a huge difference for me. Here are a few of my practice scribbles including some pretty rough ones I started out with. Don't judge!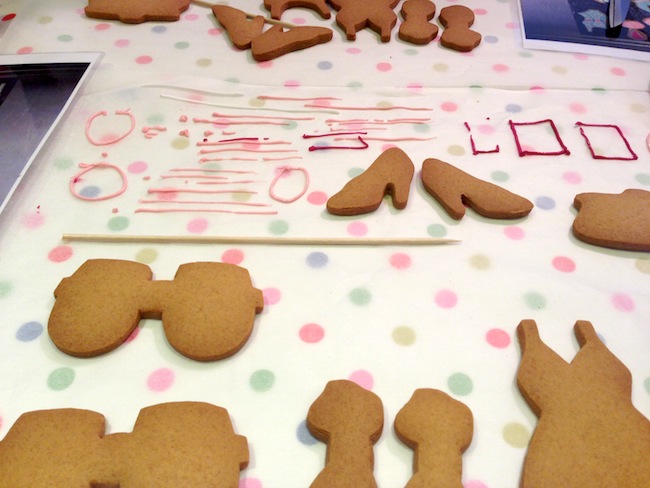 Once we practiced the basics, we went straight to decorating our fashion-inspired biscuits.
TIP#4 ~ Pipe a border to line the outside edges of the area you want to ice. Then, flood the biscuit.
We worked with 2 types of icing. The first was a slightly thicker icing in piping bags used for outlining and decorating. The second was a slightly runnier icing in squeeze bottles used to flood the biscuits.
Here is our lovely expert icer, Lorena, demonstrating piping a black border on our sunglasses biscuits: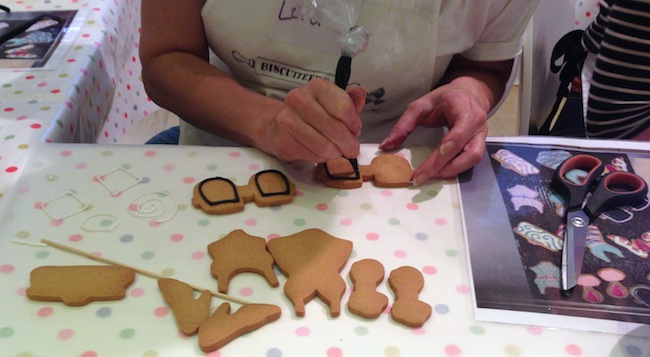 Using the "touch, lift, squeeze" method, I outlined the sunglasses using the icing in the piping bag (see left photo). In the photo to the right, you can see that I flooded the biscuits once the outline was done (be sure to let the outline dry for 10-15 minutes before you flood). You flood the biscuits by applying a squeeze bottle full of icing to the center of the biscuit and then spreading it out until it fills (or "floods") the area. Then, use a thin wooden stick to pop any large bubbles.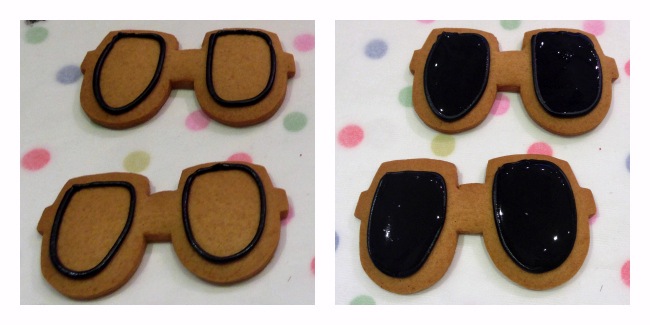 I did the same for a bathing suit biscuit (outline first, then flood):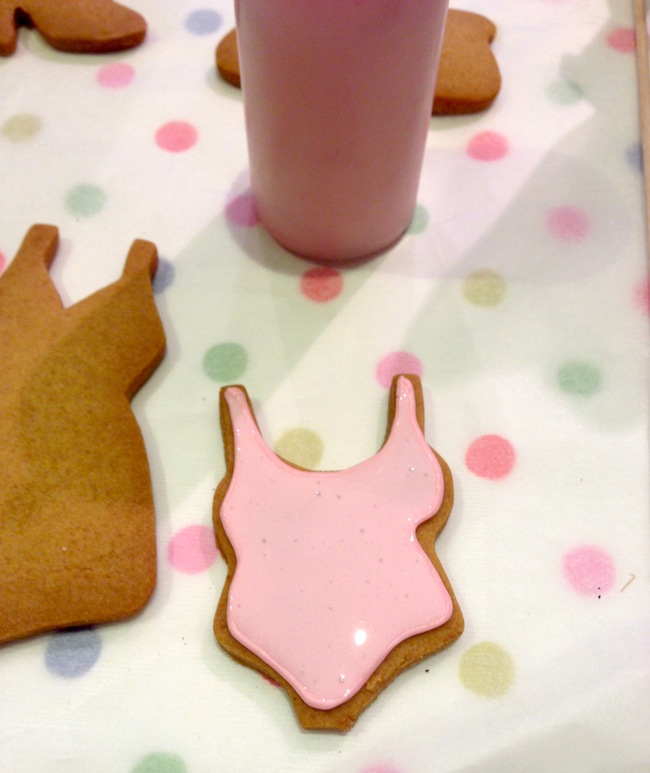 TIP #5 ~ Place the iced biscuits in the oven for 1 hour at 50° Celsius to dry
Most people tend to leave their biscuits out on the counter to dry, but placing them in a very lightly heated oven speeds up the process greatly and ensure the icing is dry before you move on to the next steps.
TIP #6 ~ Layer icing in order to add more detail and create fun designs
Once the cookies were out of the oven, we worked on adding more detail and design to the biscuits. Prior to this class, I didn't realize that the kind of icing you see on expert biscuits requires multiple layers of icing, each requiring drying time in between.
Our expert icer demoed each of the icing techniques required for each of the shapes – stilettos, a dress, sunglasses, a purse, earrings and since we had extra time, butterflies. The final stage of decoration was the hard part. We used a lot of dots, zig-zagged lines and contrasting colors to create beautiful iced biscuits that resemble Biscuiteers' designs. My biscuits are not exactly ready for the shelves, but it's a start 😉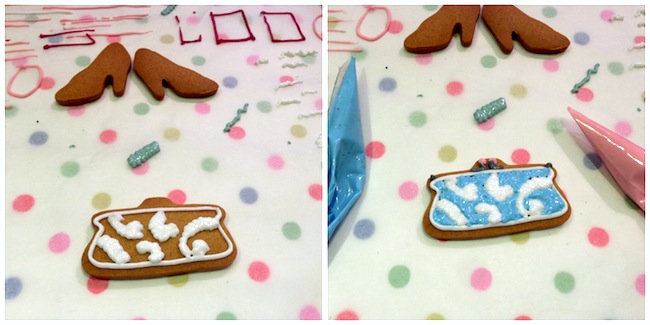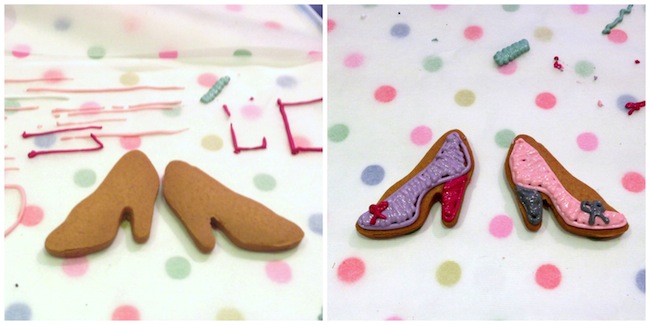 Each cookie has tons of detail. No dress or swimsuit was complete without a stylish "dot" belt and all stilettos deserved a proper bow.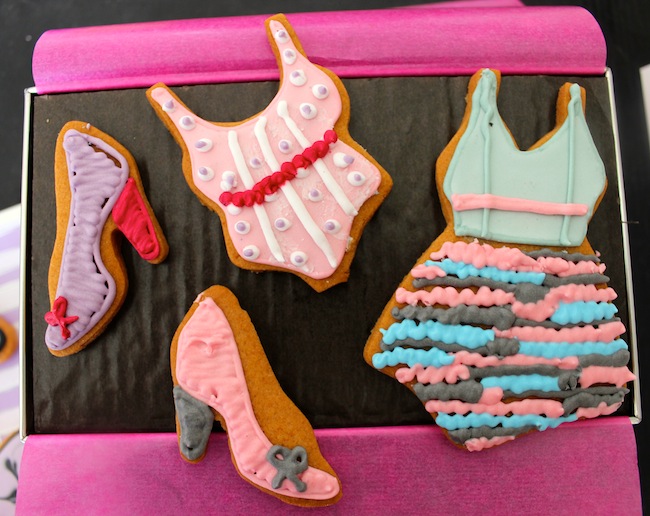 The butterflies were fascinating to decorate. Our icer taught us some stunning stained glass-type techniques. The black icing really makes an impact.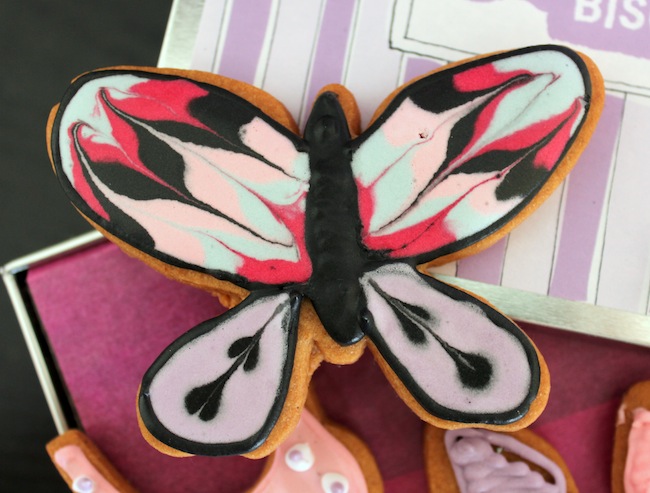 We all left with a fab gift bag full of their Biscuiteers cookbook, our apron from class, an icing certificate, and a chic purple and white striped box full of the biscuits we made in class.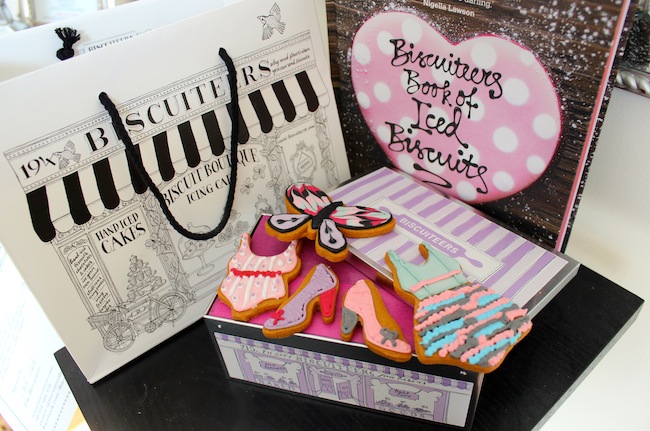 Once I got home, I couldn't wait to dig into the biscuits. Delicious! I learned a lot in my icing class and highly recommend it to all baking enthusiasts in London. I hear they also offer a 5-hour extended icing masterclass – count me in!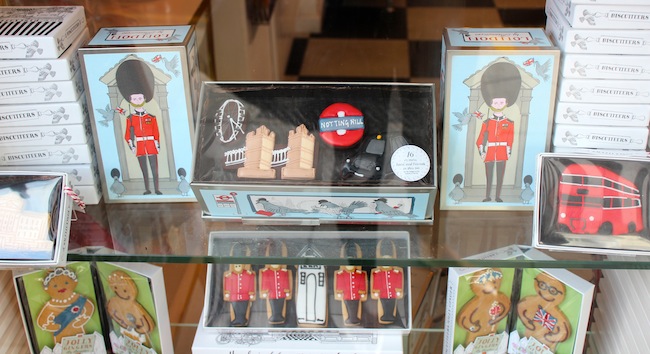 Check out their website to learn more about their classes or place an order for their biscuits.