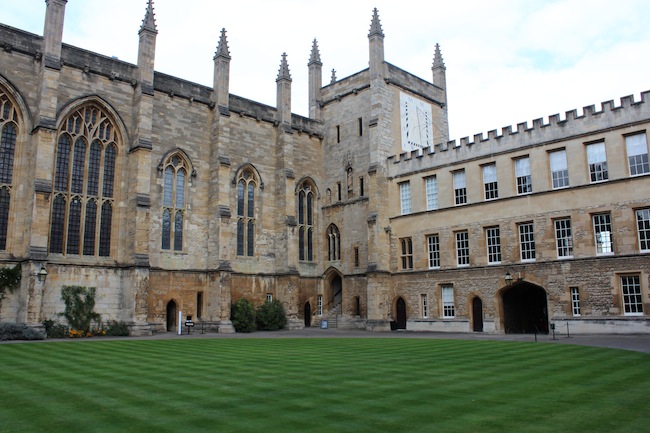 I took a day trip to Oxford last weekend and had a lovely time pub crawling and sightseeing this historic university town. Oxford is a quick and easy 1 hour train ride from London's Paddington Station. During this time, many of the students were just returning to university, so it was fun to see a bit of the action. Per usual, we couldn't wait to hit some of the local pubs and sample some traditional British pub food. Here are 2 we visited.
The Eagle and Child is a landmark pub on St. Giles frequented by locals, students and tourists. Full of character and with hints of the past in every corner and on every wall, this pub is a great first stop when visiting Oxford. When we arrived it was still fairly early, so it was a bit quiet, but it got quite busy by the time we left.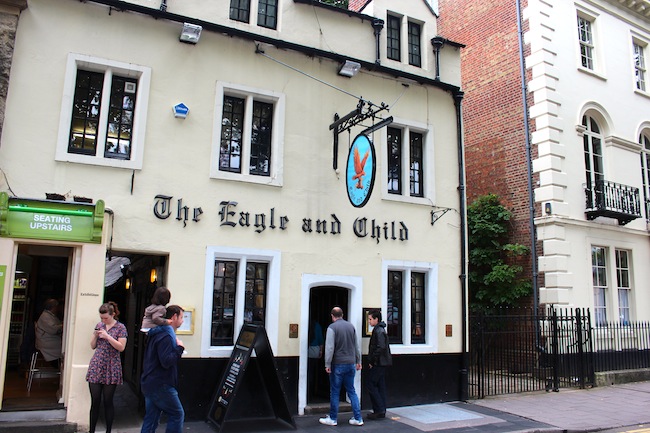 After ordering a couple pints, we decided to snack on a pub classic, "Basket of Fish." Being fairly new to the UK, I still get really excited when I see fish and chips on the menu. I assume this will pass, but for now, I am taking full advantage. The basket arrived with a mix of fish goujon, scampi, king prawns, and calamari all fried to crispy perfection with a side of creamy tartare sauce and a lemon wedge. The fish was fresh and wonderfully fried. The obligatory side of chips were prepared in the classic British way — thickly cut, skin on and in a beautiful yellowy-golden color. (Note to my American readers: In the UK fries are called "chips" and what Americans call "chips" are called "crisps" in the UK –  kind of like the biscuit/cookie thing). To say they hit the spot would be an understatement. Delicious.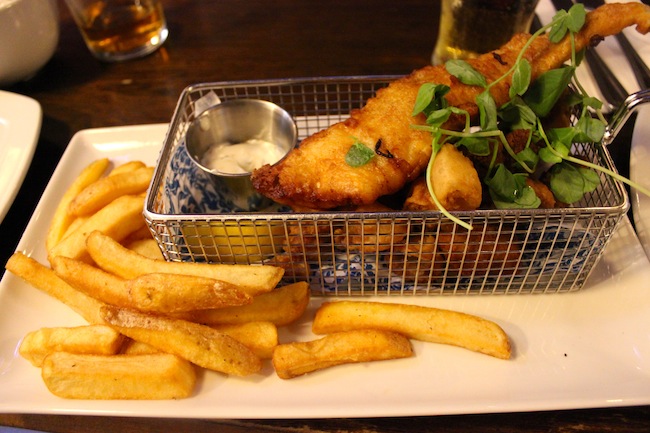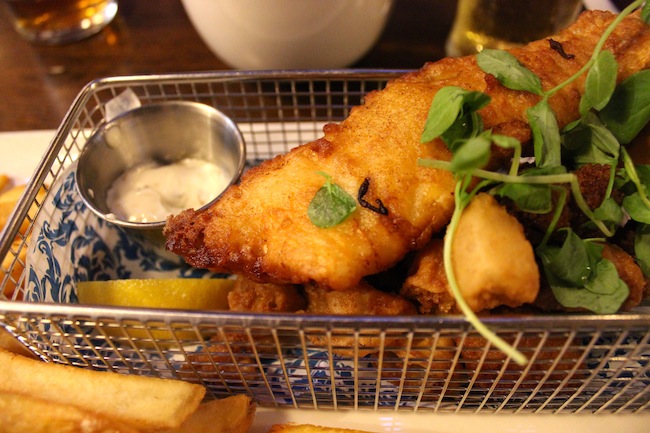 We also checked out Turf Tavern, another famous and popular pub in town. Turf Tavern was loud, fun and full of people kicking back and having a good time. It was the kind of place where tables spilled out from the main restaurant onto little patios equipped with heaters, so patrons can enjoy being outside well past the summer months.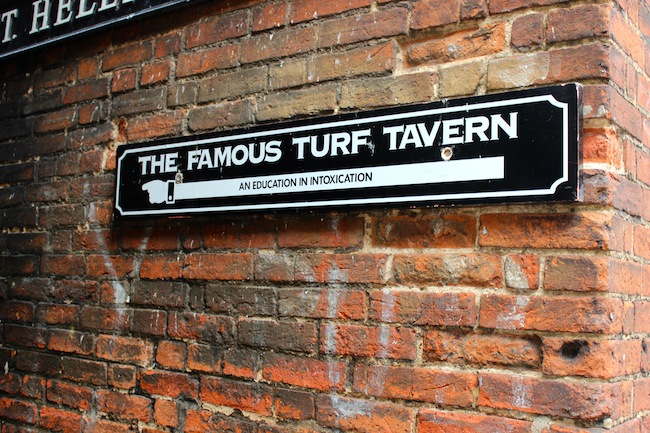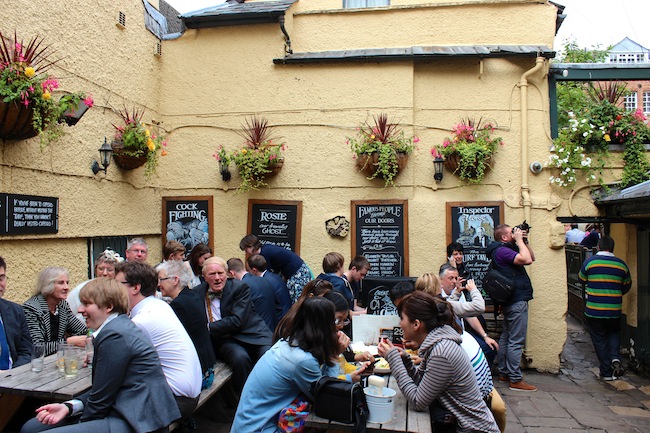 They had quite a diverse menu, with everything from greasy pub food to healthy choices like poached salmon and "Vitality Salad."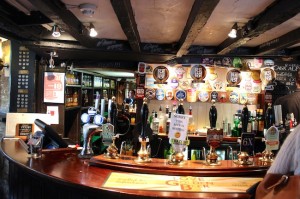 Obviously, we didn't come here to be healthy, so I ordered some pork sausages and yet another side of chips. These weren't just any sausages – they were sticky Gloucestershire old spot pork sausages served with wholegrain beer mustard and Tiptree honey. I have never had such a marvelous combination of sweet and savory flavored sausages. The honey coated the sausages and formed a tasty glaze. The mini sausages are a tasty and filing starter and I want them for my next party!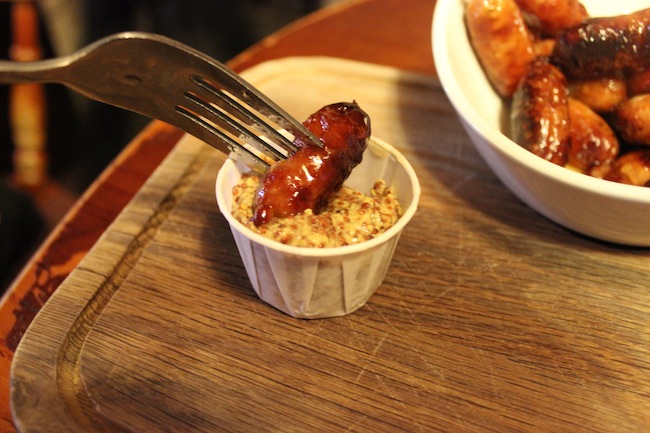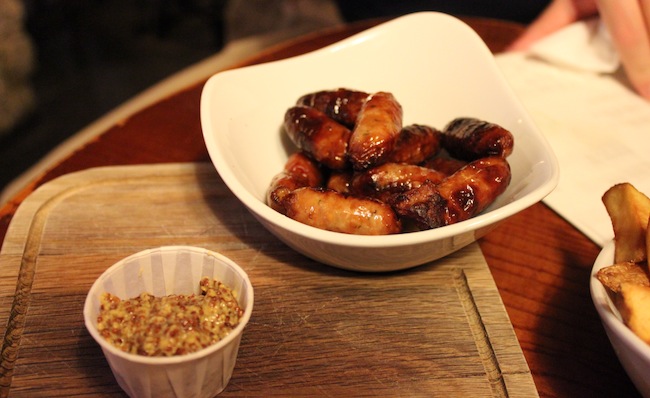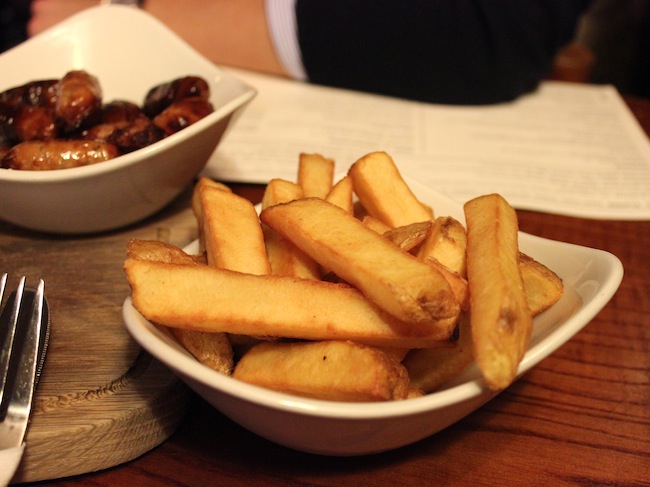 The thick cut chips were crispy and very fresh, likely right out of the fryer!
I'd recommend both of these pubs for a little local flavor and a casual good time in Oxford.