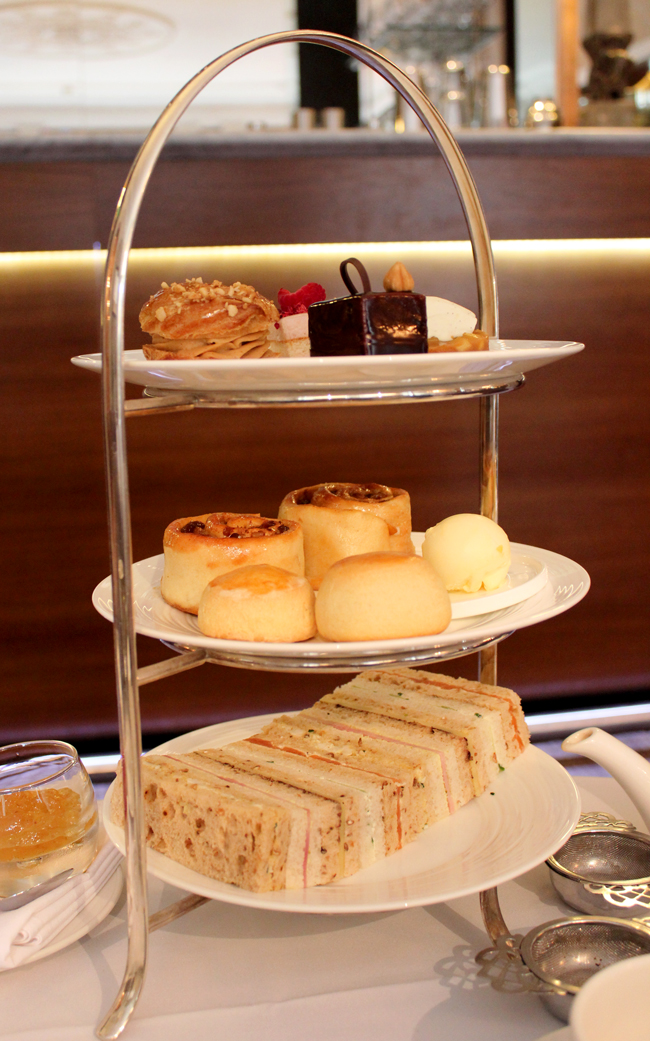 With a fashionable location on Sloane Street in Knightsbridge and a quintessentially English ambience, The Cadogan seemed like an obvious choice to enjoy a *real* afternoon tea. Since my disappointing experience at The Berkeley's Prêt-à-Portea, I have been on a mission to find a proper tea in the heart of London.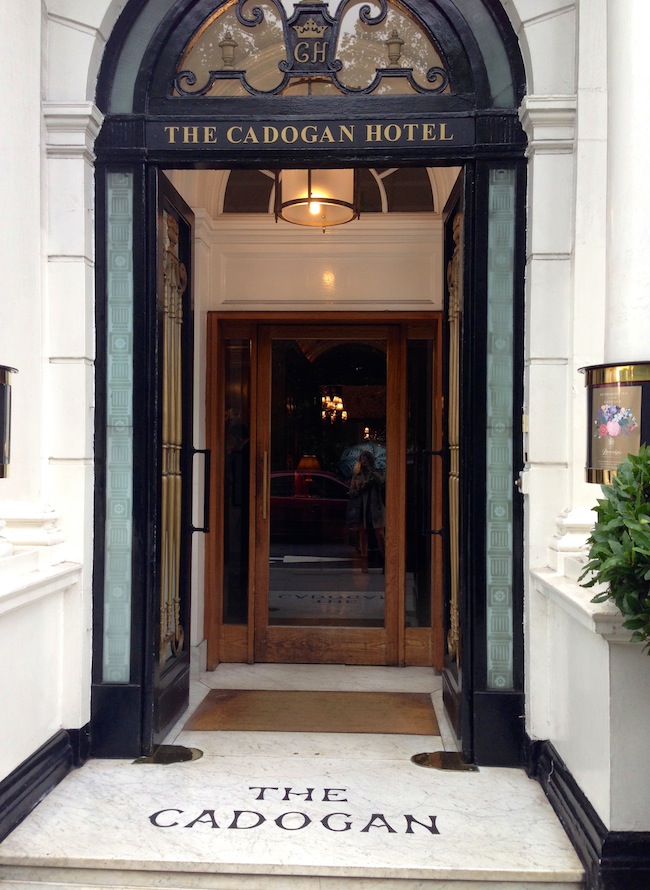 We arrived The Cadogan on a Saturday at 2:00 p.m. after making a (necessary) reservation 3 weeks in advance for a prime weekend slot. My first impression of The Cadogan was that it was a lovely hotel, with the kind of traditional touches and decor you'd expect from a former Knightsbridge home steeped in many years of history. We sat down for our tea in the cozy Drawing Room, which, true to its name, really felt like we were a guest in the house of a well-to-do family. With lots of tweed, dark colors, ornate wallpaper and comfortable sofa-table arrangements, it was the perfect place to enjoy a relaxing tea.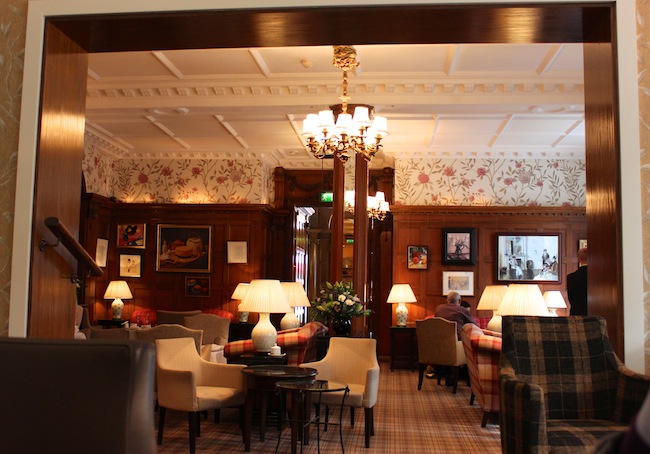 We chose to order the traditional afternoon tea, which included assorted tea sandwiches, home baked scones, chelsea buns, creams and jams, pastries, and a selection of Partridges teas. An (optional) glass of Perrier-Jouët each completed the menu.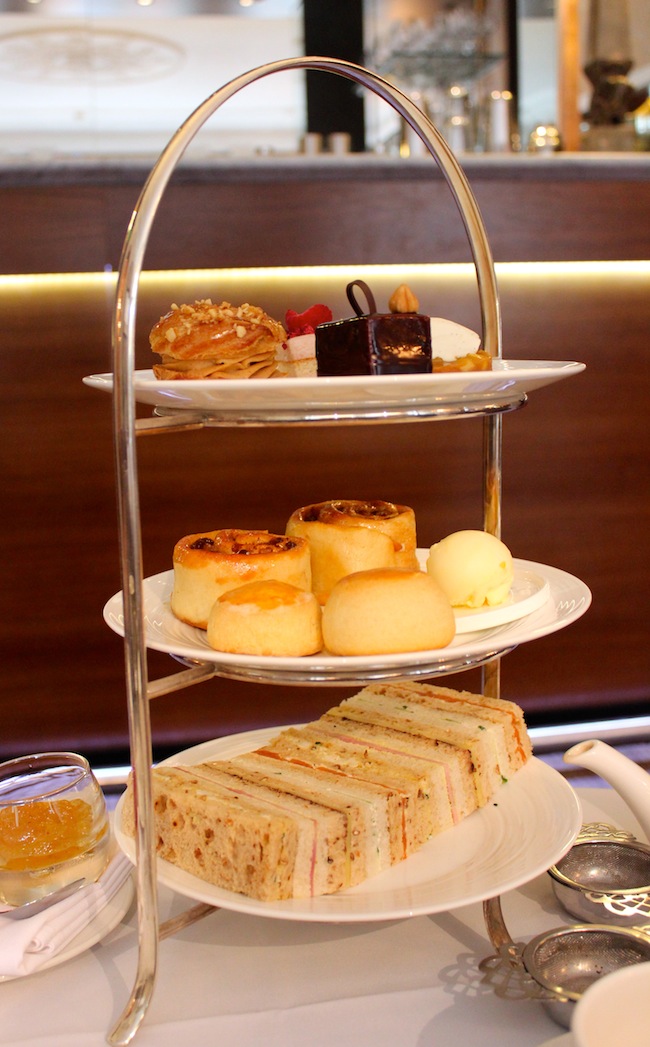 For my tea, I chose "Mr. Shepherd's Blend," which is a mix of flavory orthodox Kenya teas with a fresh and clean taste. It was perfect and went especially well with a dash of milk.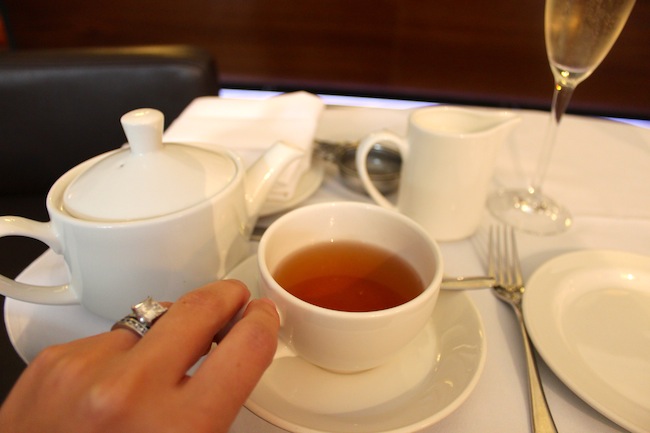 The tea sandwiches were freshly prepared with soft bread and tasty fillings. As tea sandwiches go, these were light and delicious. I liked how they alternated multigrain and white bread, it not only looked nice, but offered a good selection.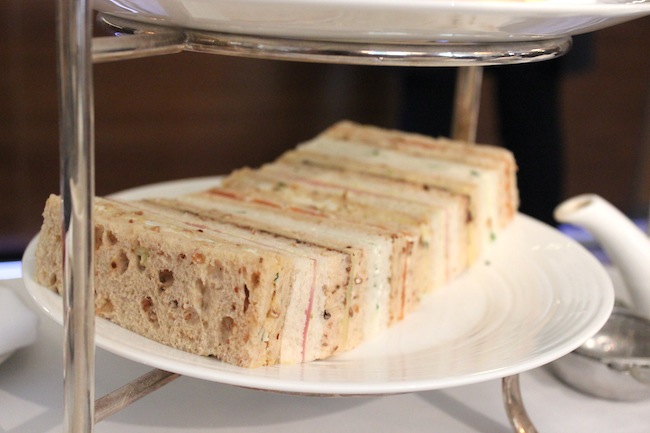 The first sandwich was a British favorite, cheese and pickle on seeded multigrain bread. I love this combination of thick, mature cheddar with sweet and sour pickle. There isn't anything close to this in America and I'm pretty confident only the English can prepare a true cheese & pickle.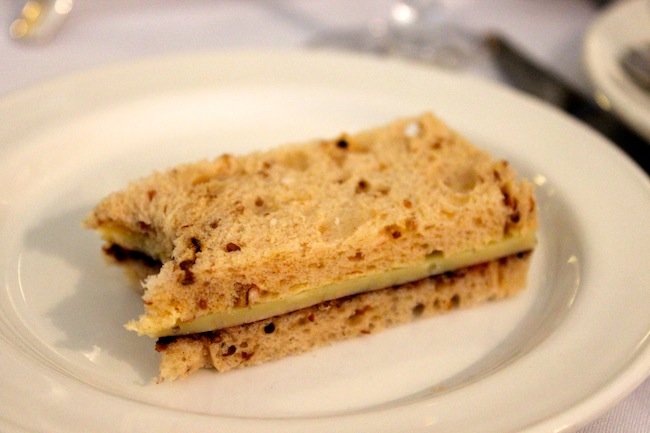 Next up was a wonderfully delicate cucumber and cream cheese on white. The cucumbers were so thin they appeared almost shaved and the thin layer of cream cheese added just enough creaminess.
Other selections included a traditional egg mayo on multigrain (excellent amount of chunkiness)…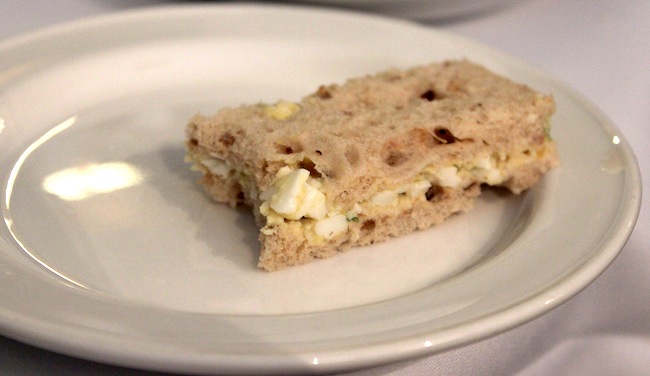 …and roasted ham and mustard on white. We ate the sandwiches rather quickly.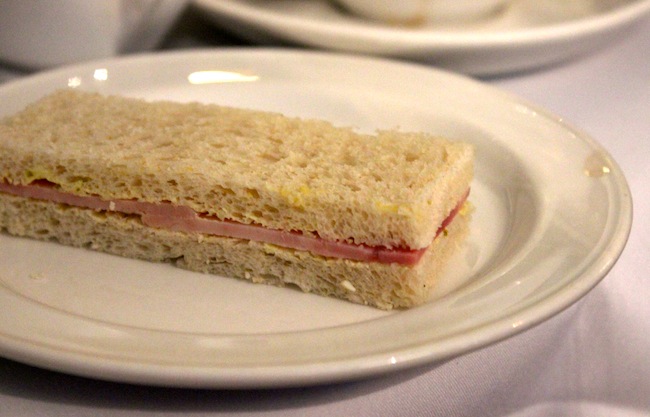 We moved on to the next course of scones and chelsea buns.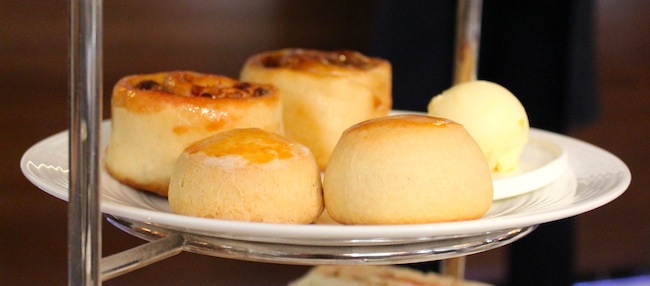 This was my first experience with chelsea buns and let's just say it won't be my last. They are similar to what we'd call a "sticky bun" in America, with layers of dough, butter, and cinnamon sugar forming a delightful looking spiral shape. I did some research and found out that Chelsea Buns were created by a Chelsea bakery called the "Bun House" in 18th century London. They were a hot item back in those days and favored by many kings and members of the royal family.
The Cadogan put their own twist on their Chelsea Buns by adding little pieces of apple and currants to the sweet and spicy cinnamon filling. The buns are heavy by nature, but a real treat to enjoy every once in a while. I liked the shiny glaze on top. This is one beautiful looking Chelsea Bun!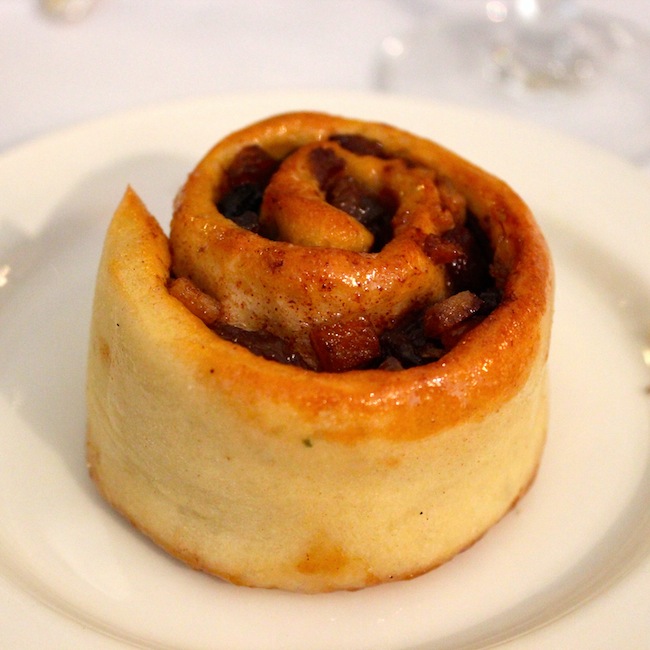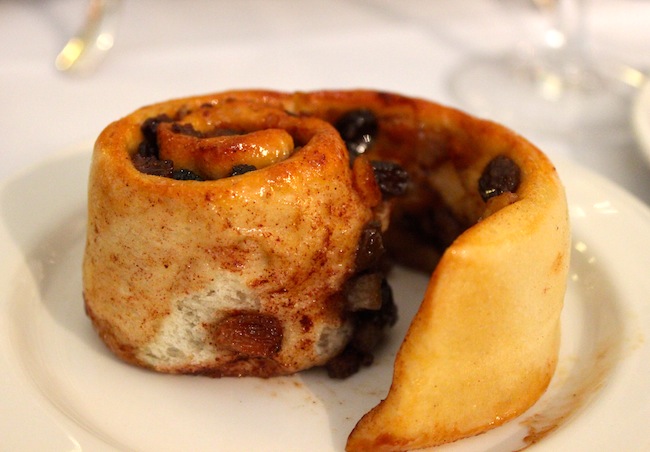 The scones with clotted cream and jam were still warm and had a soft, dense inside with a slightly firm crust. The homemade jams that day were strawberry and champagne. The champagne jam really tasted like champagne!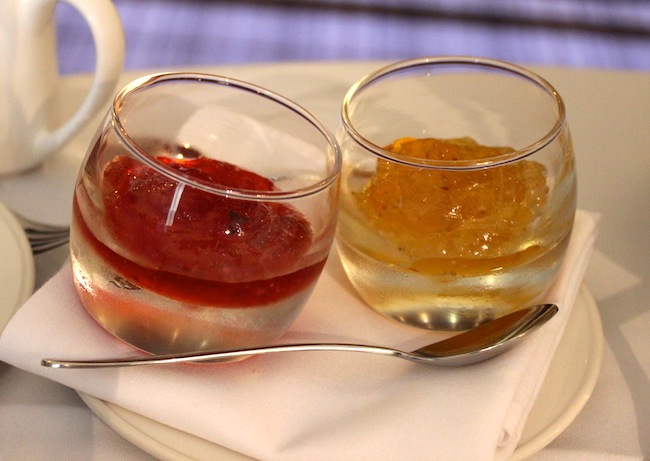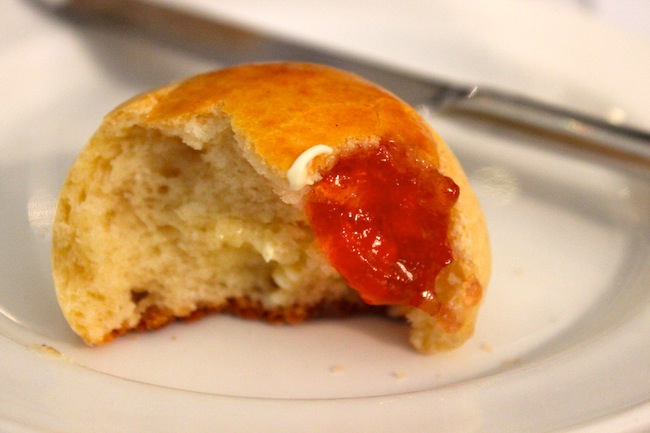 Finally, it was time for my favorite part… sweets. There were 4 selections, one prettier than the next.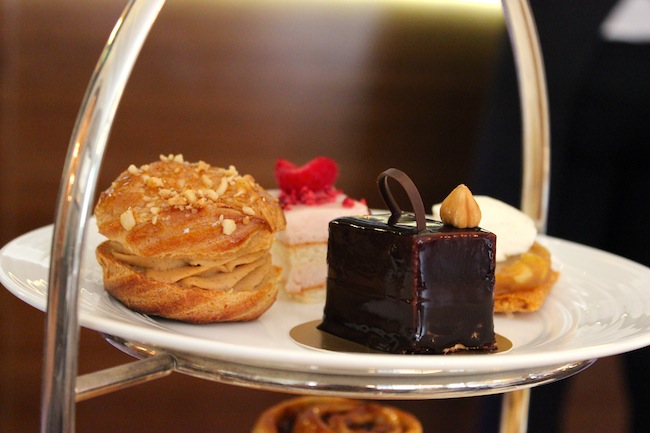 I started with the buttery brioche "sandwich" filled with luscious hazelnut cream and topped with crunchy hazelnut pieces.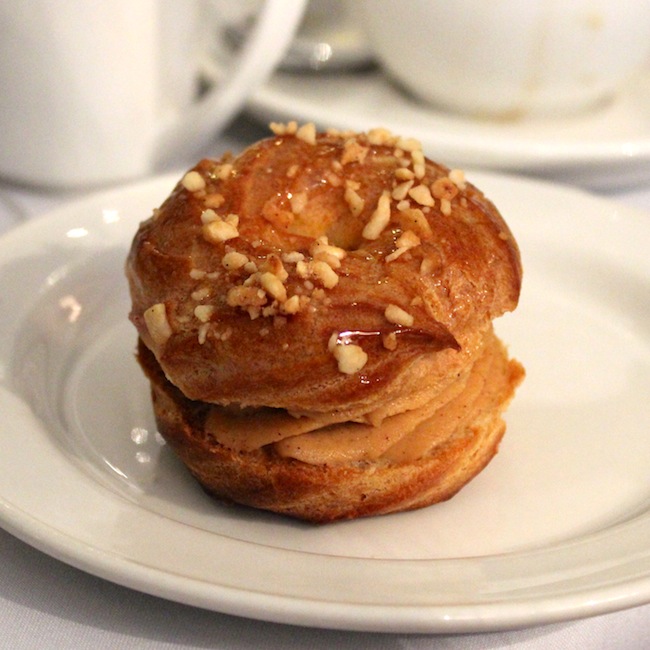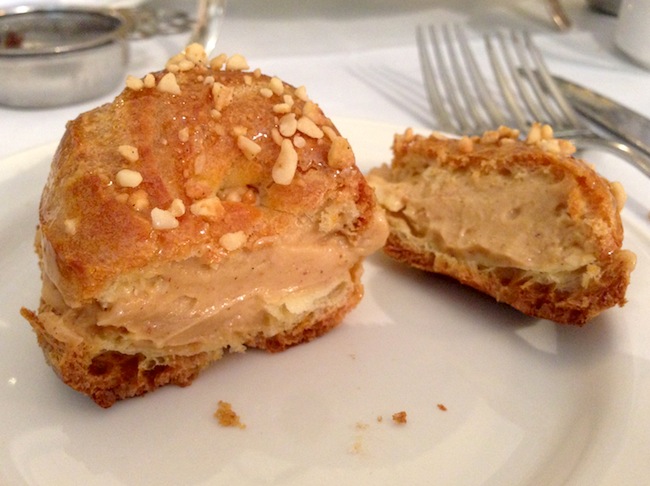 Next was a lovely raspberry yoghurt layered sponge cake. This was so pretty! You could really taste the sourness of the yoghurt and the fresh raspberries were light and delicious. This was my favorite of the sweets.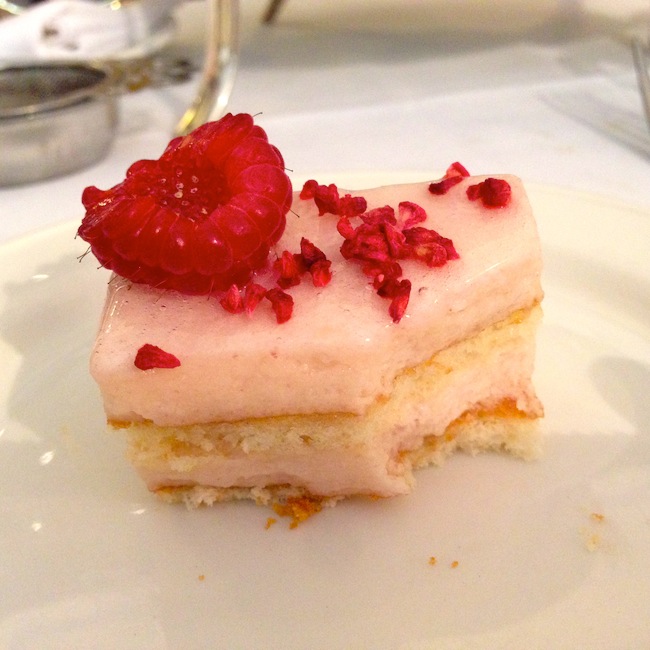 For the chocolate-lovers, there was a banana chocolate layer cake covered in slick ganache with a tiny gold leaf decoration and single hazelnut. I loved the creamy rich mousse, but I didn't care for the jelly-like texture of the banana layer. It was a little too squishy for me and you couldn't taste any real bananas.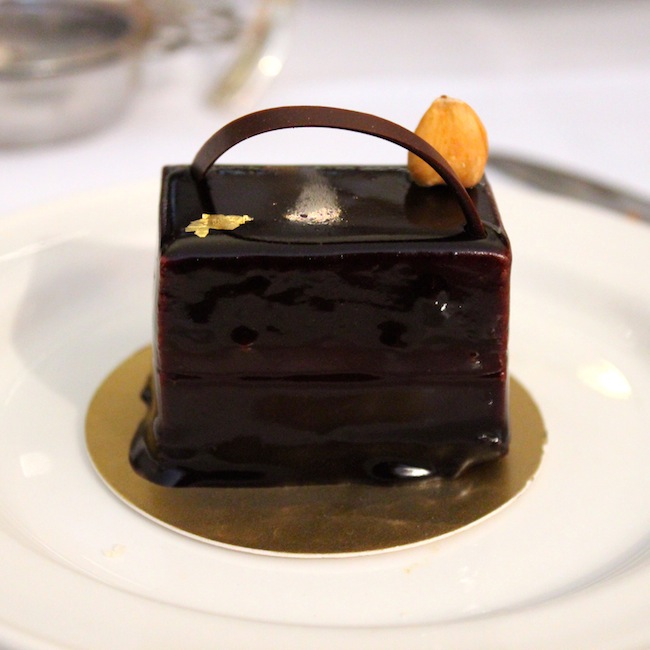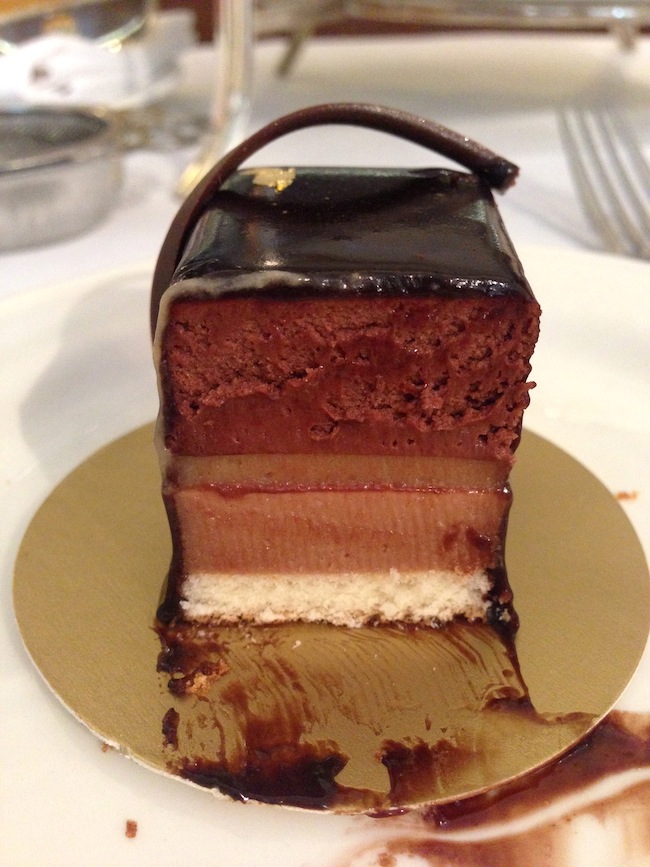 Lastly, we had a caramel apple cake on a crust with a dollop of soft, vanilla bean cream. This was good and you could see the fresh apple pieces in the cake. The crunchy crumb crust made it taste like an apple crisp.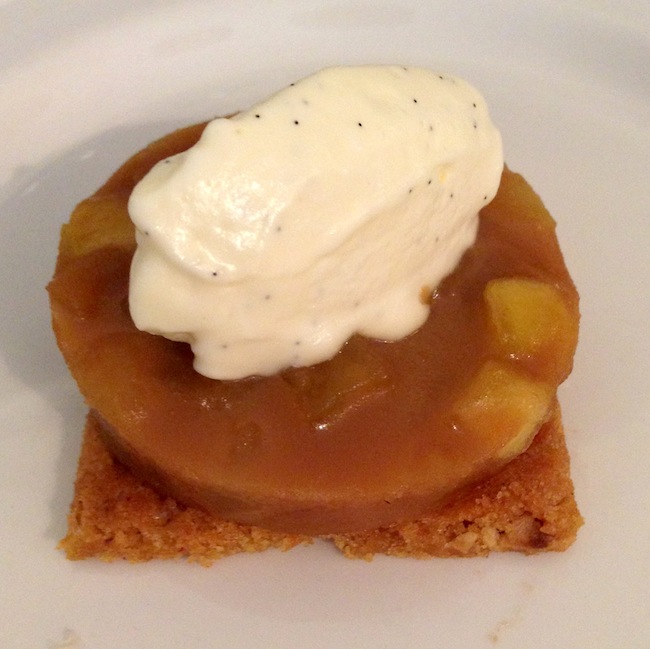 After I left, I found out that The Cadogan has been serving afternoon tea since 1887. They clearly have preserved the tradition of enjoying tea and have managed to maintain a refined yet relaxed atmosphere coupled with high quality, delicious bites. I enjoyed my afternoon tea at The Cadogan and would recommend it to anyone looking for a traditional tea in a luxurious setting.