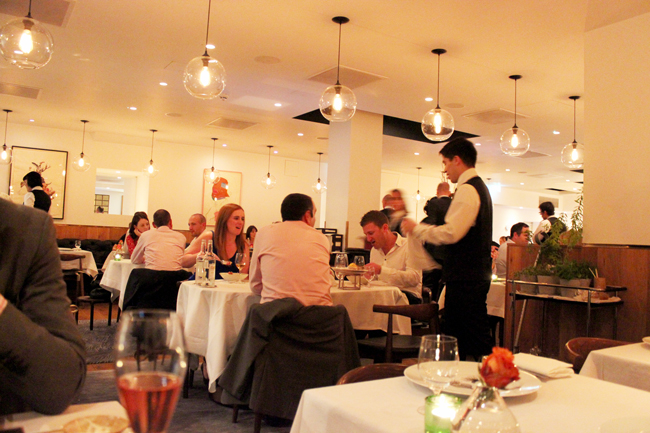 They call it "deformalised fine dining" and it's a concept I'd like to see more of in London. Led by elBulli trained British chef Jason Atherton, Pollen Street Social is a buzzy, Michelin-starred bistro with a hip vibe on an enviable Mayfair block. The interior is clean and contemporary with an ambience formal enough for fine dining, but casual enough for a boisterous weeknight meal. The service was impeccable from the start and rivaled the kind of treatment we've received at 2- or 3-star Michelin restaurants around the world. My husband and I often find ourselves looking for a place with the quality of food you'd expect at a fine restaurant, but in a more relaxed atmosphere that doesn't require a 5-hour time commitment and jacket and tie. Pollen Street Social may be the answer.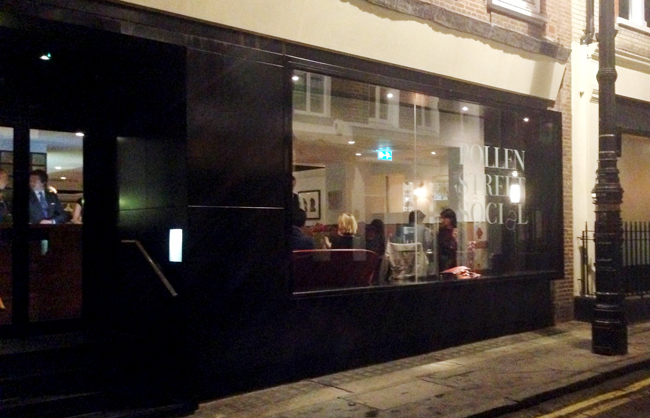 The meal started with a selection of amuse bouche presented in a hollowed-out encyclopedia-type book. I love when restaurants get playful (à la Fat Duck & Eleven Madison Park), so this was a good sign for sure. The mini snacks included crunchy pork crackling, parmesan biscuits with tomato and anchovy and paper-thin caraway cracker with whipped smoked ricotta. My favorite was the parmesan biscuit – rich and cheesey with a salty punch from the topping.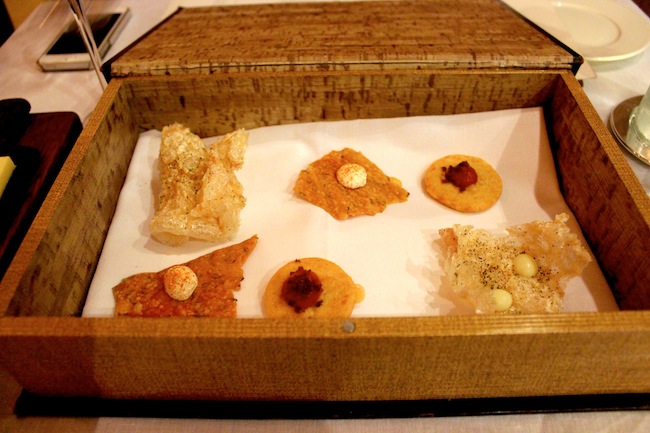 Our first starter was smoked aubergine caviar with pickled vegetables, pecorino and pimento spice. This was light and fresh with lots of different textures, and I liked the smokiness of the aubergine.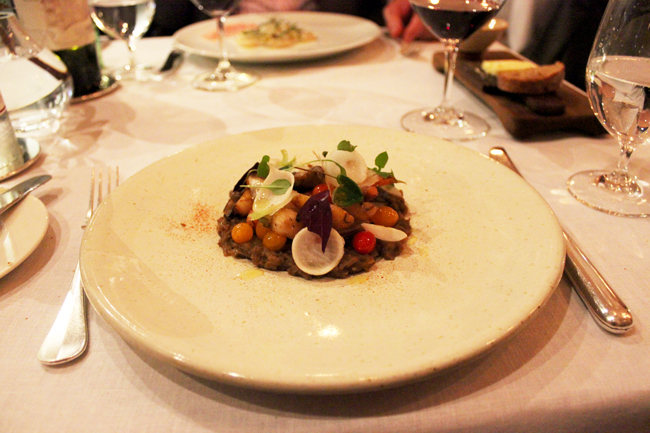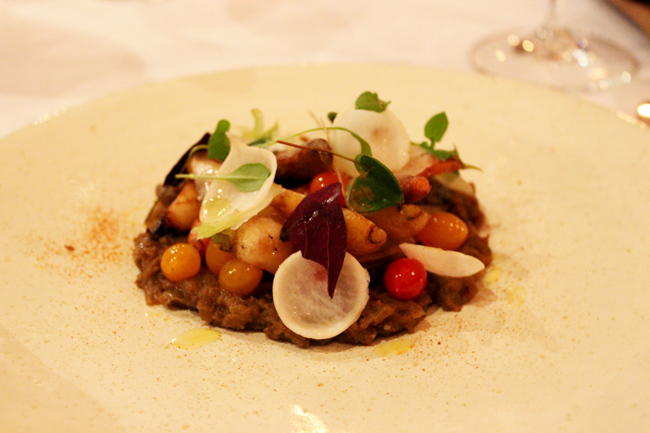 We also had orkney sea scallop carpaccio with kohlrabi, frozen pink grapefruit, lemon skin purée, black olive and samphire. It was here we noticed some "molecular" elements likely inspired by the chef's time at elBulli. The hot orange flash frozen pink grapefruit was spooned onto the plate by our server.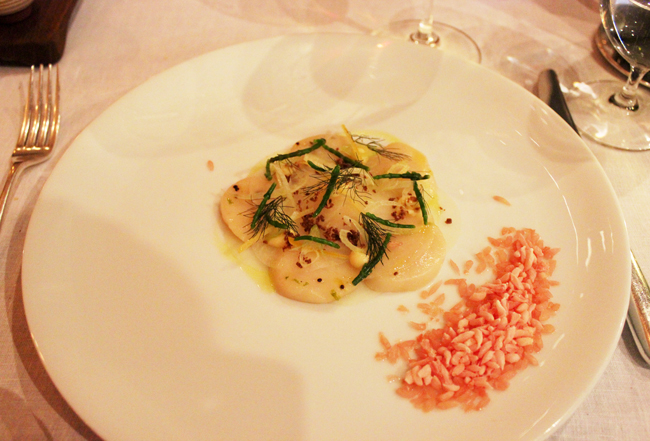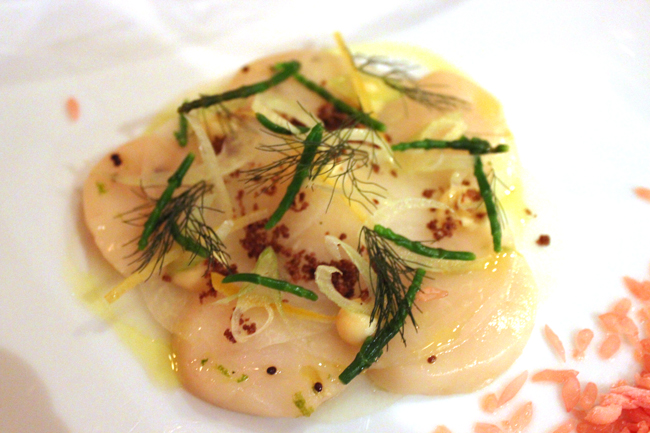 For my main course I chose the Buccleuch Estate fillet of beef with braised short rib, brown onion purée, crispy potato salad and bone marrow crumb. The fillet was lean, juicy and tender, and the selection of accompaniments really made the dish. The crispy potatoes added saltiness and texture and complemented the buttery marrow and rich wine sauce.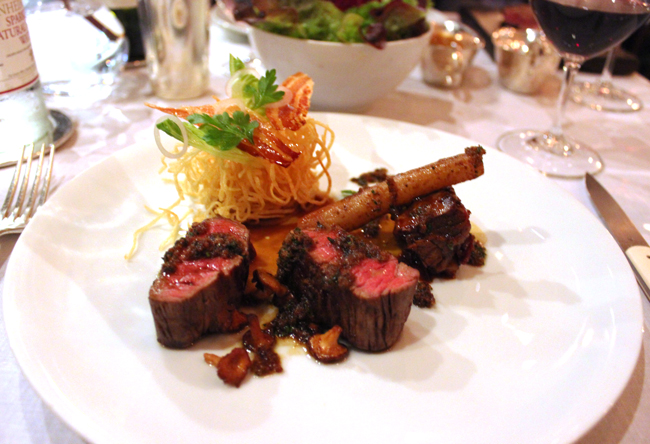 My husband had the black Angus rib-eye with duck fat chips, green salad and two sauces. Let's talk about duck fat chips. Duck fat chips may be the best food ever. I've had a lot of chips, but I don't think there is any way to get the crispiness and rich flavor these had without using duck fat. They were sensational and so indulgent! Oh, and the rib-eye was pretty good.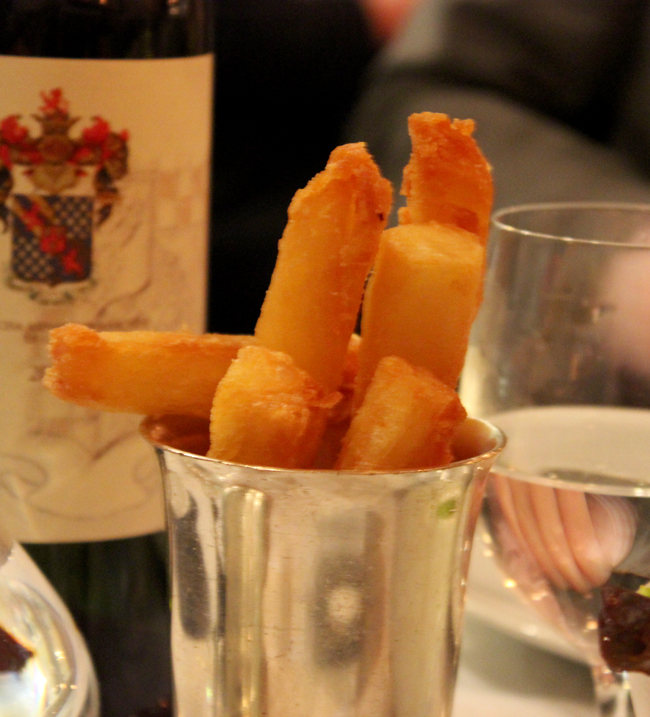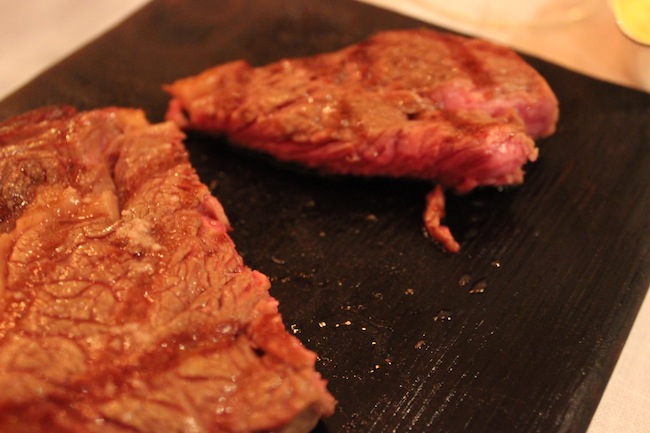 Next was a refreshing intermezzo of creamy lime sorbet.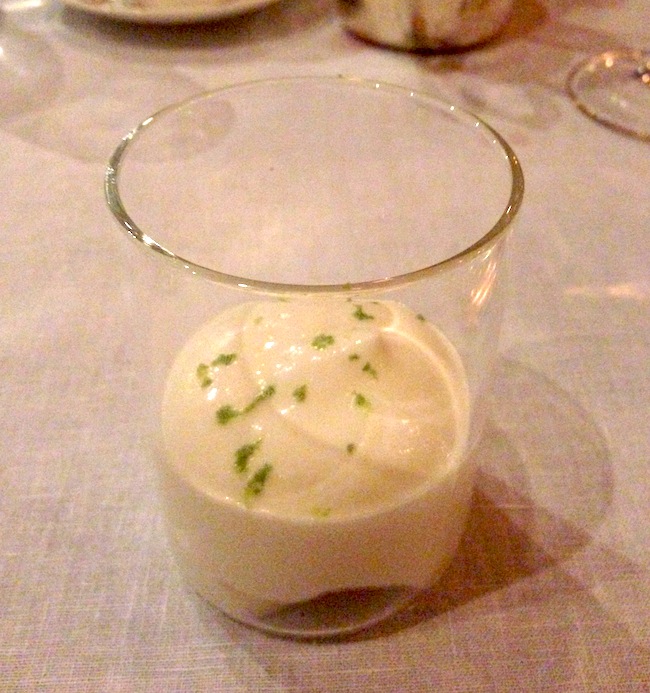 For dessert, I had the 70% Chocolate ganache with banana ice-cream, sesame crumble, Pedro Ximenez and chocolate coral. I hate to say it, but the dessert may have been the only mildly disappointing dish of the night. It was ok, but it looked messy and I didn't really get the chocolate coral. To me it seemed the ganache was overwhelmed by all of the other flavors and ganache deserves to be enjoyed without too many distractions.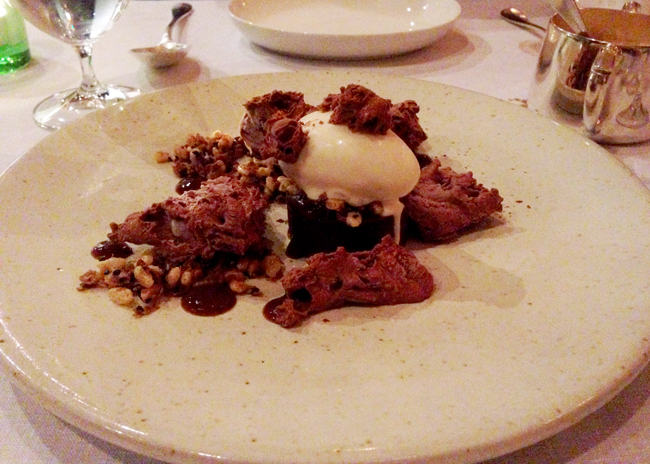 I will definitely be back to Pollen Street Social, particularly to try the tasting menu and pull up to the dessert bar for another shot at the sweets. I recommend it to foodies looking for a classy night out in Mayfair with some tasty food.