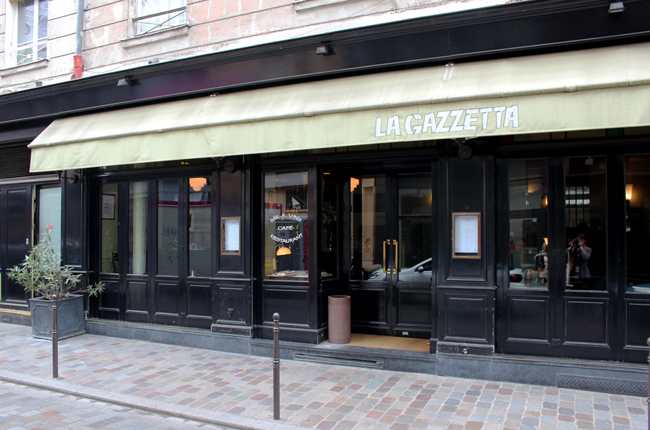 A Parisian friend of ours recommended we check out La Gazzetta, a bistro in the 12th near the March d'Aligre run by Swedish-born chef Petter Nilsson. La Gazzetta isn't a traditional Parisian bistro per-se, but rather a hip eatery with an inventive Nordic-inspired menu featuring plenty of French influences. Nordic food is all the rage in the global culinary scene (see Noma), and for good reason.  The atmosphere was modern art deco, with a flashy bar, lots of mirrors and bright red banquettes. It was hip, yet comfortable, with a predominantly young and stylish crowd.
We went for lunch to take advantage of the three-course €19 lunch menu, however, they also offer a full seven-course dinner menu, both of which change daily. To start, you are served three small plates each, with a basket of freshly baked sliced bread.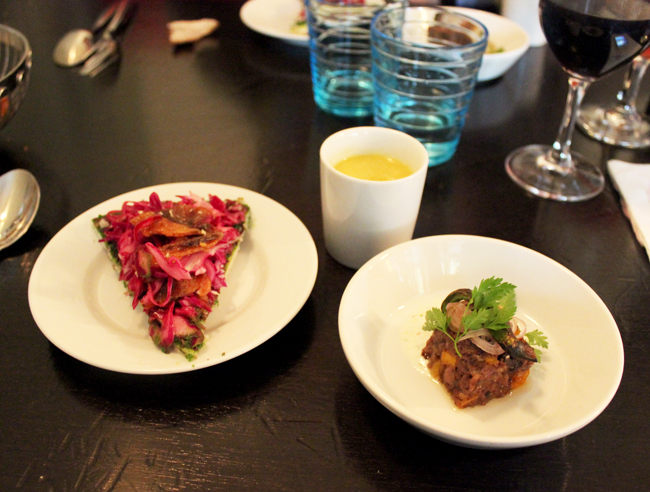 During our visit, the plates were, Soupe de safran, tourteau et poivron (saffron soup with crab and pepper)…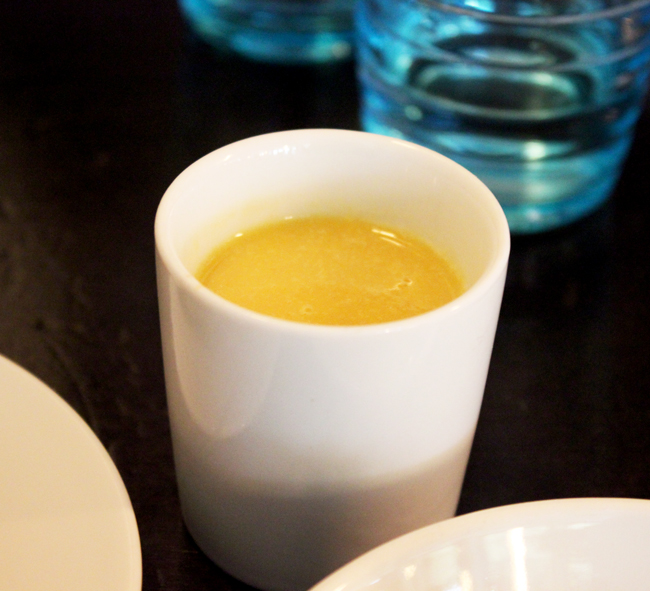 …and Poulet, yaourt de brebis, échalotes et piment Guindillas (chicken with sheep's milk yoghurt, shallots and chili peppers).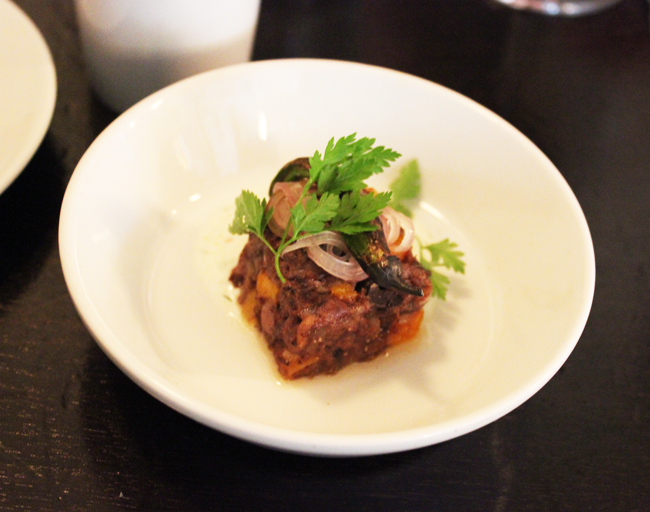 …and, lastly, Pizza bianca, épinards, chou rouge et peau croustillante (white pizza with spinach, cabbage and crispy skin).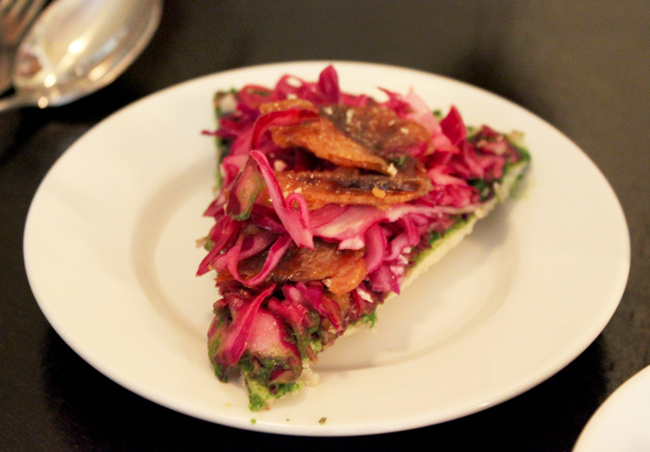 You are then offered the choice between Maquereau (Mackarel, + €2 ), St Pierre (John Dory, + €4 ), Poireaux Comté et Pomelos (Leeks, cheese and pomelo fruit ) or Bavette de boeuf (Skirt steak) for your next course.
If you are a fan of mackarel, you will enjoy this simply grilled dish. I have to say, it is an acquired taste, but my husband loves it.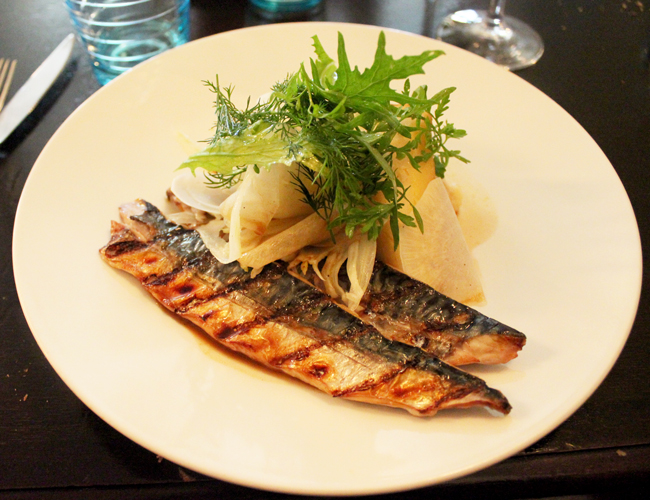 I had the leeks with comté and pomelos, which was dressed in a lively vinaigrette and full of flavor. I love to order leeks whenever I go to Paris because no one seems to know how to make them like the French!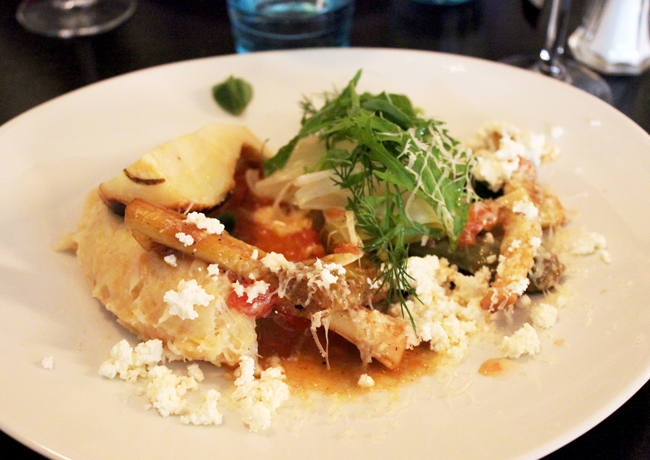 All of the large plates are served with Ecrasée de pomme de terre fumée, panais et fenouil, which is smoked mashed potato with parsnip and fennel. The sides were a highlight – you could taste and smell the smokiness in the potato, and the shaved fennel was nice and refreshing.
For dessert, they offered the choice of Comté, cèdre bleu and chèvre (a cheese board of comté, blue and goat's cheese), Poire Williams pochée et ganache chocolat (poached Williams pear with chocolate ganache), or a Clafoutis framboises (raspberry clafoutis cake), the latter of which we chose to share. I am a huge fan of baking clafoutis (see my delicious apple one here!), so I had to try it. It was freshly baked, light, tart, custardy and delicious, with a pretty dusting of icing sugar on top. In true French style, the portion was tiny, but you're in Paris and you have to save room for your next round of pastries later in the day, so it's all good!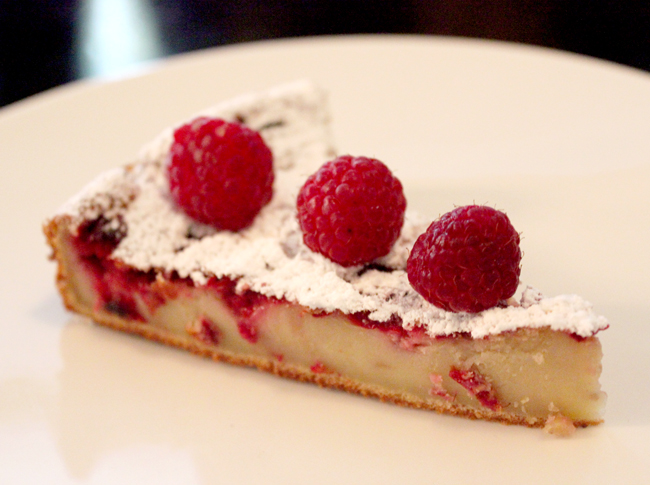 We finished with two espressos, which were served with complimentary baked confections that resembled canelés, but were more cake-like and less "burnt" on the outside. Perfectly sweet with a rich, buttery and very moist (almost wet) inside and butter crisp outside, these little treats were a wonderful surprise to end a lovely meal and delightful when dipped into your espresso.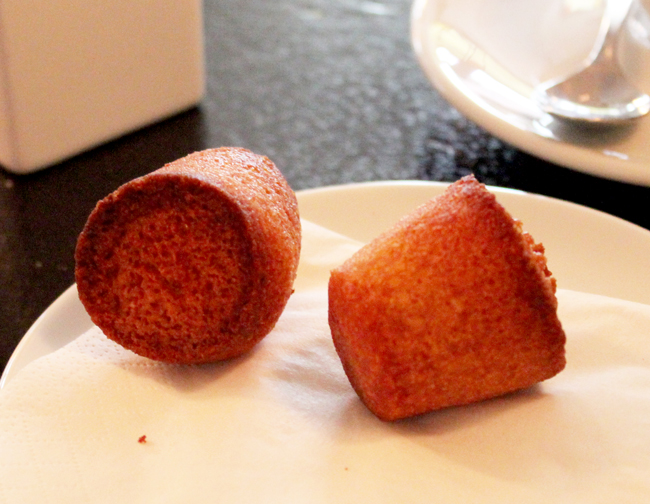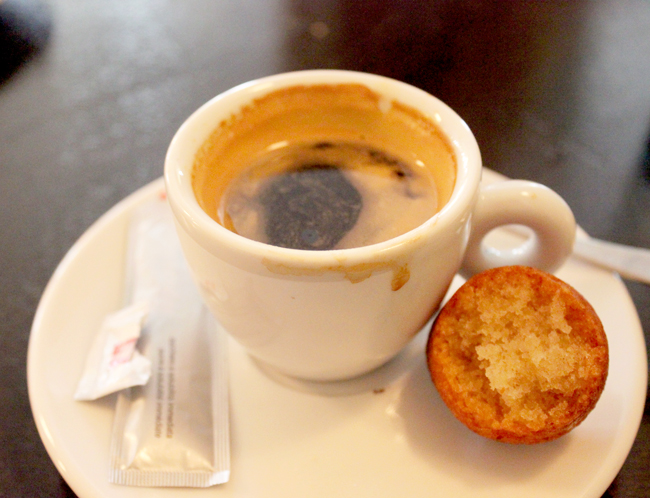 Afterwards, I recommend stopping around the corner at Blé Sucré (read more here!), for some take-away baked treats to enjoy later on or the next day. To me, this is how to enjoy the best of Paris!
La Gazzetta
29 Rue de Cotte
75012 Paris, France
+33 1 43 47 47 05