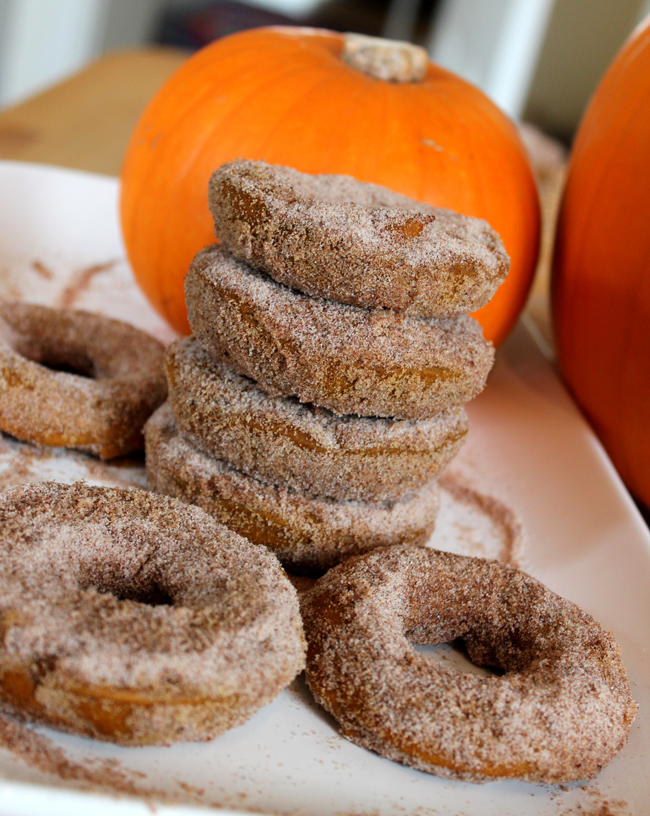 I have been on a bit of a doughnut kick lately (see my Frosted Chocolate Cake Doughnuts), so I decided to continue the fun and bake up a batch of baked pumpkin cake doughnuts. Since they are not deep fried, these doughnuts are (a little) healthier and have more of a cupcake-like texture rather than a traditional doughnut texture. The result is very moist and chewy due to the pumpkin in the batter, along with lots of spiciness from pumpkin pie spice and cloves. For this recipe, you'll need to buy a doughnut pan. Wilton makes a great one (available here in the UK or here in the USA). To finish, I rolled the doughnuts in a delightful cinnamon-sugar mixture to get that much-loved "donut shop" taste. They are to-die-for right out of the oven when still a little warm, but will keep well for a couple days, covered, at room temperature (if they last that long!). I hope you enjoy this comforting fall sweet treat!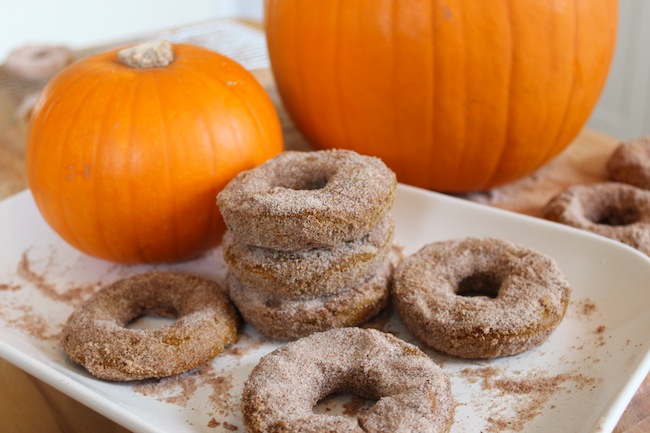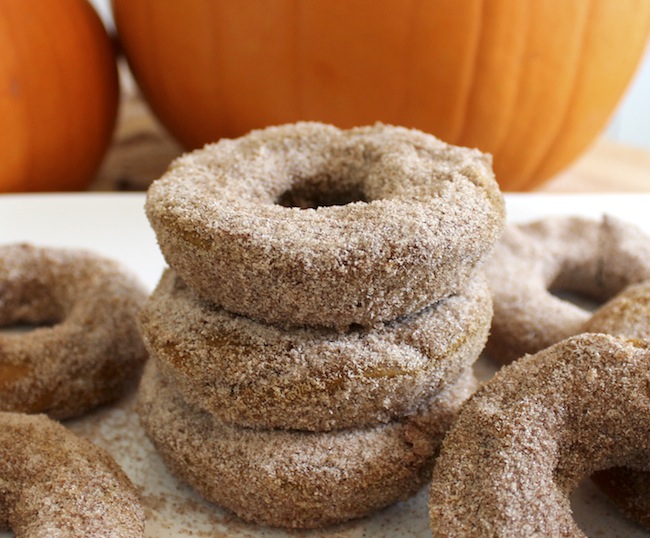 Pumpkin Cake Doughnuts
Recipe adapted from King Arthur Flour
*Makes 12 doughnuts*
1/2 cup vegetable oil
3 large eggs
1 cup granulated sugar
1 1/2 cup pumpkin purée (canned pumpkin)
1 teaspoon vanilla
2 teaspoons pumpkin pie spice
1/8 teaspoon ground cloves
1/2 teaspoon salt
2 teaspoons baking powder
1 3/4 cups + 2tbsp all-purpose flour
Topping
1 cup sugar
4 teaspoons ground cinnamon
2 teaspoons ground nutmeg
1 stick (1/2 cup) butter, melted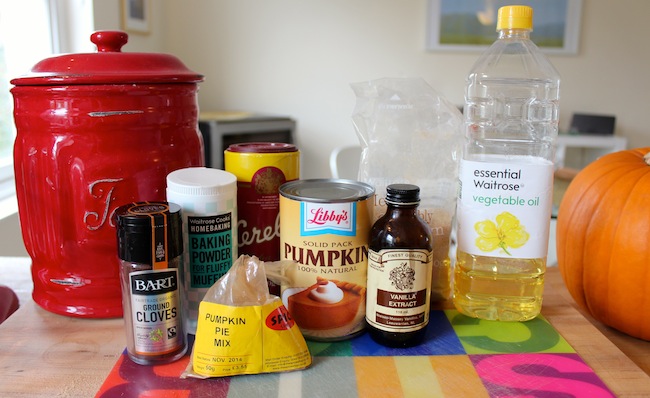 Directions
Preheat oven to 350 degrees F (175 degrees C).
Grease doughnut pans by spraying with nonstick cooking spray. I used this nifty Wilton 6-cavity doughnut pan (since the recipe makes 12, you can use 2 pans or you can simply make 2 separate batches).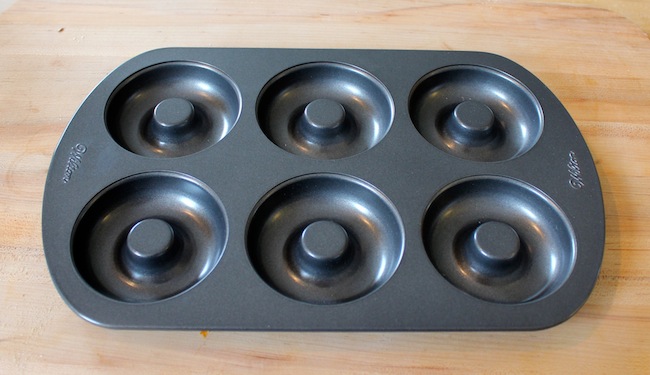 Beat together the oil, eggs, sugar, pumpkin, spices, salt, and baking powder until smooth.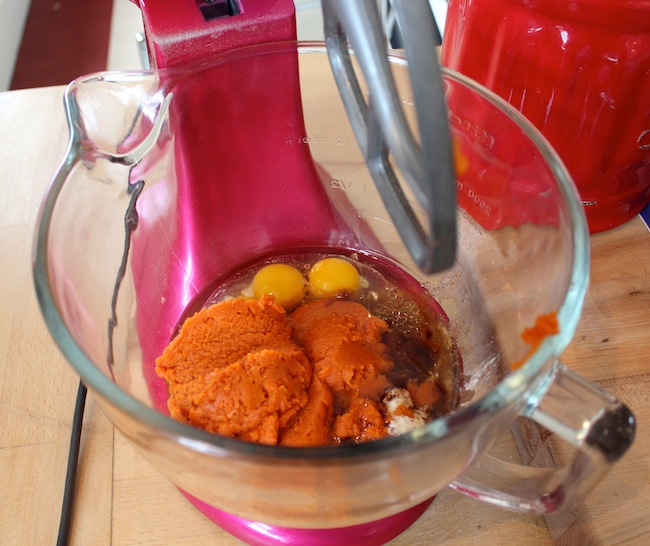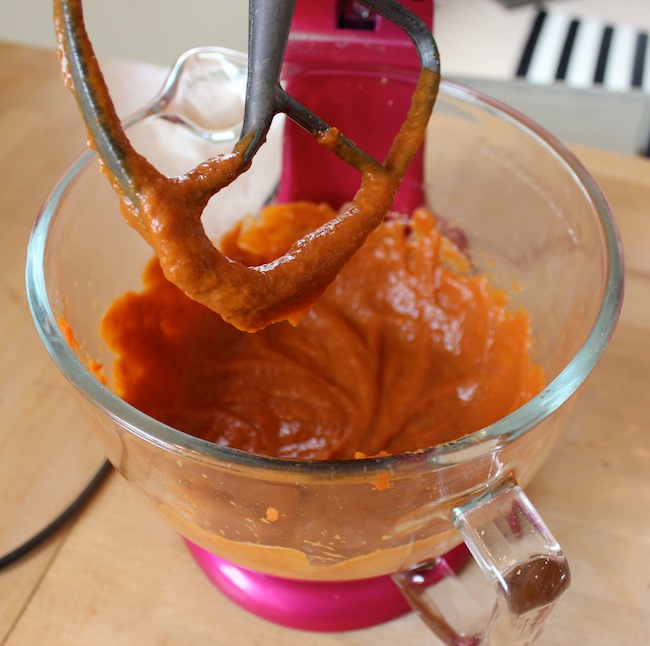 Slowly add flour and mix only until just combined, making sure not to over-beat.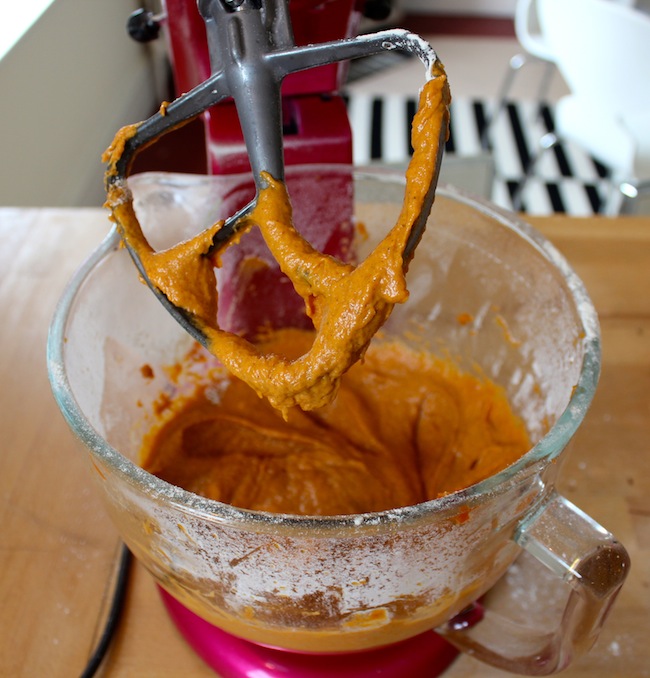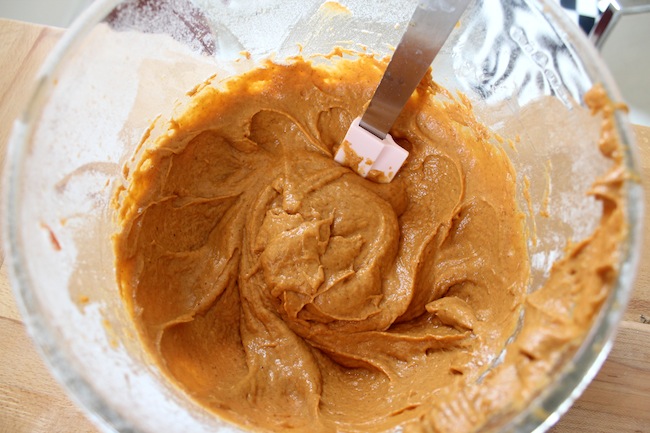 Fill cavities in pans with batter until about 3/4 full (this will be about 1/4 cup of batter). I highly recommend piping the batter into the pan so that the doughnuts form a neat round shape. You can snip a hole into the corner of a plastic bag or use a piping bag with a wide round tip.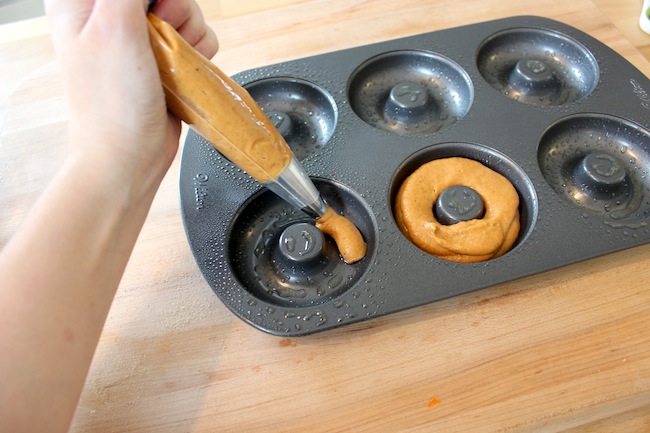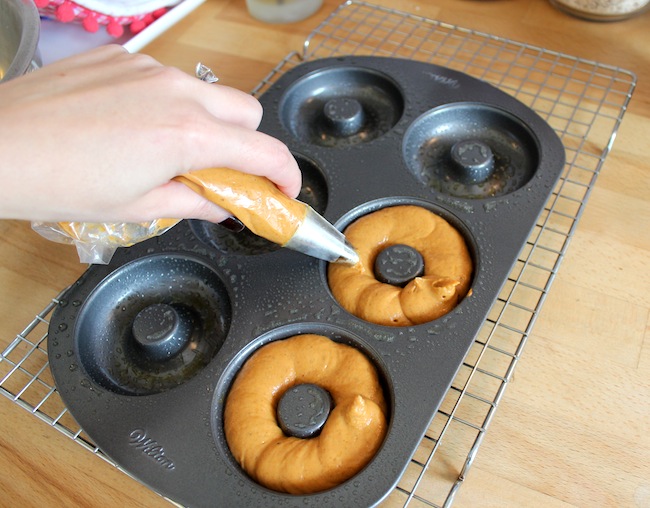 Bake for 15-18 minutes or until a cake tester inserted into the doughnuts comes out clean.
Meanwhile, while the doughnuts are in the oven, prepare your topping. Make sugar mixture by mixing together cinnamon, nutmeg and sugar in a medium sized bowl. Place melted butter in a separate medium sized bowl.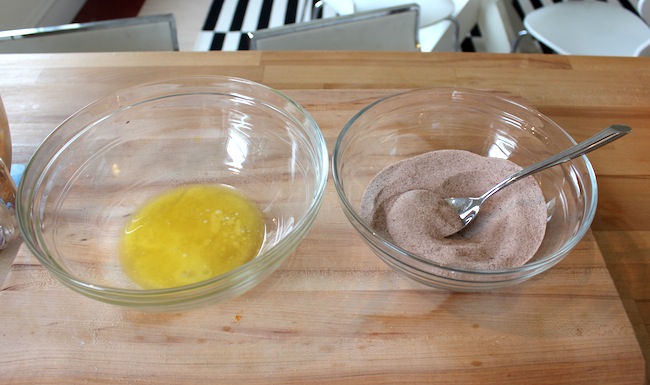 Once doughnuts are out of the oven, let cool for 2 minutes before dipping. The doughnuts should be still warm at this point, but no longer fragile.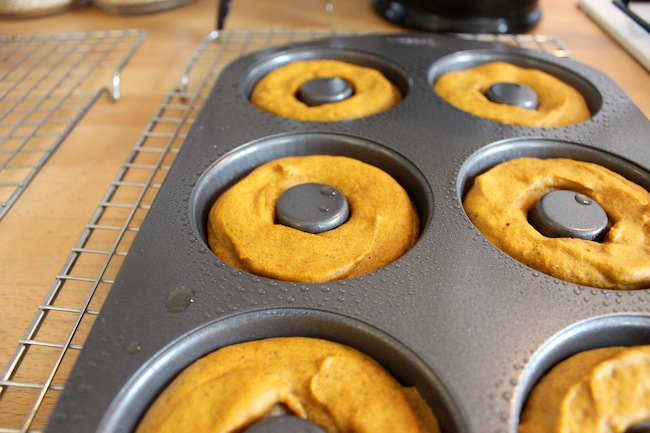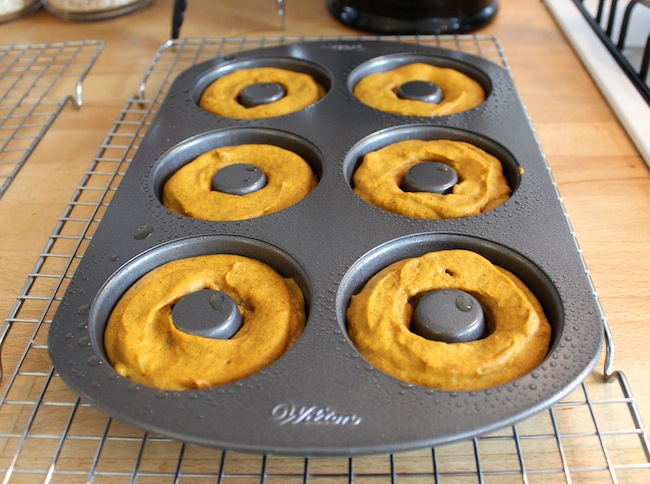 First, lightly brush each doughnut with the melted butter using a pastry brush. Make sure the doughnuts are not saturated in the butter, but rather very lightly coated.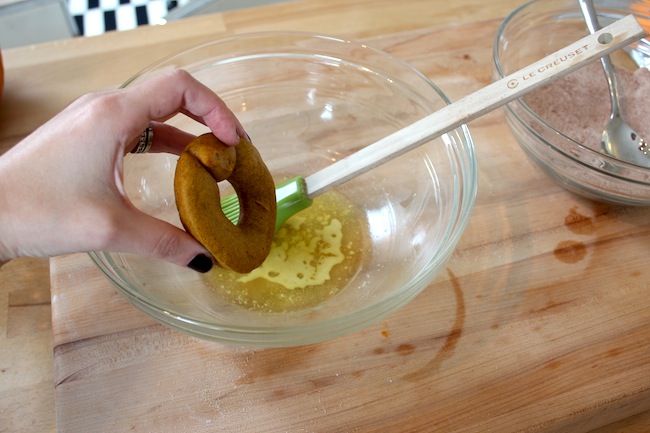 Then, immediately dip each doughnut in the sugar mixture, making sure all sides are coated generously in the sugar. Place on a drying rack to let cool. Repeat with remaining doughnuts.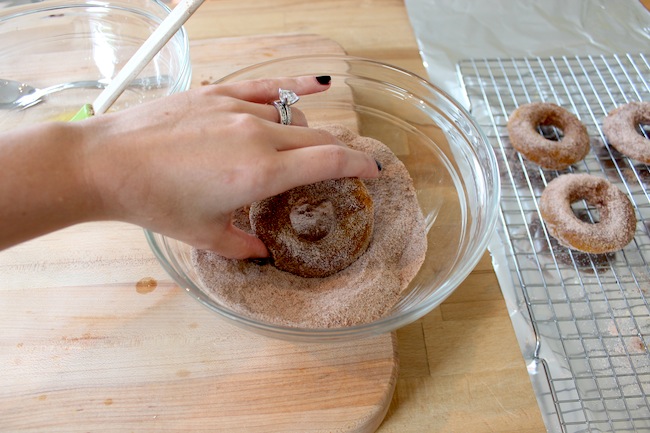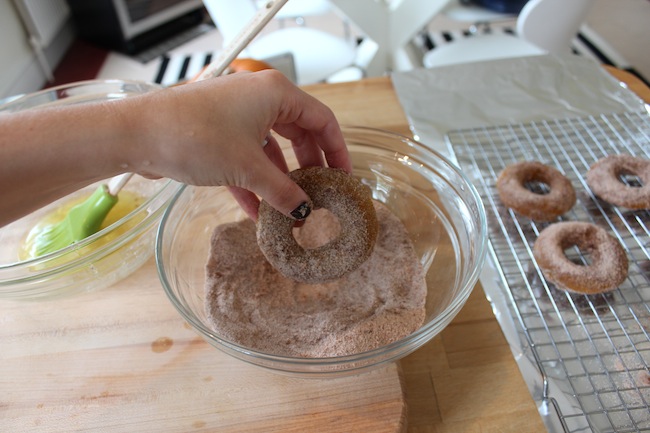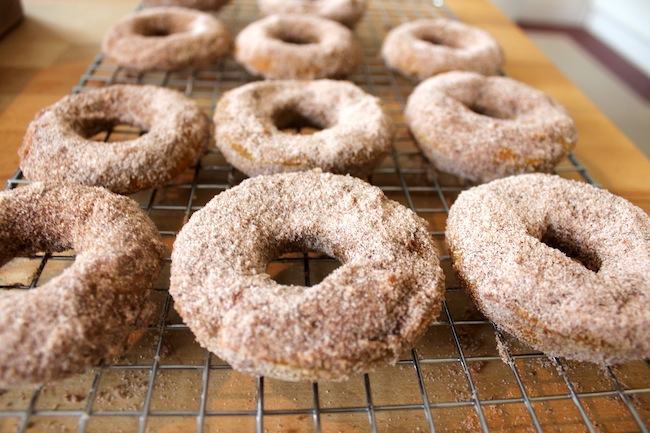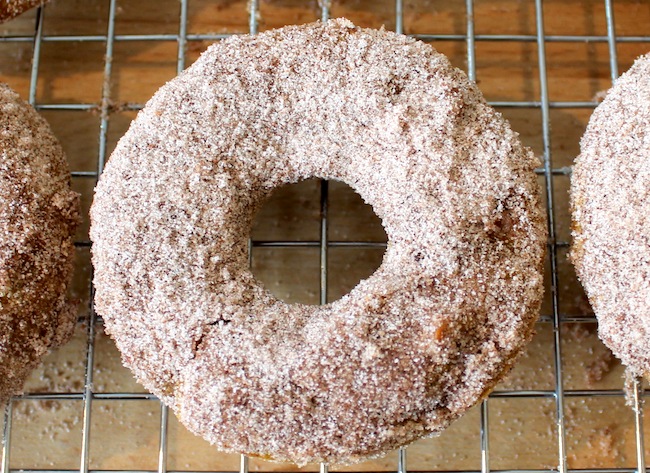 Enjoy!!