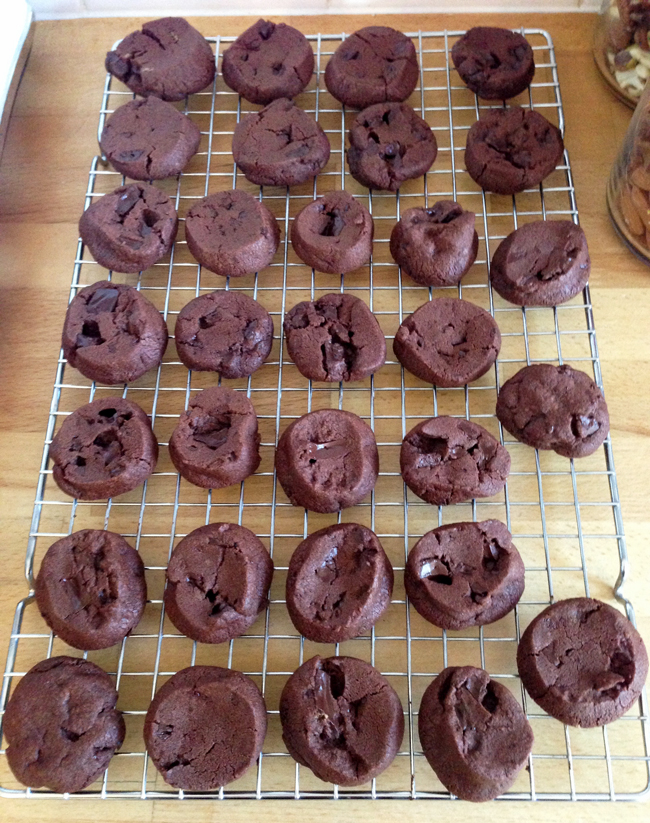 It can take several days, weeks, even years, to find the ultimate chocolate cookie recipe. The kind of cookies I wanted to find are of the shamelessly rich, not-too-sweet, dark chocolate variety. In my search, I came across a recipe from cookbook-author Dorie Greenspan for "Sablés Korova," which were named after the Paris restaurant where famed pastry chef Pierre Hermé created them. Dorie dubbed her sablés "Word Peace Cookies," because a friend of hers, upon tasting them, believed that if everyone in the world ate one of these cookies everyday there would be no more violence and only peace in the world. With an introduction like that I had to give these indulgent chocolate cookies a try immediately.
Much to my delight, the cookies were out of this world delicious and may very well be my favorite homemade cookie ever. I was so obsessed that I made 2 batches within the course of a week (they go quick…). They are incredibly decadent and chocolatey and delicious right out of the oven, at room temperature, the next day, or even frozen. The cookies have a firm, crisp outside and a rich, moist inside, made all the more indulgent by dark chocolate chunks inside. They are the kind of cookies that retain their shape nicely, almost like sables that you often see neatly displayed in a bakery. The smell of these cookies fresh out of the oven is to-die-for. I could go on and on, but I highly recommend baking them asap to see for yourself. Pure decadence!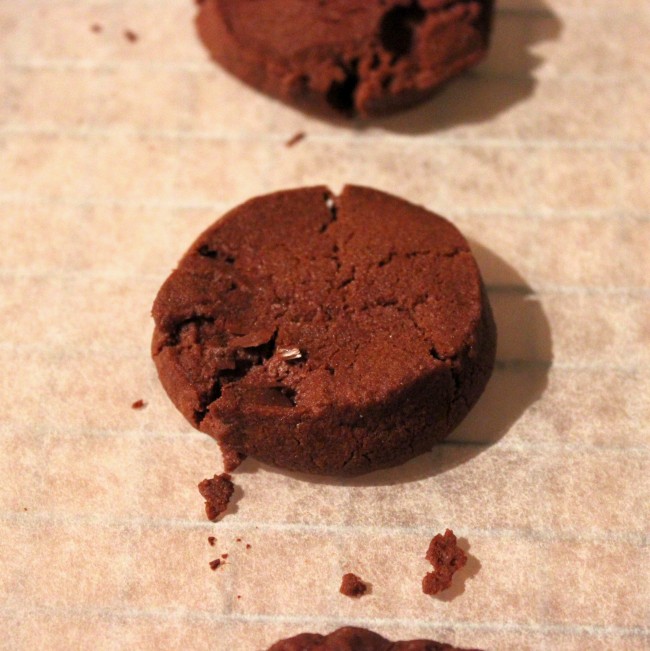 Decadent Double Chocolate Cookies
*Recipe adapted from "World Peace/Korova Cookies" in Paris Sweets by Dorie Greenspan*
Makes about 36 cookies
1 1/4 cups all-purpose flour
1/3 cup unsweetened cocoa powder
1/2 teaspoon baking soda
1 stick plus 3 tablespoons unsalted butter, at room temperature
2/3 cup (packed) light brown sugar
1/4 cup sugar
1/4 teaspoon salt
1 teaspoon vanilla extract
5 ounces good-quality bittersweet chocolate, chopped into chunks
Directions
In a medium bowl, combine dry ingredients (flour, cocoa powder and baking soda).
Using an electric mixer fitted with a paddle attachment, beat butter until soft and smooth. Add the brown sugar, regular sugar, salt and vanilla and beat well for a couple more minutes.
Add flour mixture and mix only until combined (do not over-mix!). Stir in the chocolate chunks. The dough will be very crumbly at this point.
Divide dough in half and form into 2 logs that are about 1 1/2″ in diameter. Wrap in plastic wrap and chill dough for 2-3 hours. The dough can be made up to 3 days in advance if you are making ahead.
Once chilled, cut dough into 1/2″ thick rounds. Some of the slices may come apart, but you can just squeeze them back together. It's ok if they aren't perfect!
Preheat oven to 325 degrees F.
Place cookies 1-inch apart on parchment paper-lined cookie sheets.
Bake for 11-12 minutes until cookies appear dry (they will not be firm or golden at this point and will still look a little raw!). Let cool on cooling racks until they are just warm. Serve warm or at room temperature.