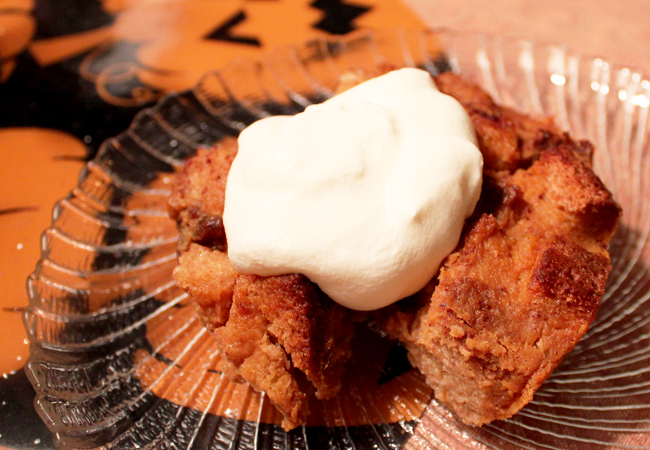 Halloween may be over, but pumpkin desserts are still in full swing. Here is a recipe for Pumpkin Rum Bread Pudding that is surprisingly easy to make and perfect to whip up as a fall desert. The great thing about this recipe is that you can use regular sliced whole wheat bread, something many of us often have on hand at home. The bread pudding comes out hearty and custardy, with plenty of spiciness from the cinnamon and nutmeg, and an extra kick courtesy of 1/4 cup of rum. Serve with a dollop of freshly whipped cream. Delicious!
Easy Pumpkin Rum Bread Pudding
Ingredients
6 cups whole wheat bread, cut into cubes
1/2 cup chopped walnuts
3 eggs, beaten
1 14-ounce can sweetened condensed milk
1 cup canned pumpkin
1/2 cup brown sugar
2 teaspoons cinnamon
1 teaspoon nutmeg
2 cups milk
1/4 cup rum
1/4 cup melted butter
2 teaspoons vanilla extract
Whipped cream, for serving
Directions
Preheat oven to 350 degrees F.
Combine bread cubes and nuts in a 12 x 7″ casserole or ovenproof pan.
In a medium bowl, stir together eggs, condensed milk, pumpkin, sugar, cinnamon and nutmeg. Then, stir in milk until combined. Add rum, butter and vanilla, and mix until combined.
Pour liquid mixture over the bread that has been placed in the pan.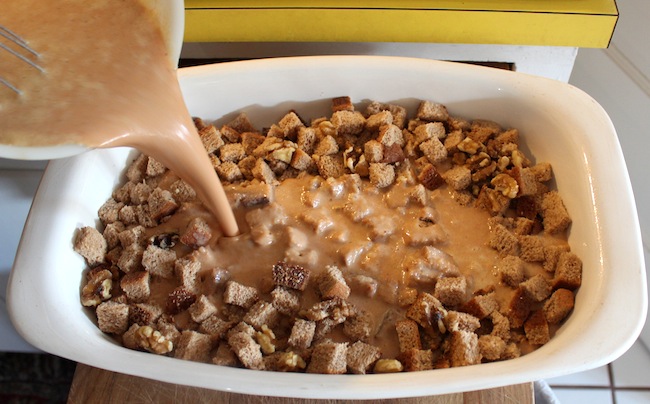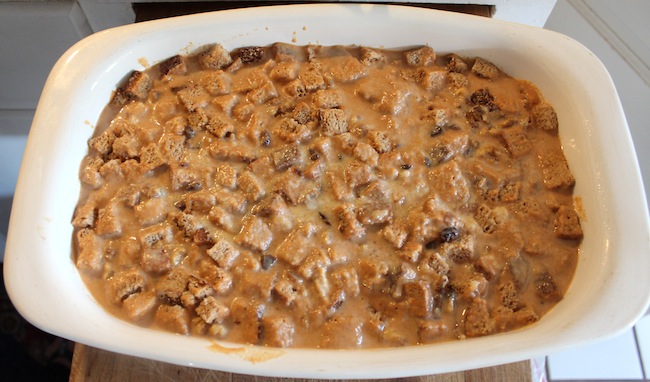 Place your pan inside a larger pan so you can make a water bath. Pour hot water in outer (larger) pan so it is about 1″ high.
Bake for 50-60 minutes or until a knife inserted comes out just about clean.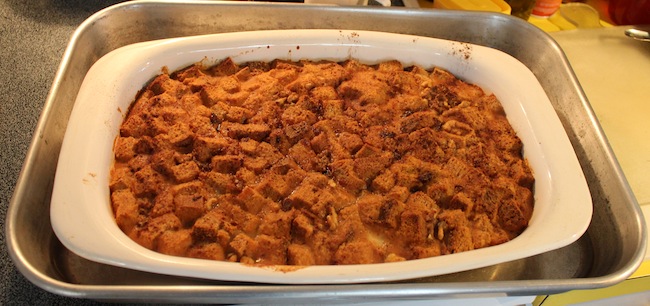 Serve warm with freshly whipped cream.