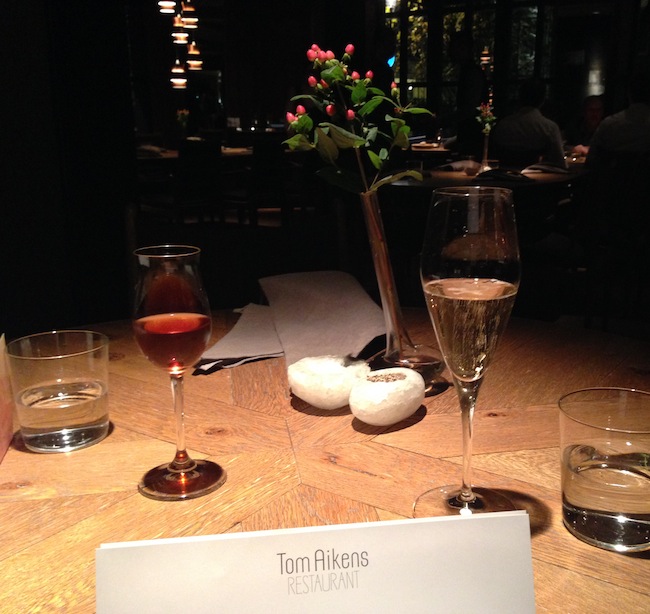 Last weekend I checked out Tom Aikens restaurant on London's Elystan Street in Chelsea. I heard good things about English chef Aikens and his Michelin-starred eatery so I was very excited to give it a try. The atmosphere was refreshingly informal yet undeniably classy, with wooden tables, minimalist decor and dim, candlelit lighting. It's one of those 'deformalized' fine dining experiences that I would really like to see more of around the city.
The service was impeccable from the well informed waiters to the French sommelier.  I'd describe the food as innovative, yet somewhat rustic, with the highest quality ingredients, all presented and plated in an elegant Michelin-esque style. My husband and I both decided on the 7-course tasting menu, £90, in order to get the full experience.
We began with a selection of 3 amuse-bouche: an oyster with a shaved slice of beet and snow-like cheese, venison tartare bites served in bones, and creamy chestnut "soup" in a chestnut shell.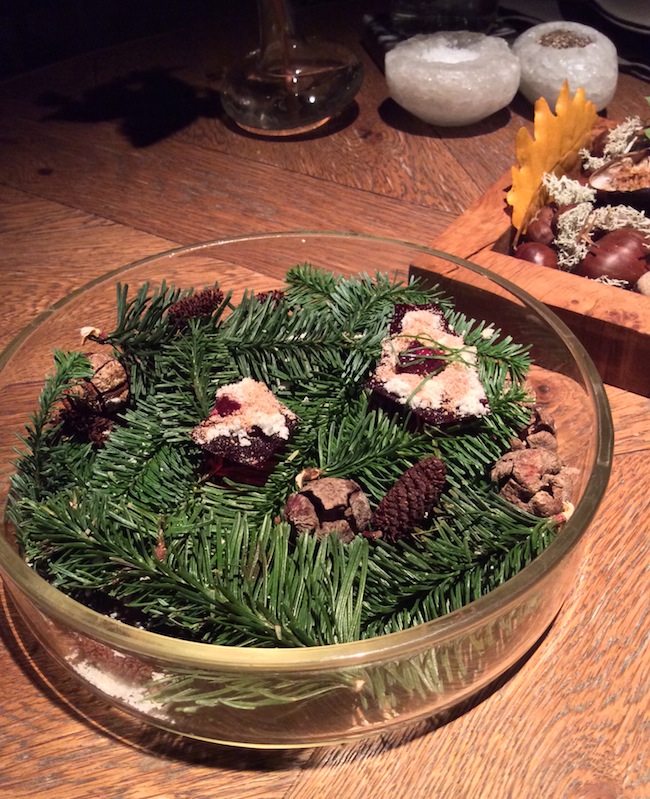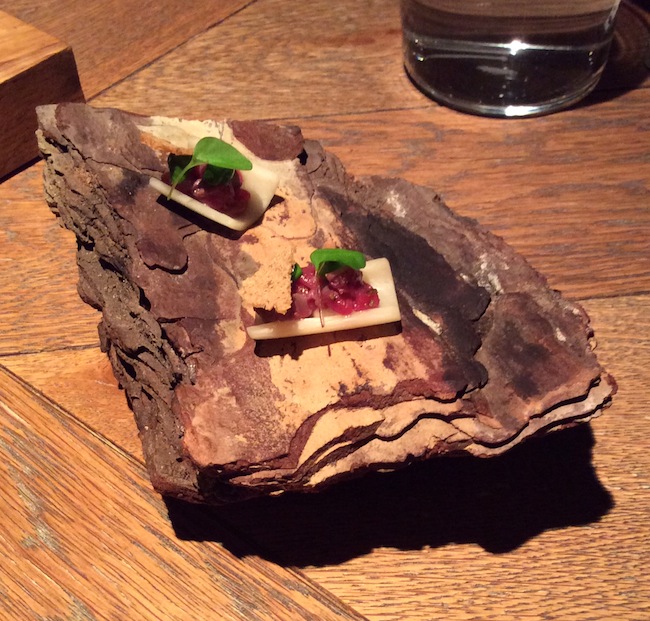 The highlight for me was the chestnut (below) – creamy and full of punchy flavor, this definitely got me excited for the meal. The autumn-themed presentation complete with colored leaves was very attractive and fun.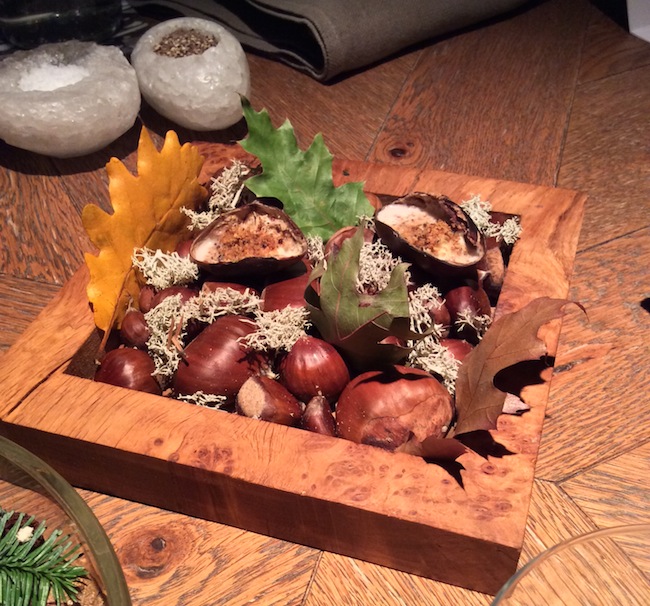 Next up was one of the most impressive bread and butter assortments I've ever seen. There were 5 different varieties of bread, including cep mushroom bread, polenta bread, a brown variety and my personal favorite, an oversized buttery cheese and bacon brioche. As if the bread wasn't enough, the butter selections were also unique and varied – salted, cep mushroom, plain whipped and bacon butter allowed for many delightful butter/bread combinations.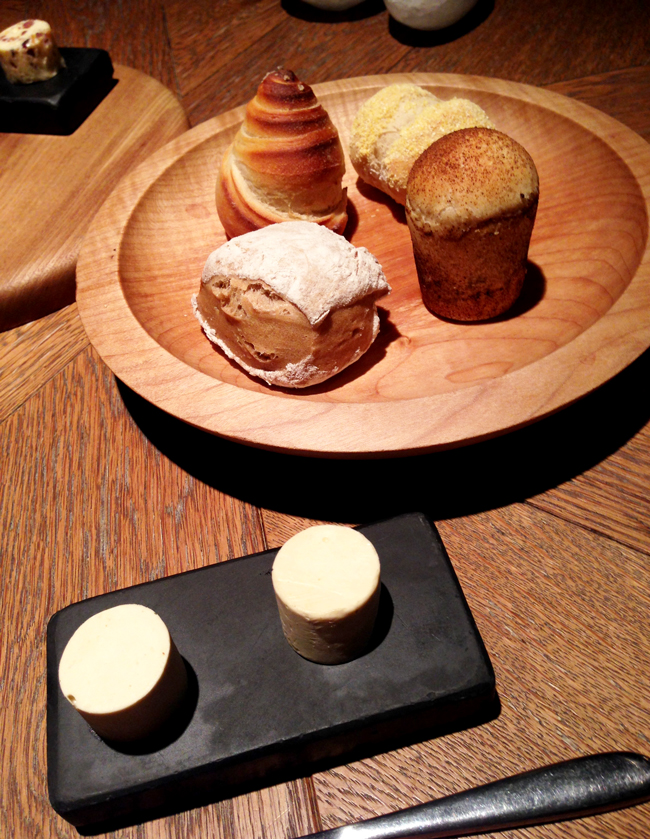 Bacon brioche is a beautiful thing and I really hope more restaurants and bakeries would start serving this indulgent savory pastry.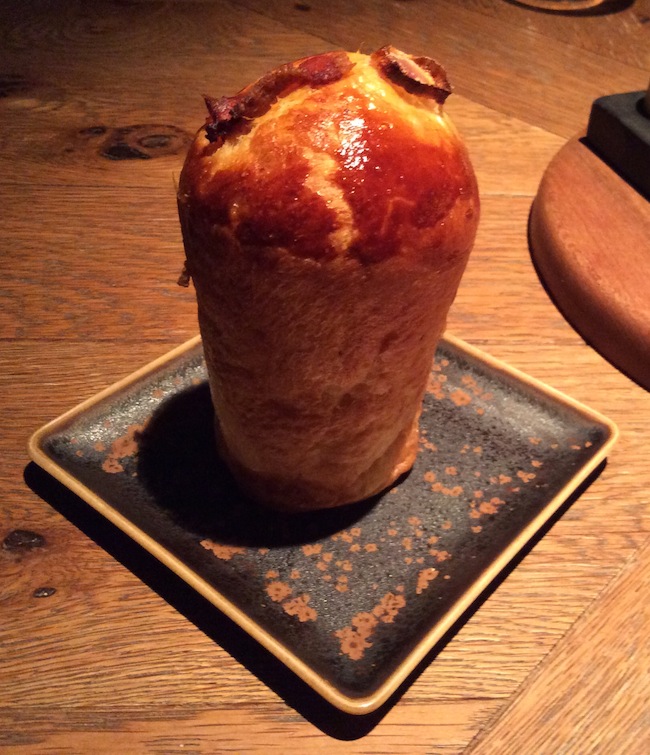 Our first starter was crab with coriander, horseradish snow, coconut, and crab vinaigrette served on a stone slab with fuchsia and yellow flowers. This was tasty, light and flavorful.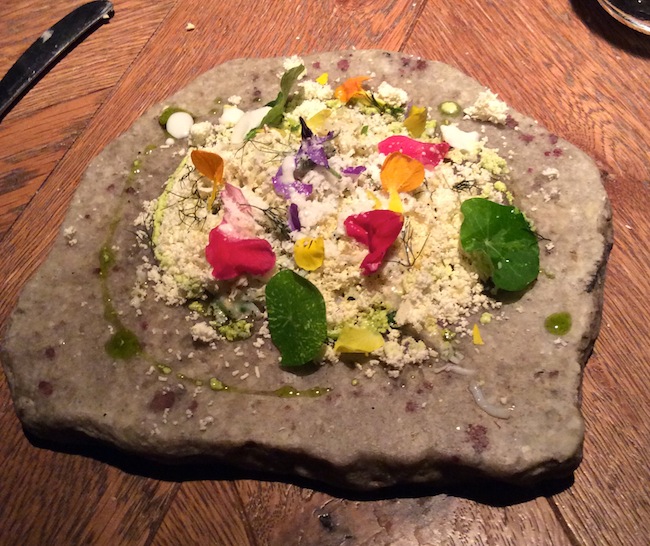 Then, a colorful cucumber and mint salad with pickled, shaved cucumber, cucumber purée, and mint oil. The combination of textures and flavors worked well and I liked all of the herb garnishes.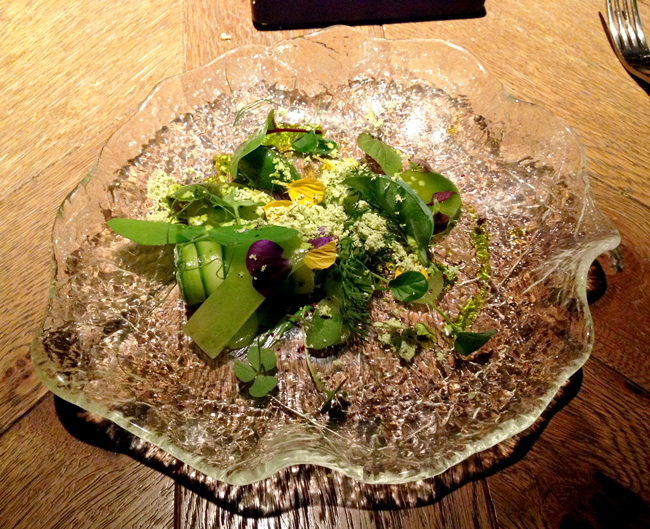 My husband really enjoyed the rabbit course, which included 3 different preparations of rabbit, rabbit boudin, sorrel and nasturtium.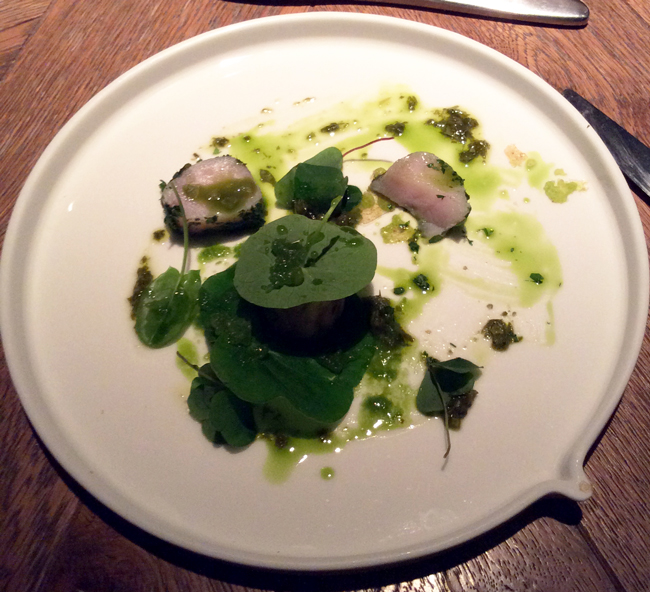 The carrot salad was a highlight for me – heritage carrots in several forms along with a brilliant carrot sorbet and a carrot vinaigrette. The sweetness of the carrots really came through and the sorbet was unique, creamy and delicious.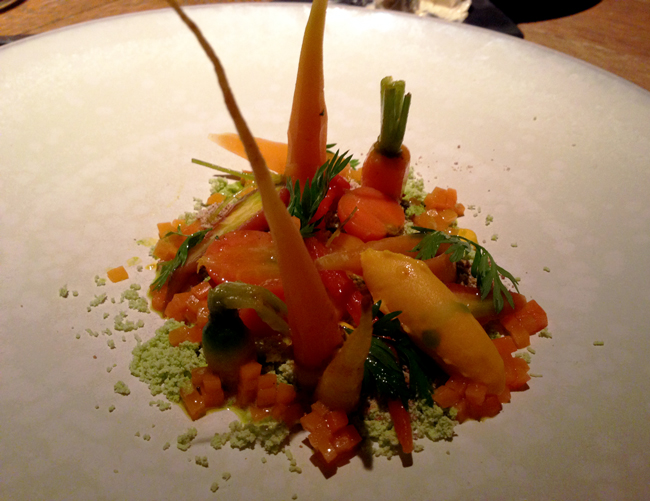 The next starer was a baked scallop served in a shell with yeasted potatoes, osso buco and toasted bread soup. Another lovely presentation.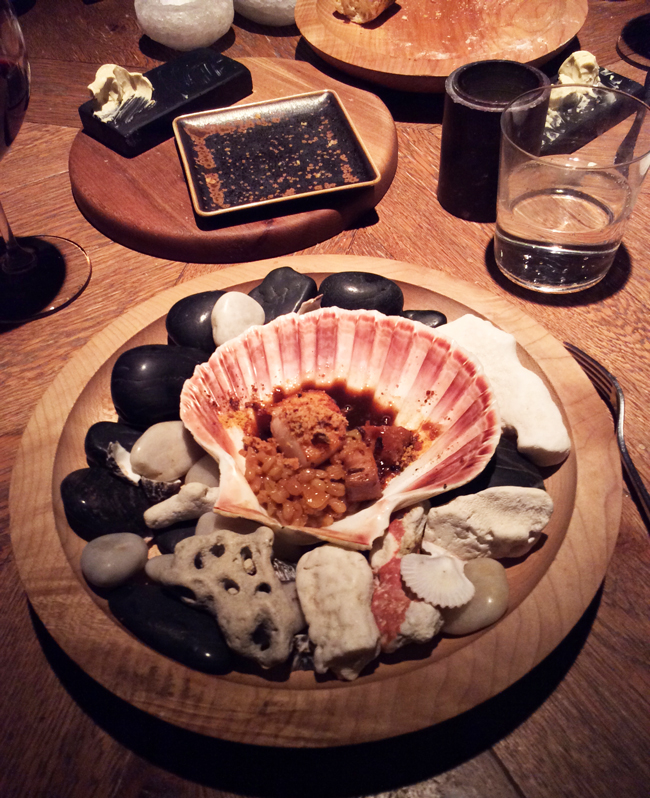 Then, roasted leeks with granola and baby grelots. The leek was charred on the outside and soft and tender inside. Overall, a hearty and wintery vegetarian dish.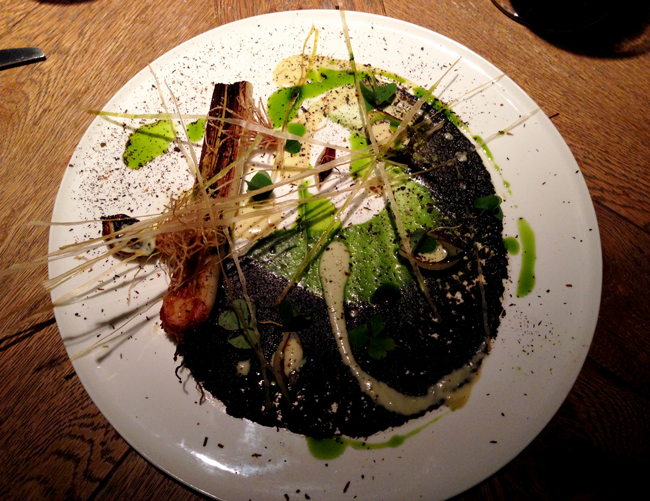 Another highlight was the housemade ricotta with green olive juice, honey jelly and pine nuts. The ricotta was incredibly soft and creamy, unlike any other I've had before. The pine nut sorbet on the side really tasted like toasted pine nuts. I like what he is doing with the savory sorbets. Delicious!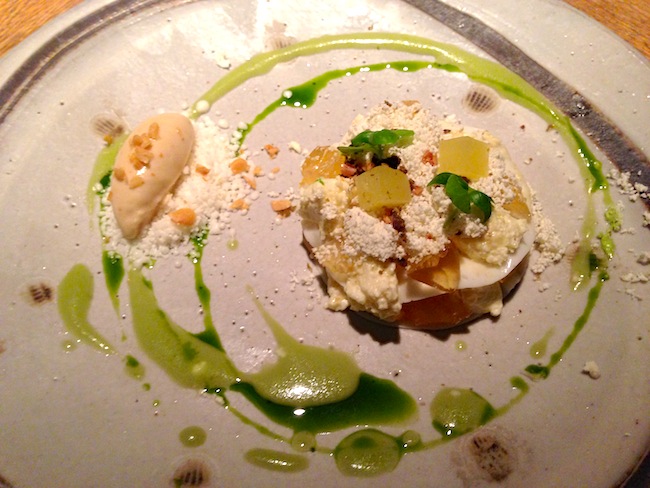 The first of the mains was halibut with salt baked celeriac, chicken wing meat and truffle butter. For truffle lovers like myself, the smell of the truffles was pleasantly strong and earthy, and the halibut was moist and buttery. The sauce was rich and nicely yellow in color.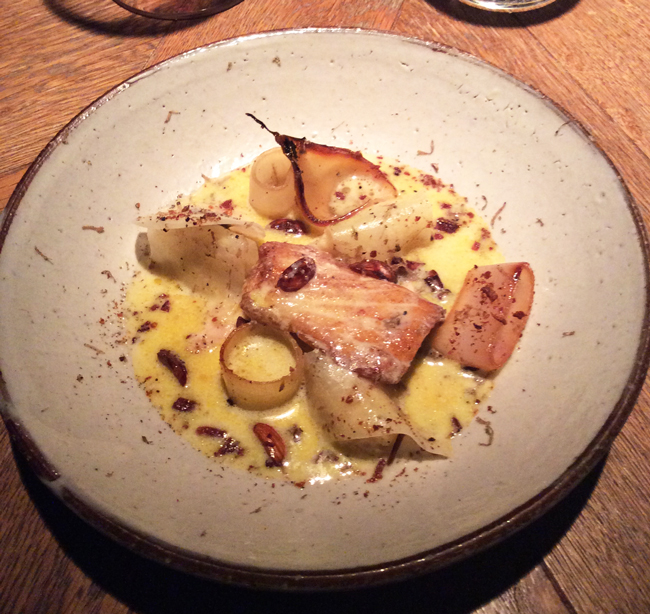 Then, a salt fried Clarence Court duck egg with sorrel emulsion, fried bread crumbs and dried onion. The egg was runny and served as a sort of dressing for the hearty roasted vegetables. The crunchiness of the fried bread crumbs completed the dish.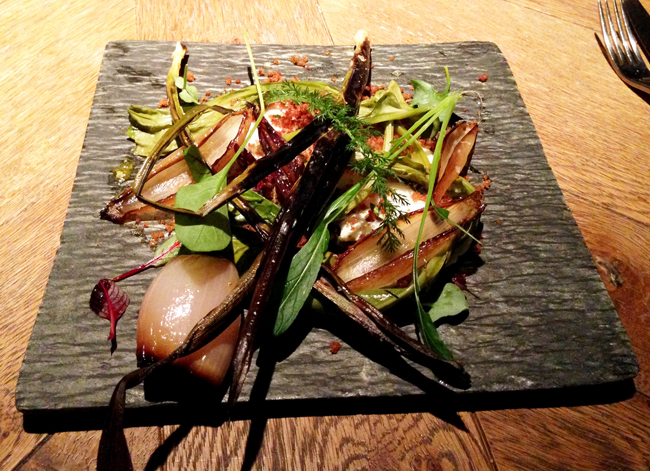 Then, a rich plate of braised piglet and roasted belly with baked aubergine and smoked apple.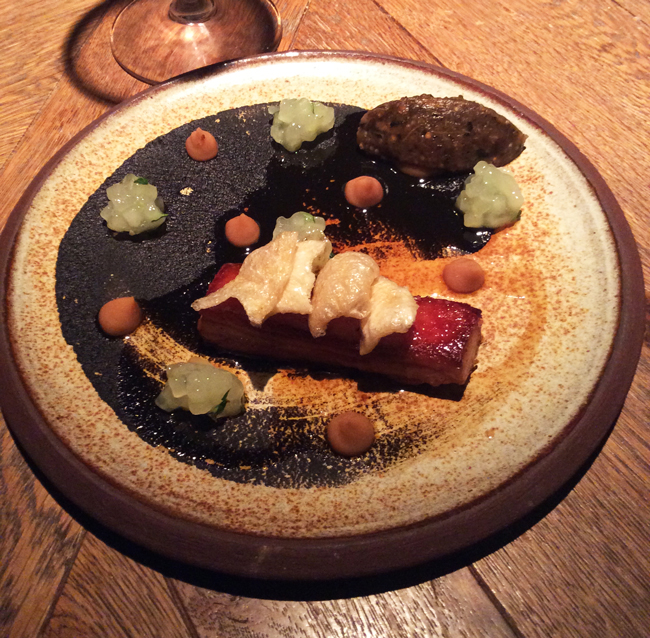 And, finally, baked onion with onion purée, gruyére custard and onion bouillon. This dish was full of warm winter flavors – it's amazing what you can do with vegetables!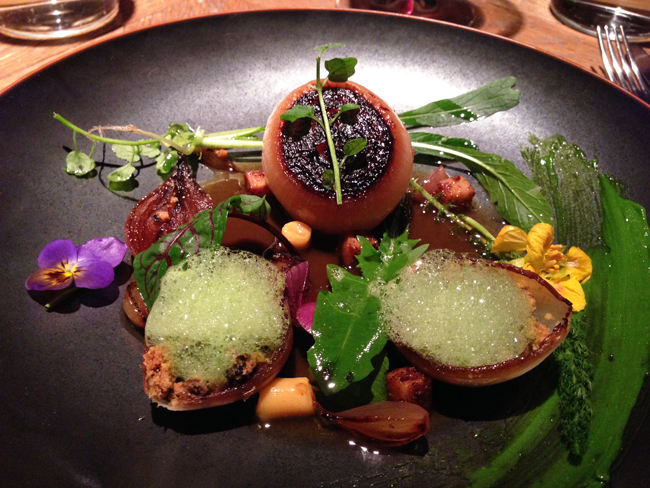 It was now time for dessert. I have to admit I was disappointed not to see any chocolate desserts offered on the tasting menu. I did inquire about substituting out one of the desserts for something chocolate and was told I couldn't, but I could add an extra dessert course if I'd like, which I opted not to do. I do respect the vision of the chef, so it was not a big deal, but just something I wanted to point out.
Our dessert was green tea with dill parfait, panna cotta and yogurt sorbet. I have to admit I was not excited to try the green tea dessert based on the menu description. However, I was proved wrong – it was sensational. All of the different preparations of green tea were decadent – I tasted something similar to white chocolate in there as well, which was a nice surprise.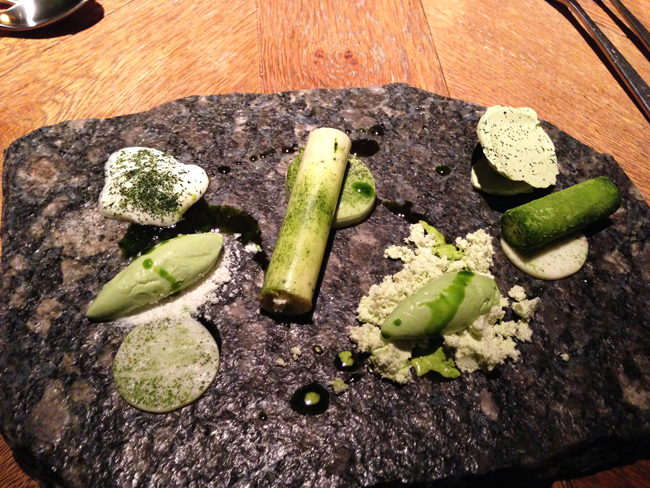 We finished with a selection mignardaises which included cinnamon sugar doughnut holes, a lemon meringue "pop," a chocolate ice cream truffle, and a dreamy box of sweet bites such as chocolates, brittles, biscuits, and mini macaroons.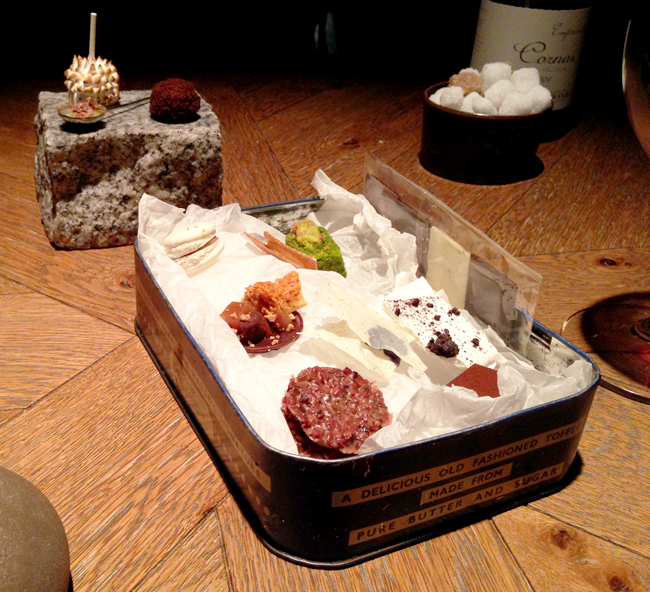 The lemon meringue pop and chocolate truffle were both good – not overly sweet and love the fun presentation.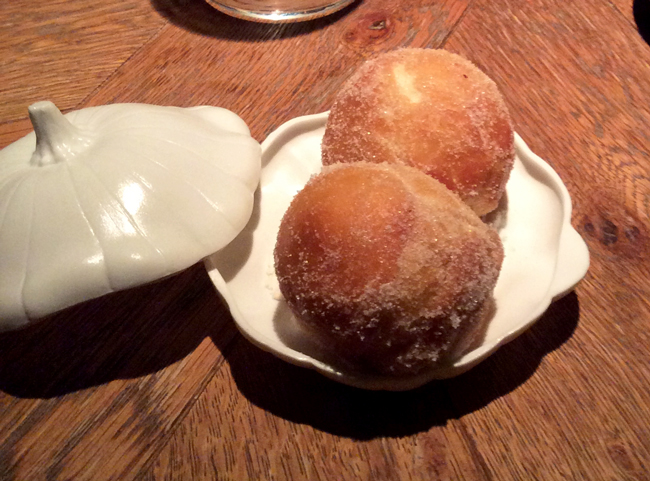 I did wish the doughnuts were served warm – maybe I am nitpicking, but doughnuts always taste better at least slightly warm so I was a bit caught off guard when I first bit into them and they were not just room temperature, but slightly cold. The were stuffed with a creamy filling that tasted like caramel or toffee.
Tom Aikens Restaurant is perfect for foodies looking for a classy – but not too formal – night out with tasty, interesting, seasonal food. I'll be back and recommend that Londoners check it out.